Diary
Rotary Club of Plimmerton
By David Pine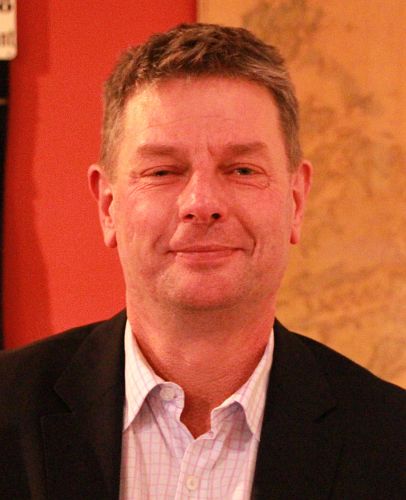 Greece has major economic problems which cannot be solved quickly.
In a lively presentation to Plimmerton Rotary on 7 July, AMP Chief Economist, Bevan Graham lamented the result of the recent referendum in Greece in which a clear majority were in favour of declining to accept the terms of the bailout package offered by the the euro zone's bailout institutions.
"In my view, the whole euro common currency concept was flawed from the start. When the common currency model was set up, it didn't address one of the critical elements of a successful common currency. Currency union requires a common monetary policy which was achieved with the establishment of the European Central Bank which sets a common interest rate for the whole of the euro area.
"But the missing gap in its construction was that it did not address fiscal policy, which has to do with the amount of tax Governments impose, and the amount of spending Governments undertake. There was no mechanism for a common fiscal policy. That meant that in the aftermath of the Global Financial Crisis, some countries found themselves under considerable pressure to reduce large fiscal deficits and stabilise high levels of public debt. That is why countries like Greece, Portugal and Spain found themselves in trouble."
Compounding Greece's problems was that they had no manufacturing base to speak of. "Aside from income derived from tourism, Greece has great difficulty paying for a lifestyle it can no longer, and was actually never able to, afford."
"If Greece exits the euro, nobody will win. Greece will plunge into economic chaos, and the rest of Europe wont get their money back. Furthermore, while tired of austerity, the Greek people actually want to remain part of the euro zone."
Mr Graham saw unemployment as possibly the single biggest issue that would face the euro zone in the next several years. "Across the euro zone the unemployment rate averages 11.1%. In Greece, the unemployment rate is currently 23%. Worse till, the youth unemployment rate is a staggering 52%."
In other parts of the world, the economic picture was rather more positive. Businesses in the USA had an amazing ability to turn innovative ideas and innovative ways of doing things, into highly successful commercial ventures. "Look at the motor vehicle industry as an example. The US is now exporting large numbers of small, fuel efficient cars to countries like China and South Korea. The US automotive industry is becoming an export success story, and continues to do well even with the recent appreciation of the US dollar."
Mr Graham believed India was now in a similar position economically to where China was 10 years ago. "The number of people in India of working age is around 750 million. By 2050 this is projected to rise to 1.1 billion. A work force of this magnitude presents India with a massive opportunity. We here in NZ need to seriously address how we can benefit from having closer business ties with them."
Meanwhile, back in NZ, the economy was tracking well with 3% growth and no inflation. Dairy prices were certainly down, but prices for other exports such as meat and forestry were showing useful gains. Mr Graham predicted a further cut in NZ's official cash rate this month, and possibly another cut in September.
Snippets
Wow! What a year!
Following Chris's speech at Changeover, MC PDG Howard Tong remarked that it would be easy for such an active club to attract members. With this in mind, Chris's speech has now got pride of place on the Home page of the web site. Members can easily direct their contacts to check the club out for themselves. Just give the Home page 'url' (http://plimmertonrotary.org.nz/) to friends, neighbours, business contacts, contacts you have made in other areas of your life such as golf, tramping, walking, sailing, etc., invite them to read all about the last year and your job will be easy. And then invite them along to a meeting that you think will appeal to them. The Programme of future meetings is the third button on the menu bar.
Changeover
We all had a lot of fun at a Changeover with a difference on Saturday. You can read about it here.
Gallery
We're collecting those precious Changeover moments recorded on Power Points. To find these, go to Club Intranet + log in + Photo Gallery (very near the bottom of the right column) + Visual memories year by year. It's a small collection so far but will grow shortly.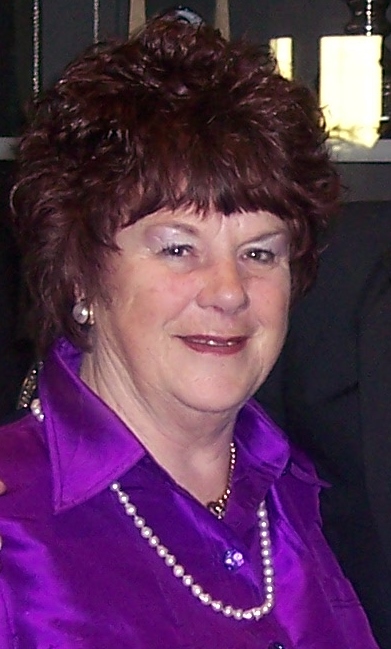 Award of PHF
Members will no doubt be delighted to know that our one-time, well-loved member, Kaye Fitzpatrick, was awarded a Paul Harris Fellowship at the Changeover of her Aussie Club of Galston. Roger reports that she is very happy and proud.
Duty Roster
President Adrienne will be sending out the Duty Roster by email, but in case you want to see further ahead, you can go to Club Intranet + Login + Duty Roster for ensuing weeks.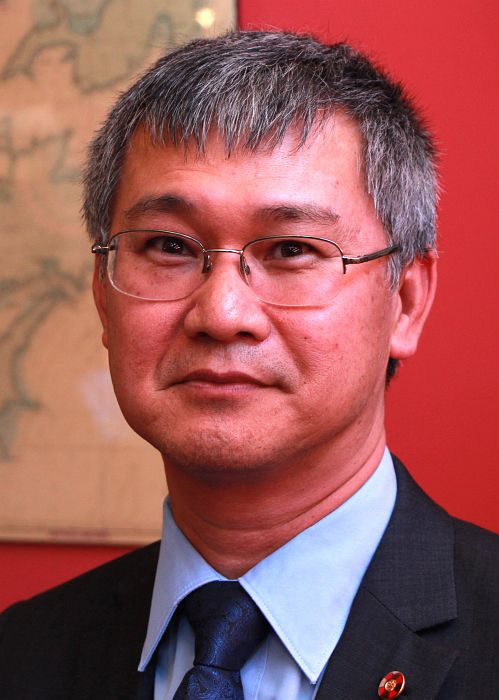 Dr Swee Tan
Those of you on his mailing list will have already seen the news that he has received the Kea 2015 World Class New Zealand Award. You can click here to listen to Dr Tan being interviewed on Newstalk ZB.
Google Analytics
Once more we have increased the number of sessions from 1,267 to 1,621 and the number of users from 989 to 1,252. The percentage of new visitors is 77.4%. Visitors have, however, not viewed as many different pages as previously, nor stayed on those pages for as long. However, it's good to see that we are attracting sp many new visitors.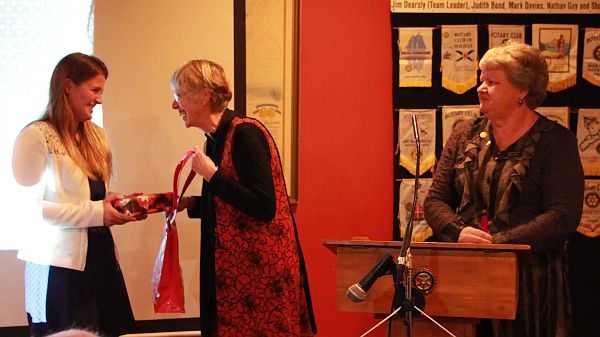 Jessica is leaving us
It's a sad thought that our lovely Jessica is leaving us on Wednesday 15 January. Her mentor, Janet Reidy, presented her with a beautiful gift from the club. If you would like to join Jessica at Coco at the Roxy, 5 Park Road Miramar from, say, noon onwards for coffee/snack/lunch, please let her or Jenny know so that they can make a booking. The plane leaves at 4.00.
Facebook
Facebook could begin to provide news about some of the fun activities we're involved in. If you go on an outing, work at an event or get involved in any activity that reinforces the friendship we experience in Rotary, please post it on Facebook with a photo or two. If you don't know how to do that (yet), please talk to Jenny.
Stop Press
The funeral for Dawne Catherall, wife of Past President Ian Catherall, will be held on Monday afternoon, 13 July at St Barnabas - time to be announced.