Diary
Rotary Club of Plimmerton
Television New Zealand – life without it would be infinitely worse that life with it. This is the view of NZ On Air CEO Jane Wrightson who spoke at Plimmerton Rotary on 3rd November.
A former Chief Censor, and CEO of the Broadcasting Standards Authority, Ms Wrightson spoke with passion about the importance of locally made TV and Radio programmes to New Zealand and New Zealanders. "New Zealand is one of very few countries that does not have a fully funded public broadcasting service. So our purpose at NZ On Air is to advocate, and provide funding for, locally made programmes of high quality."
About 60% of their annual budget of $130 million was granted for TV programmes, such as Country Calendar, Attitude (a series dealing with Kiwis with disabilities) and programmes promoting Pacific region cultures. Ms Wrightson was particularly proud of Country Calendar which was still very popular in its 50th year of production.
"A major challenge for our local TV producers is that their programmes need to have the same high quality look and feel as overseas programmes with vast budgets, such as Downton Abbey, Grey's Anatomy or Game of Thrones. If they don't measure up then people simply won't watch them."
Locally made radio programmes received about 20% of NZ On Air's funding with the remaining 20% going to programmes broadcast through various on-line media. "Our grants for radio go to Radio NZ, as well as the Access Radio network of 6 stations, and other radio services operated by community groups. The latter groups often broadcast in languages other than English, in fact we have supported about 40 different languages with our grants."
NZ On Air funded locally made documentaries including a recent programme about the Erebus disaster from the point of view of the NZ Police, also a programme about the Gallipoli campaign during the First World War, and another about the Canterbury earthquakes.
"We always insist that when we are approached for funding, the programme must already have been sold to a broadcaster. If this hasn't occurred we won't fund the programme. We are very proud of the fact that every programme we have ever funded has actually gone to air. "
One important aspect of NZ On Air's philosophy was that they would never try to influence the content of programmes. "We have absolutely no editorial control over the programmes we fund, and this is as it should be."
When assessing programmes, NZ On Air took a cautious but innovative approach, always considering the long term view. "We put the programme through our cultural and commercial sieve".
The on-line space was a challenge for the future. "There are so many offerings online that it is hard to keep up. It is rapidly changing, which brings greater uncertainty about where best to employ our resources in this area. There are massive shifts in audience behaviour. This presents us with major challenges going forward."
Snippets
Two new members were made welcome last week. Their details are now up in the Membership database in the Intranet and a new pdf has been loaded showing their details.
Melbourne Cup Night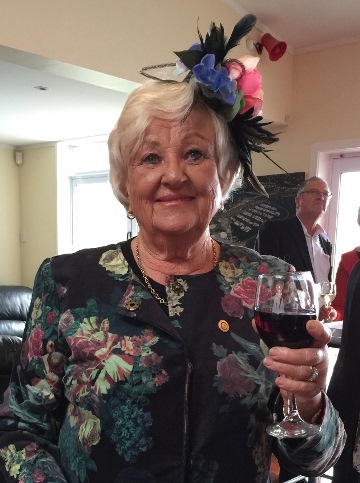 A noisy group drowned out the TV race commentary but all enjoyed the occasion and most were pleased to see a rank outsider win the big race, especially as Prince of Penzance is a NZ bred horse, ridden by a female jockey whose family came from Hawera.
The quest for the best fascinator was won by Julie McLagan with Janet Reidy a close runner up.
Parumoana Speech Contest
This speech contest will be held in the Aotea College library on November 27. It involves the primary schools of the Northern Porirua area. There are two age groups: years 5& 6, and years 7&8. Prior to the speech contest final, the students in those schools have prepared their speeches and have gone through an elimination process where two finalists are selected.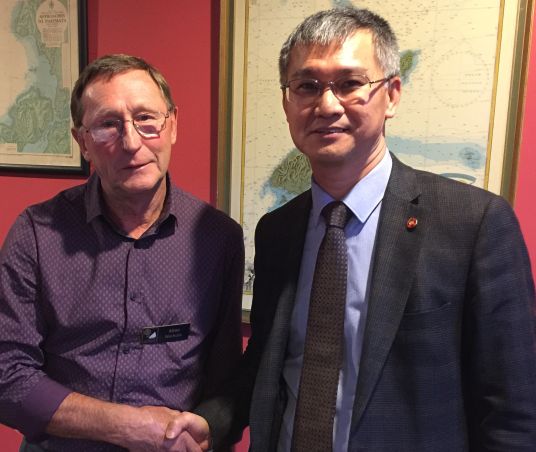 Donation to Dr Swee Tan
From small beginnings: after Dr Swee Tan spoke to the club in February 2015 a visit was arranged to the Gillies McIndoe Research Institute in Newtown, then a successful social event at the Nichol's home in the form of a Jersey Boys musical evening raised $1000.00. A donation of the same amount then club funding to match was doubled by a District Matching Grant which provided enough money to purchase an Automated Cell Counter. This device allows efficient counting of cells which have been grown in the laboratory from Cancer tissue. The GMRI relies on funding from groups like Rotary as none of its research is government funded.
Arohata Christmas concert


Another reminder about this event and the invitation which can be viewed here: arohata_xmas_concert
"Inside Out Arohata" in association with Zonta Mana. The women in Arohata will be performing their public Christmas concert in association with Zonta Mana at the beginning of December this year.
It is a privilege for the women to take part in the concert and is a reward for good behaviour during the year. Staff and women need to work together to ensure a good performance so it's an excellent way to encourage new social skills, conversation and tolerance of others leading up to the performance nights when they will connected, over the footlights, with their families, friends and visitors. These are skills which, in turn, will increase their self esteem and personal pride.
The management at Arohata believes that the women's punishment for their crimes has been taken out of a societal context. Their task is to try and rehabilitate the women back into their families and the wider community by whatever means possible. To prepare the women for life back in the family waka, and to prepare them for their future. This belief has developed into the Christmas concert for the public.
Money raised from ticket sales for the concerts will be allocated to Women's Refuge – which the Arohata women themselves support. And to Zonta Mana projects in the region: annual magazine subscriptions for Arohata, Women's Refuge Porirua, House of Grace and the He Huarahi Tamariki tertiary scholarship.
Christmas Party at Police College 21 November. Helpers are needed. Contact Ian Turner.