Diary
Rotary Club of Plimmerton
Exchange Students' Impressions of New Zealand and Rotary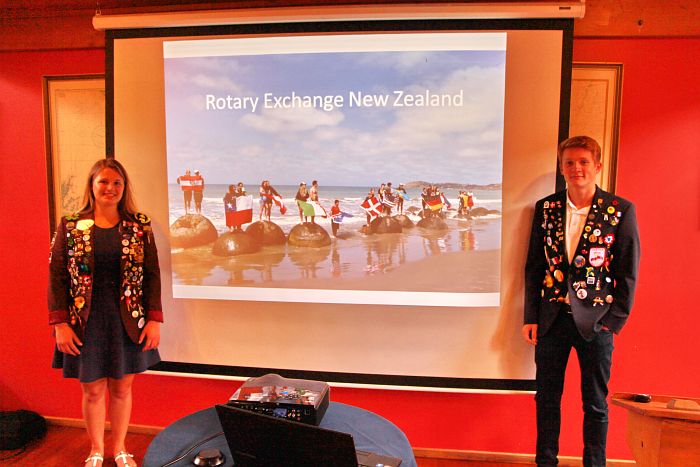 Our Jessica and R.C. of Wellington's exchange student Valentin Brunner from Austria informed, impressed and entertained us with their experiences after six months in New Zealand. Both students had for some time wanted to do an exchange and for Jessica to travel as far away from home as possible, to improve her English and to grow her personality were her motivations. Valentin had been made aware of Rotary exchange through friends and his parent's friends children and he had meet returned students through an Internet Rotary Club in his town and through his sponsor Club which hosts students each year. He also wanted to improve his English and to learn a new culture, finding the cultural differences fascinating – like the comparison between bread here and at home, and the relaxed atmosphere like walking around in bare feet in Cuba Street.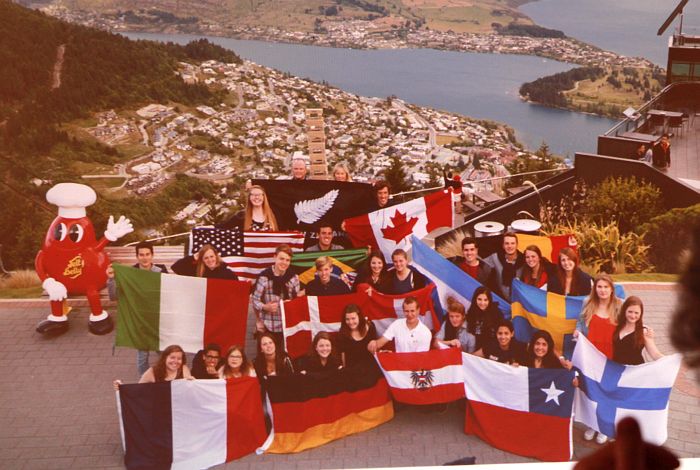 Jessica did not have any prior expectations of NZ before arriving, but she loves the smell of the air. NZ is so far away from the rest of the world, not like in Europe where everything is close. She loves the greenness of nature which she discovered when tramping in the bush. She has found Kiwi people to be different – using affectionate names and making her feel like part of the family. Social life is great and she feels she has settled in well. She enjoys the sociability and relaxed feeling of Rotary meetings.
Valentin has enjoyed the get togethers of the students, firstly at the Orientation weekend when there were 9 inbound student and 4 outbounds. Then the Marae weekend learning the Maori culture, and the highlight so far has been the South Island Tour, when 27 students from three North Island Districts spent 3 weeks doing a wonderful circuit of the South Island.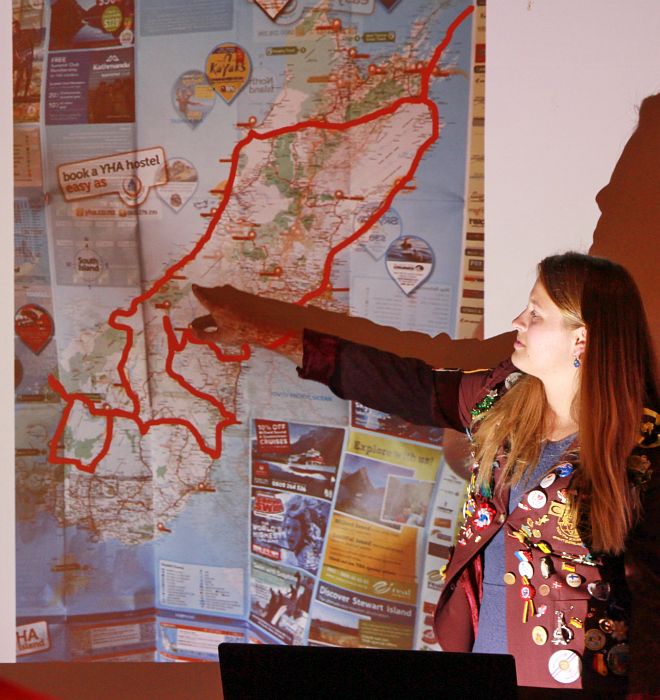 They did kayaking from Picton to Mistletoe Bay, they tramped the Routeburn Track, did white water rafting in the Nelson Lakes area, skydiving in Wanaka, and cycled a part of the Otago Rail Trail. The overwhelming impression was lots of sheep and no people.
Jessica's first host family was the O'Connells where she was able to discover the area and the café scene and the shops, and Dianne McGavin's home has shown her farm life. She has travelled widely in NZ especially over the Christmas holidays with a trip north as far as Whangarei and Christmas with Dianne in Napier.
At Aotea College on the first day, three girls were assigned to look after her – now they are good friends. She has been made to feel very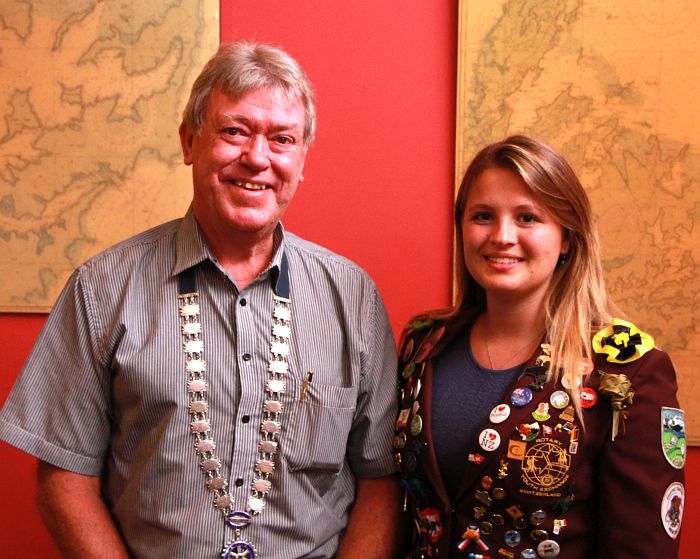 welcome and included. Aotea has lots of cultures, which all mix well together, and the subject range is extensive.
Valentin is attending Wellington College, where he is finding the cultures mix well also. His first host family showed him around NZ a lot, and he has also done a lot of touring with his second family, including spending time a t their bach at Himitangi. His family hosted an Australian girl before he came to NZ and he feels sure they will be lifelong friends. His sister did an exchange to Italy and that is a continuing contact.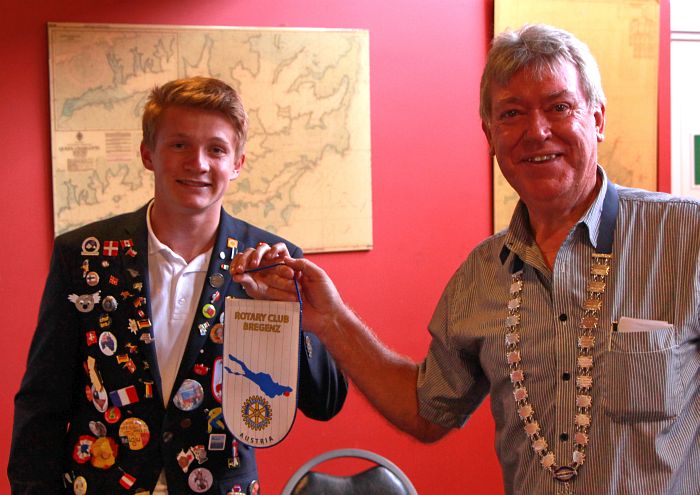 The young people met here in the exchange programme will be friends for life. The Rotary Exchange programme works well with students well looked after by mentor, hosts, the District and the whole Rotary organisation.
Currently Jessica's family is hosting an America girl, a weird feeling knowing another girl is sleeping in her room! She hopes her family will accept the changed Jessica when she gets home.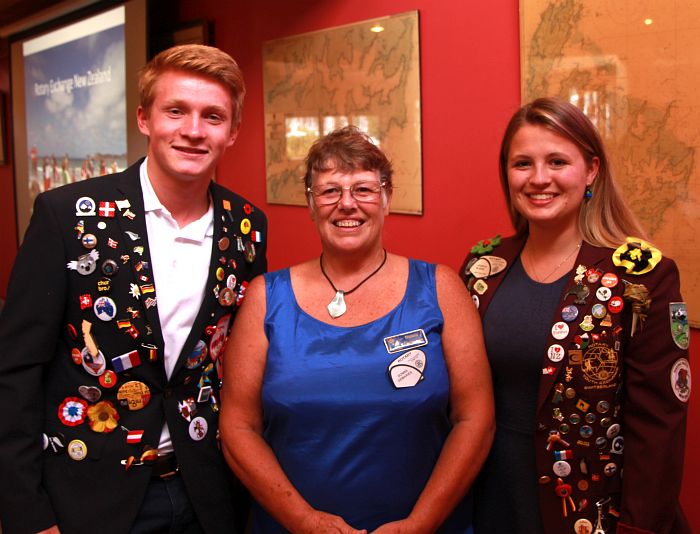 Both students say they wish everyone could experience what they are so fortunate to be experiencing.
Donna Gemaries with Valentine Brunner and Jessica Nussel.
Next week our Guest Speaker will be a representative from the Insurance Council of NZ. This was to be Tim Grafton the CEO but will now be Terry Jordan the Operations Manager who is also an experienced presenter.
Terry Jordan commenced with the Insurance Council in 2001 and is currently the Operations Manager. His responsibilities include the Finance and Taxation, Employment and Education and Personal Lines committees as well as the Insurance Claims Register. He is the Council's spokesman on Fraud and Law and Order issues and is currently spending much of his time managing the activities of the Canterbury Earthquake General Managers Group.