Diary
Rotary Club of Plimmerton
From Telethon to Te Papa
By David Pine
Posted: 11 March 2015
An exuberant and flamboyant Roger Gasgoine entertained members and guests at Plimmerton Rotary on 10 March.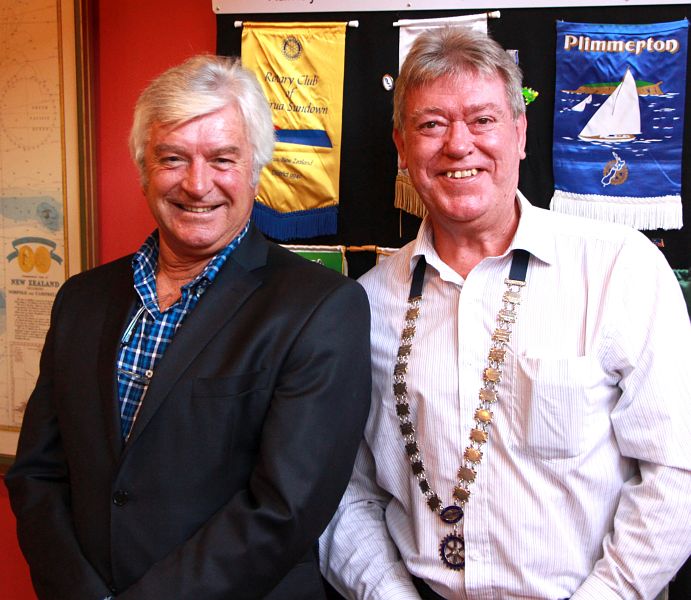 Roger began by recounting his early days at Radio Windy, which he joined in 1973, and two years later at TVNZ when it was in its infancy. Because there was only one TV channel, he found himself in the situation of being one of the best known faces in the country. "It was like I was everyone's first cousin – a part of every NZ family. That was great, but also it could be uncomfortable." He remembered conversations people would have when they recognised him in the street. They would say things like: "Ooo, he's a lot shorter than he looks on TV".
In the 1980s Roger became a TV newsreader when TVNZ was divided into regions. He read the local Wellington region evening news. Also at this time the annual 24 hour Telethon became a major event in NZ's calendar. Roger noted that although it may have appeared to the viewer that he and the other announcers were all on deck for the whole 24 hours, in fact behind the scenes they worked a kind of shift roster. When not fronting the cameras he and his colleagues would find all sorts of creative ways to amuse themselves "which I can't possibly go into here!"
By the early 1990s regional TV had become national and it was time for Roger to move on. He became a founder of Saturn TV on the Kapiti Coast, which was later taken over by Clear, which became Telstra Clear. This company was later sold to Vodafone. Roger worked for all of these firms as a corporate affairs manager, before finally moving to his present role at Te Papa.
When celebrities or VIPs visited Wellington and wished to take a tour of Te Papa, the chances were that Roger would be their guide. "Often on these tours, there are really only 3 people involved – the VIP, their interpreter, and me. Then there are several men in dark suits, glancing around furtively and talking seriously into their lapels, plus various other hangers-on. Sometimes I'll make a joke to the VIP which the interpreter translates, then the VIP will laugh heartily. A few seconds later, out of respect for their leader, the rest of the party will laugh heartily as well!"
Roger thoroughly enjoyed recounting NZ's history to his guests, from the earliest known visits by the people of Polynesia, through to European settlement in the 1840s. Under new management, Te Papa was mounting some significant displays. A recent dinosaur display had attracted 145,000 visitors, while another about Air New Zealand's history drew 156,000 visitors. The next major event would be a substantial display to mark the 100th anniversary of the Gallipoli landings.
Observing the people who had visited Te Papa during his time there, Roger was convinced that all of them were children at heart. "It's very important to always connect with the child within, no matter how old you are. In fact, when I grow up, I want to be a kid."
Welcome to our latest member, Phillip Mottram,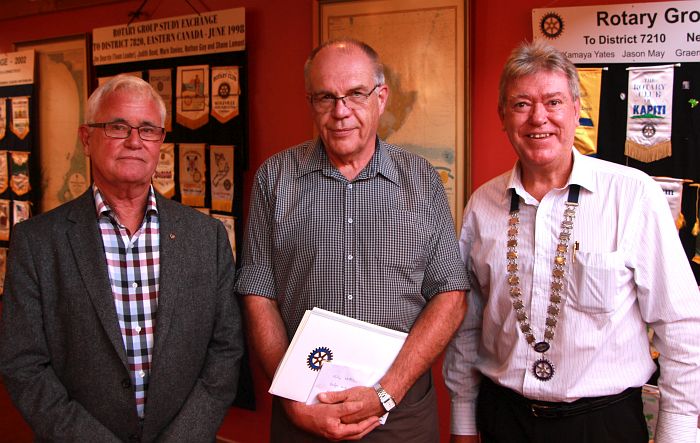 flanked by President Chris and Phillip Reidy.