Article
Rotary Club of Plimmerton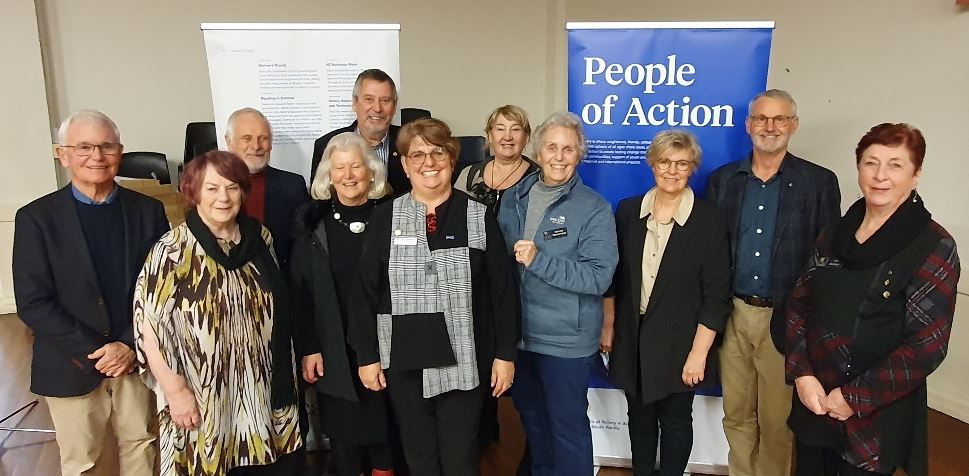 Everyone knows Assistant Governor Kath and District Governor-Elect Marilyn but how many of you remember two other people in the attached photo?
A small group of Plimmerton members attended the District Changeover in Otaki on 25 June. They were joined by Roger and Kay Fitzpatrick who travelled over from Australia to support their very good friend, Marilyn Stevens as she accepted the role of District Governor for the coming year. They will be well-known to many of you as they, and Marilyn, were all members of Plimmerton over the turn of the century and it was Roger who first came up with the vision that has become Te Ara Piko.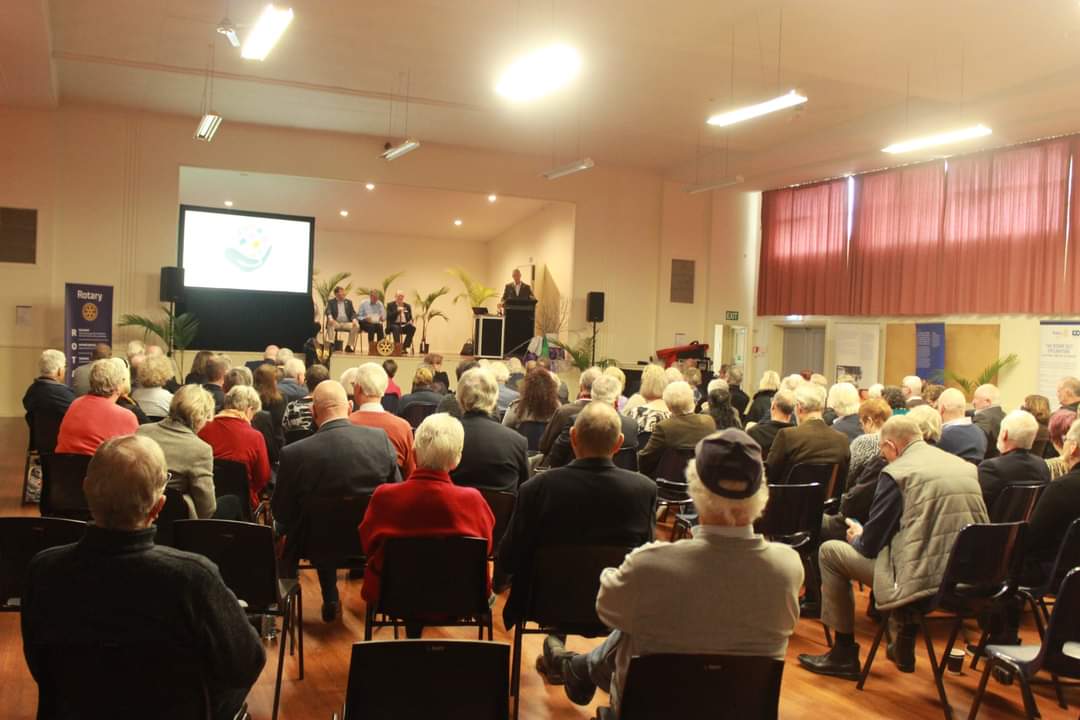 About eighty Rotarians and partners attended the Changeover which was held in the Memorial Hall in Otaki (and it was very cold!). Outgoing District Governor Mark spent the morning celebrating the year past with presentations about several important projects, including Polio Plus, Rotary Give Every Child a Future, and the whanau rooms at the Wellington Regional Children's Hospital. DG Mark made several presentations as he reported on the year. The sums of money that some Clubs have donated to the all-important Rotary Foundation were amazing – with Wellington Club giving over $600 per member.
DG Mark spoke about the importance of the discussions around, and the vote, regarding a possible Regionalisation Pilot in our Zone 8 (Australia, NZ, and Pacific Island countries). The vote will be to decide if we want to be part of a pilot to regionalise the structure of Rotary. If successful, several options will be developed for our consideration.
Among those whom Mark called on to speak about various projects was our own Phillip Reidy who gave an excellent presentation on the Ethify concept that we all know about at Plimmerton and urged people to join, not only because it is a very creative and forward-thinking opportunity to fundraise, but also because the new product offers 'Wifi for a better world'.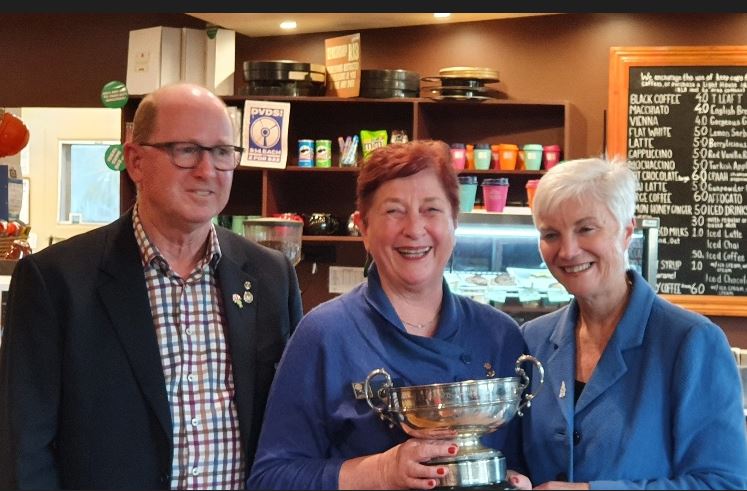 Mark made several presentations, Paul Harris Fellows and Sapphire pins, certificates, and bouquets of flowers but the most exciting for the Plimmerton contingent was his presentation to Plimmerton of the Paul Harris Fellows' Rosebowl. He detailed the many reasons why Plimmerton had been chosen to receive this trophy which you can read about here. It was, in fact, re-presented at the special 'Drinks and Nibbles' evening at the Lighthouse on Sunday evening.
Lunch was enjoyed by all, along with the chance to do what Rotarians love: to chat and network. After the handing on of the official District Governor chain and name badges, new DG Marilyn Stevens outlined her thoughts for the year.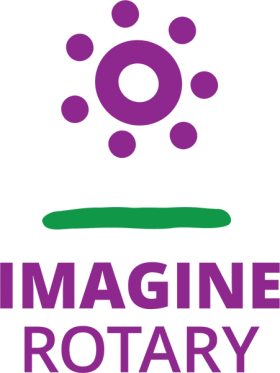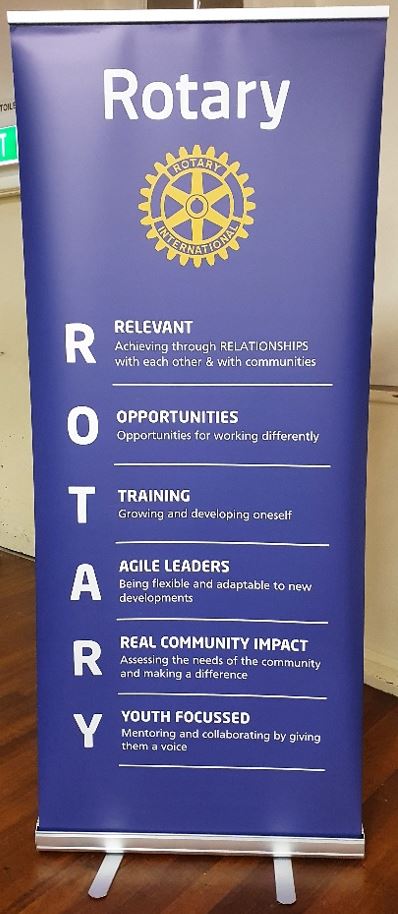 She started by introducing the Rotary International theme for the 2022-2023 year, set by the new World President Jennifer Jones - Imagine Rotary.
From this, Marilyn laid out what she was 'imagining' for her year ahead and advised us that the Wellington Regional Children's Hospital will open on 14 October. She urged us all to "Ride the Train" for Polio on 4 September. You may not be able to read the brilliant by-line on the attached photo but it reads, 'Ride the train to enable others to walk'. Food for thought. The train will depart from Paekakariki at 7.50 am and will travel to Taihape and back. It will be stopping at Levin, Palmerston North, and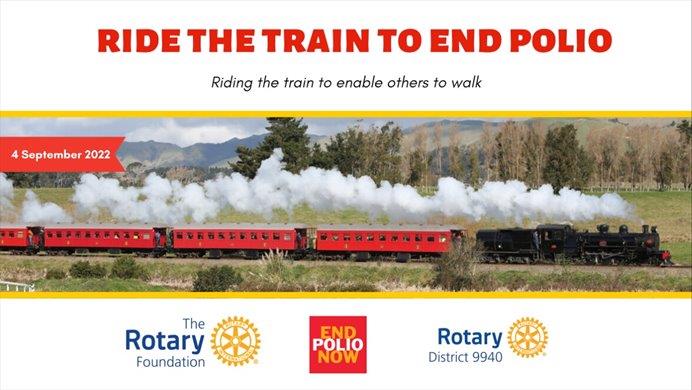 Marton and people can join at those locations. The cost is $160 per person and you can make your bookings using this link. Although only two countries have had Polio cases this year, the Polio virus has been found in sewage in London. While no cases have been reported there, officials are keeping a very close watch on this possibly disastrous situation. We are so close… Let us support this programme of eradication through to the end. Rotarians do not give up halfway.
Her GSE Team of 21 years ago all came to support Marilyn and made short speeches about her qualities.
The new District Governor-Elect is Wayne Gordon and DG-Nominee (2024-25) is Jocelyn Hogg whom many of you met on her recent visit to our Club.
Marilyn mentioned that each Network of Clubs would have two Area Governors this year as the number of Networks has been reduced leaving a larger number of Clubs in each group. Our Network includes Tawa, Plimmerton, Kapiti, Mana Tangata (including the Porirua Chapter), and Levin. Our Area Governors will be Liz Koh and our own Kay Phillips.