Article
Rotary Club of Plimmerton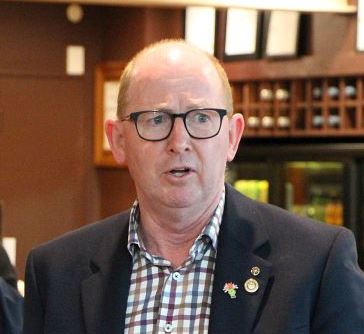 Outgoing District 9940 Governor Mark Wheeler summed up his very successful year and presented awards to a number of worthy recipients, one of whom was The Rotary Club of Plimmerton. In his speech, he said:
'Today I want to award another District Trophy, the Paul Harris Fellows' Rosebowl. This was last presented in 2003/4 to the Club whose team of three, won the District Quiz each year. (Editor's note: Plimmerton's team of three, Wendy Betteridge, Noel Evans, and Terrie Turner won the District Quiz in 2003-2004 and Plimmerton's name is on the trophy for that year). 'It lay broken for a number of years.
'The District Governor Train has had it repaired and repurposed.
'Now, the Paul Harris Fellows' Rosebowl is presented by the District Governor to recognise the dedication of a club to improve the quality of life in the Club, District, their local community, and support of national and international projects. It is awarded by a TV panel of three selected by the DG, including PDGs / DG Train, and supported by the Area Governors.
'The winner for 2021/22 year is the Rotary Club of Plimmerton. A snapshot of Plimmerton's outstanding dedication is as follows:
Forest of Peace and Remembrance tree planting at Taupo Swamp Wetland area - started by Past president Bill McAuley and continued on this year - in partnership with Rotary Porirua and Porirua City Council and many other local volunteers.
Te Ara Piko pathway, which won the Wellington Airport Community Award for Sport & Leisure. A unique aspect is that it deliberately became a multi-year project. Taking on a 20-year project shows remarkable foresight and perseverance.
The Primary School Leadership Annual Awards (7th year 2021), with the two best young up-and-coming leaders from 32 primary schools has changed over 400 lives. This is a remarkable programme bringing together the community schools and the Porirua City Council.
Western Porirua Primary School Speech Competition.
School Service above Self Awards.
Launch of Porirua Community Garden in conjunction with Porirua Menzsheds to support the Salvation Army Foodbank.
Kindergarten Clothing Project in partnership with Kmart.
Fundraising for Drowning Prevention.
Sponsored IYM student Aletia Horn, RYLA candidate Josh Harwood and purchased four ERKs.
Great social events throughout the year to promote fellowship and friendship and managed to maintain face-to-face meetings despite Covid.
And now your outgoing President Kay is your new Area Governor.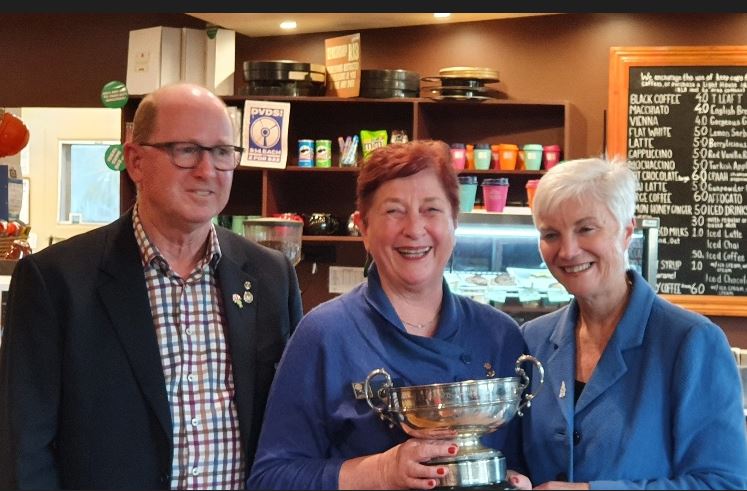 'I congratulate President Kay and Plimmerton Rotary for an outstanding year.
'I now invite RI Director Jessie Harman to present it to the Club.'
Editor's note: This trophy was re-awarded to President Kay on behalf of the club at the celebration and film showing of Te Ara Piko at the Light House Cinema on Sunday 26 June 2022. As Kay said on receiving the trophy, 'This is an award that every one of you has contributed to through our various projects and activities. He waka eke noa (A canoe which we are all in with no exception or We are all in this together.)'