Blog
Rotary Club of Plimmerton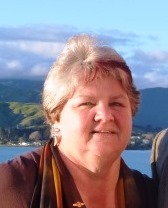 Past Assistant Governor, Adrienne Murray outlined a new project being set up to help to combat the Covid 19 Delta strain. It is called One Million Masks. She said,
'We are repeatedly being told 'Everyone should/must wear a mask' and that will help slow or perhaps stop the spread of these diseases.
'What sort of mask? Will any mask do? What is the matter with the ones that you see being used by surgeons? Surely making it at home or getting the cheapest possible mask will do?
'What if I tell you that this is not the case? It's the filtering system in a mask that is important, as well as how it fits.
'I don't have time to show you the video of how some of the different masks work but here is a link to a 10-minute Vimeo so that you can watch it yourself.
'Everyone in this room may be sorted, and as you make your way around Porirua or into Wellington city, you will notice that most people are wearing some sort of mask, Are they protected? And just as importantly, are you protected from them?
'One Million Masks for Fiji or Auckland (particularly in the south) and just as importantly for the rest of our world is a goal. As Rotarians, do we give any thought to how some of these people will be protected without a mask, and how safe are we when we are in those, or almost any other environment?
'I spoke to Ragne Maxwell, Principal of Porirua College just after the government announcement about mandatory mask-wearing, and asked if she would like Rotary to support her in getting masks for those in the school who could not afford them. After all what comes first - the rent, food, or masks?
'She told me my call was like mana from heaven. She had just come from a discussion on what they would do and the effect of having masked teachers trying to teach masked children - and the additional costs for a school that does not have very much money.
'I rang Mayor Anita and asked if she would like to come and help give the school some masks. The advantage to her would be media coverage because, at the end of the day we want to supply, where needed, One Million Masks She immediately said yes and suggested that we apply for a grant from the Hutt Mana Charitable Trust. If we can raise $2500 from within Rotary and $2500 from the Charitable Trust we would be able to purchase 2000+ masks . We are currently awaiting delivery.
'The District Governors across New Zealand have had a meeting and agreed that this project was worth getting all the clubs involved so we are busy planning the logistics at the moment. It will be (other than Polio) the first NZ wide Rotary project.
'Lanaco, who donated 75,000 masks to Fiji on behalf of Rotary has come to the party again, this time not to donate but to let us buy them at a significantly reduced price of around $22 - $23 for a box, up to a million masks. The only issue we have at the moment is they are so busy with orders at full price that we need to wait in line.
'We have been told that for every $5000 order we make, they will stop normal production and make some for us. Each club across New Zealand can decide which country they donate to, whether in the Pacific starting with Fiji who is in desperate need now, and/or across New Zealand where they are also needed, be it a local school or community. For our two clubs, it may be that the need is greatest in Cannons Creek, somewhere in Tawa, or a small pocket in Camborne.
'The masks will be individually wrapped in a paper sleeve and will be in a box. The box will have the Lanaco logo and the Rotary logo, and there is room for a club, business, or individual to have their name on the box as well.
'The $ cost will cover manufacture, packing, packaging, and distribution. We may all know a person or a company willing to donate. This is not a fundraiser. Whatever money we raise will be spent on the masks and getting them to the right places. And as a secondary benefit, by helping our communities, we will also be helping ourselves.
'These masks are reusable and could last for a week of they don't have to be worn all day. When they are not in use, they should hang in the fresh air. They may not be washed as their insides are primarily wool. Visit the Lanaco site and have a look.
'Our Olympians used them, our Para-Olympians used them, our cricket team uses them, and companies are buying them
'Lanaco staff got a real buzz out of donating to Fiji and the Managing Director told me that they love the idea of supporting others. The whole team is keen to help as much as they can.
'In addition, Past District Governor, Bob Smith in Whanganui has been offered antiseptic wipes - 60 wipes in a packet and 24 packets in a carton. The Children's Health Trust team will, in the next week put an email out to clubs, inviting them to buy a carton for $25 and on-sell a packet for $2 each. The $23 profit can be passed on to the charity of choice.
'The Rotary Club of Porirua is thinking of giving a packet of wipes with every box of masks that goes to a family. Selling them in Whanganui has revealed that all sorts of businesses, from cafes to motels to small businesses for their tea room, are wanting them. What ideas do you have?
'The specialists and scientists are telling us that Covid and its variants will be with us for quite some time. Keeping others safe is the same as keeping ourselves safe.'