Article
Rotary Club of Plimmerton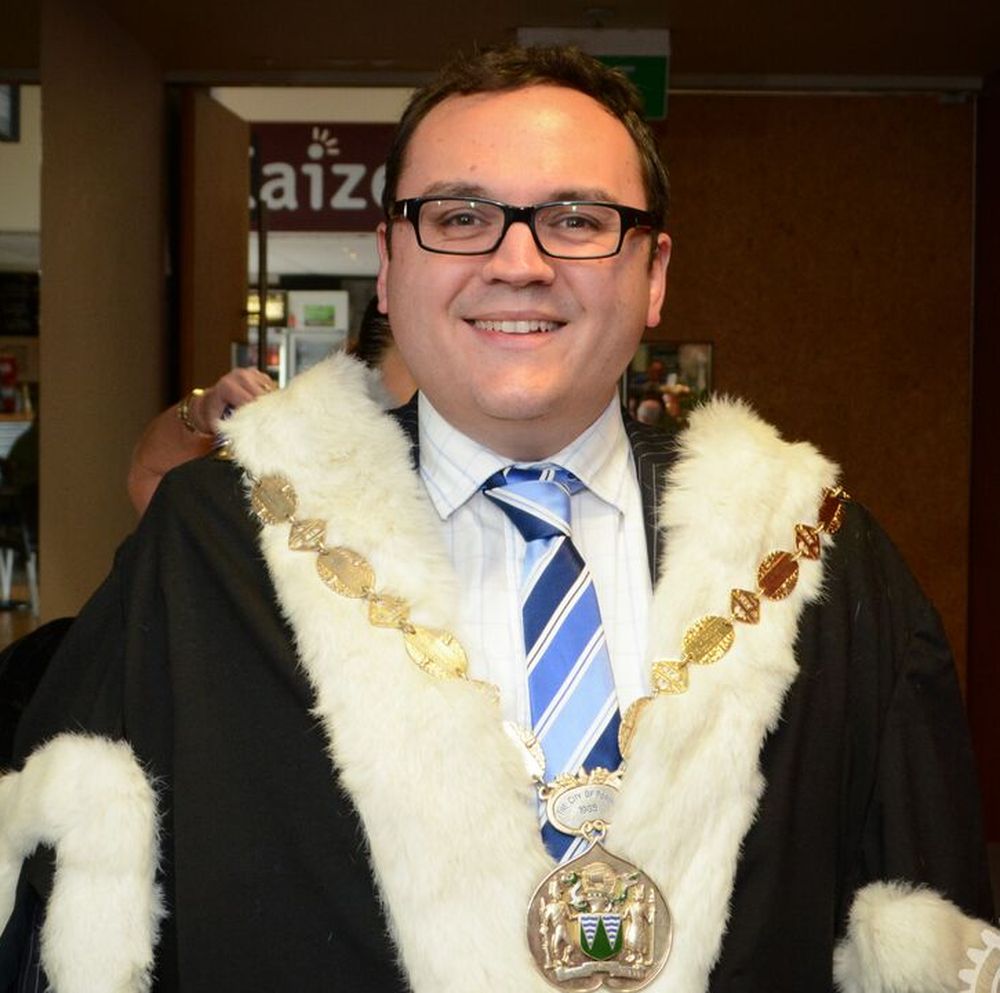 Nick Leggett gave the Keynote speech at the Gala Dinner to celebrate Plimmerton Rotary's 50th Anniversary, pictured here as we remember him very fondly when he was Mayor of Porirua City during its 50th Anniversary in 2015.
It is a pleasure to this evening be asked by Plimmerton Rotary to address you for your 50th anniversary.
I'd like to begin by acknowledging President Denise Traill, former District Governor Graham Blick, former Presidents, Mayor Anita Baker, Dr Frances Hughes and US visitors who are joining the club this evening.
Congratulations Denise on making the focus on your Presidency, tonight is a reflection of the people and the mahi of this club.
There is no doubt this club has made an almighty difference to its communities over the last five decades. So in that sense, this has been a very easy speech to write. I wanted to reflect as an individual outside of the club, but associated for at least half the history and the beneficiary as a member of the Porirua community of your activities over the years.
So 50 years ago last week this club was first incorporated. Reflection and pause is so important at times like this. That starts with people. Those of you here, those who aren't, and those who are now gone.
To build resilience, to create opportunities where few possibly existed previously, to help out where it's most needed and provide a place for people to come, enjoy fellowship and help out and meaningfully contribute to the wellbeing of their community and beyond. That is a true legacy of this club over 50 years.
My first real association with Plimmerton Rotary was about 25 years ago, when one John Green invited me along to listen to a chap who spoke of his life being born on Pitcairn Island. John thought I would be interested in hearing and I was. I was struck, when attending that evening at Paremata Boating Club, by the veritable who's who of the local area. Les Austing spilt my drink on me, then bought me another, Ron Findlay was very kind to me. John Barber, David Knight, Adrian Brady were all there too, Many people who did business in the area and then served the community every Thursday night on top of that.
This club, despite being named "Plimmerton, "always saw itself as active across the wider area of the city. When you assess the health of any community, it's not enough to look at the official indicators. You need to take account of things that are harder to measure. Do the people here feel safe, supported, free to pursue for themselves and their families the lives and lifestyles they want? If the answer is yes, we know that when we look at the list of annual works of Plimmerton Rotary that we have a lot to thank you for.
I want to tell you tonight, $3 million you have tallied up as the dollar benefit over the years, is hugely conservative. What we now know about the social impact of philanthropic giving and projects, is that the rule of thumb will be many multiples of any dollar amount. So on the back of my envelope, it's probably closer to $20 million and that doesn't include where your actions as a club, spurred on co-investment that was many times higher.
I am of course thinking of Te Ara Piko (Ron Lucas) as a key example, but there are others. . The book fare was an enduring project over many years, and more recently the planting at Plimmerton Domain. Add to all that, relief aid work in the Pacific over many years (John Barber Tonga and Randall Shaw Cook Islands) - countries which of course have a much deeper significance in a city like Porirua. The Porirua skatepark - the placement of which caused much controversy at the time. Ted Nation led the support on behalf of rotary and over twenty years later it is still in the same, prominent site. Phil Whearty and the school sound systems that are still operating and adding to the learning of kids who often just missed out on education because they couldn't hear their teacher's voice. That work spurred a whole lot of other literacy work that probably wouldn't have occurred otherwise. Primary school awards, the youngest city in the country recognising every year the achievements of its kids - Peter Cox and Wendy Betteridge.
These projects have had much more lasting impact. It's worth us thinking about that here tonight.
Indeed, you are connected to a worldwide fellowship which in 1979 - a very good year - to polio eradication efforts. The total commitment of that effort by worldwide rotary is a staggering $2.25 billion.
Rotary International has never stopped lobbying governments, educating and mobiling communities, raising funds. That collective action has saved thousands of lives and alleviatied unimaginable human suffering.
Te Ara Piko is a worthwhile project to highlight because of its huge impact, it's significance for the community and visitors alike. And it's evidence of where if you try hard enough, you can lead the horse (in this case the council) to water. Eventually. The significance of the project was that the idea, the initial funding and the work came from this club and people inside of it. That led to partnerships and support in the general community, council, Ngati Toa who could all see how important it was to have a pathway around the the harbour that allowed people to engage with the jewel in our crown.
Much like your counterparts internationally, you didn't once take "too much" or "too hard" for an answer.
I always remember thinking at the time that you wouldn't become Mayor of this city without the support - or rather tacit approval - of the men and women of such a significant grouping. When people from this club asked us something at the council, we acted. When you wanted something, we moved. Not because of numerical influence. But because of your credibility.
That credibility remains today. Doesn't it Anita?
So now I ask you -How do we prepare for the next 25 years? What are the next projects you can promote and collaborate on?
Well maybe not questions for tonight. Tonight is about thinking of those people who have come and gone, contributed to their community, enjoyed each other's company and been loyal members of the Plimmerton Rotary Club. Here is to the service of you all. Long may it continue.