Blog
Rotary Club of Plimmerton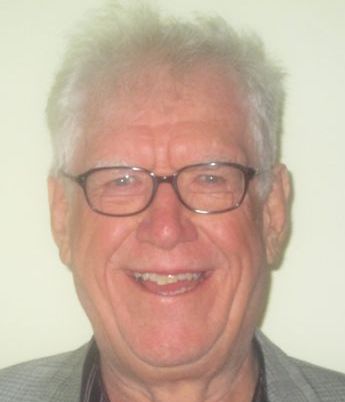 Mike Doig was 'The Person Behind The Badge' this week and said:
'I was born in England at the end of the war. I must have been conceived when Dad was on leave from the RAF in late 1944.
'My mother's family were in the cotton industry. Her father was clever, and had patented improvements to the power loom. In some other respects he was bonkers, being a lay preacher in the Rechabites, a minor sect of the Methodist church. I vaguely remember him playing the concertina and singing.
'My father's family were Scottish fisherfolk, hardworking, Presbyterian and conservative. His mother was the only grandparent I knew well, and I still marvel at the hard life she endured, and how cheerful she always was.
'My parents were upwardly mobile, and both became teachers. Mum was an art teacher. Unusually, she had specialised in 'Illuminating' at Art School, and in her spare time was often busy creating commissioned works, two of which were presented to the Queen.
'Dad taught woodwork and metalwork and had a well-equipped workshop in our garage. There was always some creative activity going on at home.
'I went to the local high school where I was a nuisance. I had little respect for the washed up teaching staff (as I saw them) but managed to scrape enough marks to go to university, where I studied electrical engineering.
'I now see that, for me, this was a poor choice but in the 1960s science and engineering were all the rage and it was easy to get a job. I joined a big firm and became a graduate trainee. The firm took on 160 graduates that year and I was swept along in the training scheme, which was actually very good.
'I was one of a team working on a very big defence contract for the Libyan government when Colonel Ghadaffi seized power and cancelled the contract. I was demoralised and decided to move into manufacturing. This was a good move. I became a manager at quite a young age. You could say that Colonel Ghadaffi changed my life.
'My employer sent me to help their subsidiary in Norway, where I mostly worked in marketing.
'I met Philippa, my wife, in Norway. She was doing her OE and working for a rich family as housekeeper. We had a whale of a time in Oslo, socialising with the English-speaking ex-pat community. Norway is a wonderful country. We decided to move to somewhere like Norway, which is why we came to New Zealand in 1973, shortly after we were married.
'Philippa taught French at Upper Hutt College and I had arranged to join AWA, firstly in Wellington and from 1975 in Porirua, where we built a new factory. We employed hundreds of local people over the years, making car stereos, radiotelephones and hifi systems. When import licensing was removed in the late 1980s it came crashing down. The firm was taken over by Exicom of Australia and effectively disappeared in the mid-1990s. The factory was demolished. The Warehouse is now on that site.
'In 1990 I saw the writing on the wall and joined the newly-formed Ministry of Research, Science and Technology. I was 'Manager, Priorities and Funding', and the only person in the Ministry with a business sector background, which I exploited shamelessly.
'It was a fascinating but very challenging job. We doled out hundreds of millions in research grants to government departments, universities and other institutions. We were heroes to some and villains to others.
'Eventually I got tired of the endless politics and joined Victoria University as CEO of VicLink Ltd, where we handled research contracts and managed intellectual property. I discovered that universities are interesting but frustrating places to work.
'The politicking that goes on in the universities is far worse than in the government sector. Henry Kissinger once said that politics in universities is so vicious because there is so little at stake. I could tell lots of hair-raising stories about VicLink projects if we had the time. Our biggest success was to sell one of our businesses for $26M in 1999. Our biggest disappointment was our failure to breed seahorses in captivity. We planned to export their skeletons to China.
'In 2006 I moved to ACRI as Policy Manager, which looked after the interests of the Crown Research Institutes and finally retired in 2013.
'So I have worked in the business sector, the core public service and academia. I have been lucky insofar that every job I had was interesting and I got on well with my colleagues.
'I see that this has mostly been about my working life. There was an arc to my career which took me away from technical stuff and into analysis, reporting, and writing. If I had my time over again I would be an economist, but then I wouldn't be standing in front of you today.
'On the personal front Philippa and I have four children, all in New Zealand at present, and three grandchildren. We see them a lot. We have lived in Plimmerton since 1974, which is a spendid place to bring up kids. I read and write a lot, do a bit of DIY, and I'm a radio ham, but that has been interrupted since we moved house.
'I joined Rotary in 2001, in Wellington, and it has been a great experience.'