Blog
Rotary Club of Plimmerton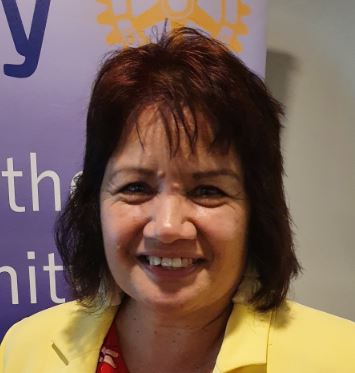 'Greetings', said Denise Traill, as she gave us her Viewpoint tonight.
'I was born in Papaoiea now known as Palmerston North.
'A proverb (whakatauki) I share with you - From the cradle to the grave, we are forever learning.
'Warm greetings to you all.
'My viewpoint tonight is to share a lesson from beyond the grave from which I am forever learning and will tell you a little more about me.
'I introduce my grandfather, Percy Edward Priest. A returned WW2 veteran and freezing worker, he tended a large vegetable garden and proved to be a very good home brewer. Once when capping the latest brew, he spoke to me about the importance of working hard; as the eldest of my siblings, he expected me to reach high and not be afraid to fail. To an eleven-year-old, I had no appreciation of the context.
'It was a College sports day, 1979, aged 14, I had qualified first for the 400 metres track final. Thinking I was not worthy and more importantly, feeling shameful if I didn't win the final, I didn't turn up to the starting line. Who knows what the outcome might have been if I'd run, but I do know the final time recorded was slower than my qualifying time. Percy had died a couple of years earlier and the first thought I had, was "what would I say to Percy?" How would I explain myself?
'His words, my learnt sports lesson guided me to be the first in my family to earn not one but two degrees.
'Graduating Police College, my daughters then aged 14 and 11 were there to watch efforts of my six months away from home but also how their sacrifices meant I could fulfil my dream. My promise to them was I would aim high, it would all be worth it.
'During my 15 years and two months service, I rose to the rank of Inspector becoming the first Cook Island descendent Commissioned Officer. On my way through, there were many "what would I say to Percy?" moments that prodded me to push on. I even developed a feminist streak as I grappled with the status quo, a misogynist view of what a leader looks like.
'Percy was a member of a Masonic Lodge, I remember his lodge certificate displayed proudly on the lounge wall. In reaching high, I'm sure he would be pleased I am a Rotarian, that I have served as President and will do so again in two years. Service in all its forms, matters.
'There are many milestones I would love to tell Percy about; that his granddaughter has been married to Dexter since 1984 and each year I forget our anniversary date. More spectacularly, we have raised two amazing women who each have families of their own.
'Percy's principles to work hard, reach high and not be afraid to fail are blessings, learnings I pass to our moko.
'My viewpoint is to appreciate the opportunities we have as guardians of future generations and be sure the lessons we pass on enable forever learning.
'He mihi mahana kia koutou katoa.'