Blog
Rotary Club of Plimmerton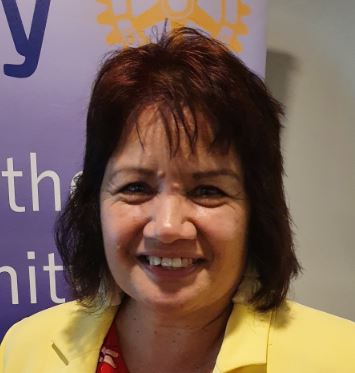 Denise Traill spoke as the Person Behind the Badge tonight.
She said, 'The question that has seen me rack my muddled brain to reflect and find something of interest to share. Three L's spring to mind, Learning, Leadership, and Loyalty.
'Do I talk of school memories? My primary school; located in a decile 2 contributing community, introduced me to the importance of team sport, democracy through student council, service to others with road patrol, and the jewel in the crown. To be one of just a few, chosen for kitchen duty roster, meticulously laying out cups and saucers, placing biscuits on plates, and boiling the water zip. Mr. Campbell, Miss Hunter, Mrs. Sheehan, teachers who encouraged my interest in learning and to be curious. Many of their traits, values, and consistent behaviours, I saw as advantageous to be part of my kete for success.
'The first L, "learning", there's always that one lesson that has popped up throughout the years and was related to maths. Mr. Campbell asked how we find the circumference of a circle? In an outdoor lesson, my standard four (year 6 in today's curriculum) classmates and I with chalk in hand, set about problem-solving. I have no recollection of what my contribution to the puzzle was, but I do have a fond memory of learning how to draw a circle from a fixed point. In future years, this proved very handy in my coaching endeavours for netball, showing how to deliver a centre pass and marching where the leader has to finish a drill in the circle. My primary school when I attended, had all the kids from the large blue-collar neighbourhood, big households stable with State Housing as we were or homeownership. As children we walked to school, collecting families along the way, always feeling safe as there were plenty of eyes and ears. Today we call these walking buses and would be highly adult supervised. In my day, it was the eldest who were responsible for the youngest, it worked. Today, my primary school has just 90 pupils, and the roll is highly transient, I feel for today's students wondering what their experience of school and community is like.
'At college, girls' leader of kapa haka and sports continued to be a mainstay of my education journey and it was also how and where I met my husband. Here I introduce the second "L", "Leadership". Not that we were high school sweethearts; it was at the annual regional interschool sports competition that our paths crossed for the first time. As a student leader, I was given the task of organising flag bearers, drawing from my marching colleagues to conduct the march past. I agreed to be organiser, on the proviso I got the first pick of the school I would carry the flag for. I chose Hatō Pāora College, a Marist Brothers Māori Boys Boarding College. When you're a teenager that's what you do, choose the hottest collection of teenage boys and pretend to be shy, slightly embarrassed but make polite conversation with the front row. A slow burn, however, some twelve months later, our paths crossed for the second time. In February 2022 it will be 40 years since our paths crossed for the second time and the first time I was introduced to the sounds of Marc Bolan, T-Rex. Meanwhile, in 1982, my music tastes were more streamlined, "Physical" Olivia Newton-John, "Downunder" Men at Work, and a song my moko love "Eye of the Tiger", who would have thought.
'Just two weeks ago, we celebrated our 35th wedding anniversary, acknowledging pride in our two daughters, the families they have created and my joy in watching them become very successful in their chosen careers. The third "L", "Loyalty" and or "Love". I just added a fourth, why, because I can as it's my story behind the badge. As I reflect, loyalty is my greatest attribute, it is the characteristic that represents past, present, and future. My loyalty represents those who have contributed to who I am, the person who stands before you this evening.
'In closing, it is my loyalty for family and love to contribute to safe and fulfilling communities that show my pride in being the name at the front of a Rotarian badge.'