Blog
Rotary Club of Plimmerton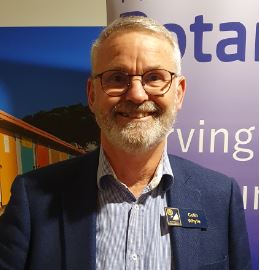 My name is Colin Alexander Whyte. The Alexander is a name that has come down through numerous generations but generally as a middle name.
My great-grandfather arrived in New Zealand on 28 January 1859. I was born on 14 October 1953 in Christchurch. I have one older brother (4 yrs older) and we grew up in the house Mum and Dad purchased new for 4,000 pounds in 1946 as their first house. My brother and I lived there until we left home. It was a typical Christchurch weatherboard house sitting on about a third of an acre with fruit trees and a large vegie patch as well as some lawns.
My parents were both quite sporty, playing tennis and golf prior to starting a family and their interest in sport was transferred down to my brother and I and an interest in sport has been with me since a very young age. My first recollections of sport are a combination of dressing up in big brother's rugby gear, playing kindergarten rugby where the opposition was a team made up of our Mums, and learning to swim in Centennial Pool in Christchurch City.
Our house was between Addington Raceway and Sunnyside Mental Hospital and both facilities provided for interesting playgrounds in addition to the sports park at the end of our street. The grounds at Sunnyside were the ones most used by me and my friends as kids.
The Rugby club I played for was originally named Sunnyside Spreydon and the home grounds were just over the road until it was deemed that it wasn't really appropriate anymore to have home grounds in a Mental Hospital and the club having a Mental Hospital in the name of the home ground was moved and the name was changed to Suburbs. Whilst the club wasn't one of the "Name Clubs" it did produce some very good players and at one stage had three All Blacks in the senior team. Stew Cron (older brother of Mike Cron the AB Forward coach in recent years), Lyn Davis (AB Half Back) and Wayne Cotterill (AB First Five or Second Five) plus two or three others who were in the Canterbury team at the time. The Golden days for the club. Many years later the club would see their senior team beaten by over 100 points in a game and set a new record for Christchurch Club Rugby..
During my school years I played rugby, cricket, tennis, athletics and swam. I also started to play golf with my Dad and brother whilst at secondary school. At school I managed to make the first 15 in my 7th Form year and played in the second cricket team. After I finished school I continued to play club rugby and club tennis but gave up both when I moved to Wellington.
At primary school the subject I struggled with most was English as I was a slow reader and hated it when we had to do reading out loud in class. This continued through secondary school. Much to my surprise, however, when I sat the tests to go to secondary school (they set these in those days to "stream" the classes) the results put me in the top professional stream so I ended up with two further languages in French and Latin which I tried to get my head around for two years. Fortunately I had two very lovely and patient teachers who put up with me even though it was pretty obvious, especially in the 4th form, that I wasn't very interested in their classes and certainly wasn't going to take them any further.
Looking back when I started secondary school in today's terms as Turds we were subjected to some bullying. However, we didn't complain and it was just the way it was back then. I probably got off a bit lighter than some others as big brother was still at school and was a Prefect and in the 1st 15 so although at that age we weren't exactly best buddies his presence did offer some protection I think.
As kids our Xmas holidays were generally a trip to Port Chalmers to see my Grandma and my Aunty who lived directly opposite her. For some reason I couldn't pronounce Port Chalmers so it became Port Pyjamas – a name I probably came up with as Dad often drove overnight down there and I was in my PJs before we left home.
I was lucky to have two sets of Mum and Dad's friends who lived on farms in Otago and I spent a number of holidays on farms either out of Hamden just south of Oamaru or on the Taieri Plains south of Mosgiel. I really loved those holidays and it generated an interest in farming. During my 7th Form I decided that rather than go Canterbury Uni I'd go to Lincoln College and try and do something with that love I had for farming. So I enrolled in an Agricultural Science degree course. That turned out to be a bit of a disaster for me as there were two courses that I had to pass to get past the 1st year. I failed both miserably. They involved looking down microscopes and drawing what you saw – two problems - one I couldn't see anything down the microscopes and even if I did I couldn't draw anything that would look like something someone might recognise. So I said to my parents that this wasn't going to work and I'd better get a "real job".
I'd done a number of jobs during school holidays or after school including working at a petrol station, in a shoe shop and at a car sales yard. Whilst I enjoyed those part time jobs I didn't see any one of them as being where I wanted to work full time. One of my most memorable school holiday job was working on the building site for the then new Christchurch hospital. I was working as a labourer but one of the carpenters on site was a bit of a unionist and he saw me doing some nailing on a temporary stair case and lodged a formal complaint with the site manager which resulted in me being allowed to pull nails out but not put nails in. The site manager's instruction to me was every time I needed to nail something to seek this guy out and ask him to come over and do it. About a week after this incident he was injured when he got knocked over by some concrete shuttering that was being moved by a crane and got caught in the wind. With him no longer on site I recommenced hammering nails in when needed.
Working for an accounting firm seemed to be a good idea but in the early 70s there were simply no jobs in the accounting firms if you didn't have an accounting degree or were studying towards one. The Employment Agency I had gone to see suggested that I go to an interview at an Insurance Company. I really had no idea what an Insurance Company was and what they did except I had some idea of people knocking on doors and collecting money off people. So along I went to an interview and I recall saying to the manager who interviewed me that I really had no idea what an Insurance Company did but I didn't want to go knocking on doors collecting money. He laughed and said that was the other side of the business (referring to the Life Insurance Industry) and I wouldn't be doing any of that. Anyway I must have said something right as a letter arrived in the mail offering me a job as the office junior.
That was a good place to start and I soon learned what made the place tick and managed to keep on top of enveloping and franking all the mail that went out of the office as well as picking up and opening and sorting all the incoming mail and taking the banking over to the bank. The office had about 50-odd staff of all ages and I was soon on a path of being replaced as the Office Junior and spending time in the various departments to get to understand what really went on in the office and the Industry. Life was very different then with no computers and lots of paper records that had to be manually updated after any adjustment or renewal. There was a sizeable typing pool with the typists using shorthand to take dictation for letters and internal correspondence.
One lunch time when a lot of the staff were out, a young lady walked through the office for an interview with the manager. I said to one of my friends in the office "he has to employ her as I want to ask her out and get to know her". Fortunately he did employ her but the second part of the plan didn't work immediately. Persistence paid off though and after a couple of rejections Lorraine finally said she'd come to a friend's birthday party with me and the rest is history. We managed to keep our budding romance from the rest of the office except for one other couple for roughly six months. I had a good friend who was a bit older than me who was in Advertising and very much into the social scene in Christchurch. Lorraine and I had a very busy couple of ball seasons. Somehow we never ran into anyone from work at those balls until after our secret was out.
The mid 70s was a time when there was a lot of centralisation going on and Norwich Insurance where we worked was no exception. I was called into the boss's office one day and advised that whilst he knew about our budding relationship I was going to have to move to Wellington if I wanted to keep my job in the company. That accelerated our engagement and wedding plans. I was the first of the staff transferred to Wellington as part of centralisation and commuted down to Christchurch a couple of times a month to see Lorraine on those same Interislander ferries running directly from Wellington to Lyttleton that Phillip said he used to see Janet when he gave a similar talk a short time ago. That lasted for the 3 months leading up to our wedding and we have been in Wellington ever since.
Within 9 months of me moving up to Wellington the Christchurch office had reduced from the 50 odd we had to a team of 10 and reduced further to 6 soon after. Most of the younger ones in the office ended up in Wellington so we were soon surrounded by a lot of our old friends as well as the new ones we had met. After 18 months hard saving and both working night shifts stocking shelves in Woolworths in Johnsonville, we managed to scrape enough together to get a deposit for a house and bought our first house in Johnsonville. Up until then we had been flatting in Thorndon, walking to work rain, hail or shine. We did have a car – a mini to get about in and get to our jobs at Woolies. Only problem was that Minis were known to have issues in wet weather and ours was no exception and we had to keep a can of CRC in the car to get it started on wet days. Not good when running late. It was also at the time when major reclamation work was being done on the waterfront in Wellington. Driving a mini in rain beside the trucks working on the reclamation along Old Hutt Road was not really an enjoyable commute to night work.
In 1980 we had our son being the first of our children followed by two daughters, one in 1982 and the other in January of 1985. So three kids under five and in the small first house we had was a pretty busy time. In 1985 we moved from Johnsonville to our first house in Whitby. We spent 22 years in Whitby before moving to Kelburn to be closer to work and the Airport due to the amount of travel I was doing and the hours I was working. The 12-minute commute walking was a lot better than the commute from Whitby to town or Airport and it got a lot worse over the 13 years we lived in Kelburn.
About 3 weeks after we moved to Whitby our then 2-year-old daughter met a neighbour mowing the strip of lawn down his long drive and asked if he had any kids she could play with. By this time I'd caught up with her and met my new neighbour who had moved in just after us – one Graeme Blick. Graeme didn't think his son Cam was what she was looking for but did have a daughter who was about one. Graeme and Christine's daughter Steph and our youngest daughter Vanessa have been best friends since that age and have gone through kindy, school and flatted together and are now having their own families and their sons are playmates. Both our daughters are currently expecting their second children and are due about 10 days apart. Another neighbour in those days was Les Austing.
While our kids were growing up I got involved in their sports clubs - soccer where initially I "coached" then became a team manager and was on the first junior board of Western Suburbs Junior Football Club when the junior and senior clubs were split financially, Cannons Creek Swimming Club and it's transition to Mana Swimco (being treasure for about 4 years) which is where I first met Graham Craig and Annette, Mana Athletics where I met Richard Sherwin who I'd also met through insurance before he went off to get qualified as an Accountant.
I continued working at Norwich Insurance working my way up through various roles until I was Broker Manager in Wellington. Our Branch Manager was made redundant while I was the Assistant Manager so I couldn't be Manager but as we were a highly Broker orientated company the title was changed to Broker Manager. One of the more interesting roles was when I was involved with the Foodstuffs Wellington account and all the New World Supermarkets and 4-Square stores around the Wellington region. There were lots of refrigeration failures and partially thawed frozen goods that couldn't be refrozen and sold which ended up being brought back to the office and given to staff. I can remember one loss that didn't just involve a few cartons of half frozen goods in the back of the car but a trailer load on the back as well. Those claims certainly helped our grocery bill for a few years with three growing children!
Not long after I was made Broker Manager, Norwich made a takeover bid for State Insurance that the Government was looking to sell. Effectively locally this became a reverse take over as State were a much much bigger company in NZ than we were.
In late 1991 / early 1992 all the Norwich staff were offered interviews for jobs in the new merged company but most like me took the option of voluntary redundancy and found work elsewhere. (That left State with a bit of a problem but that is another story). I was lucky enough to have three job options. Two of them were jobs more or less the same as I had been doing whilst the third was an opportunity to see what life was like on another side of the business.
Two interviews through this process stand out. The first was the compulsory interview with State. That wasn't a very long chat as I told the manager interviewing me that the only job I was remotely interested in was his job and I didn't think he was going to offer me that. End of interview, box ticked I'd had the interview and the voluntary redundancy option was opened.
The other was I was asked down for a chat at a large broking company. I thought I was going down to talk about some job opportunities that might exist for some of my staff. After chatting for about 20 minutes I suddenly woke up to the fact it was actually a job for me that we were more keen to talk about. Anyway I walked away with a job offer which after a brief discussion with Lorraine I accepted. So six months short of 20 years at Norwich ended in 1992.
The job at Bowring Marsh was in their Energy Practice. At the time the Government still controlled most of the Oil & Gas Industry in NZ although Todd Energy did exist along with a couple of other smaller companies. The Government Entity (Petrocorp) was a Bowring Marsh client and there was a team of six looking after that and the associated entities. At the time that account included 94% interest in the Maui Field, 50% of the Kapuni Onshore Gas Field, (these fields still play a significant part in supplying NZ with Gas) plus some smaller Oil & Gas fields in Taranaki, the Maui Gas pipeline that carried only Maui and Kapuni Gas as far north as Huntly, what was known as Natural Gas Corp or NGC that owned the rest of the gas pipelines around the North Island, the two Methanol Plants in Taranaki and the Petrochem Fertiliser Plant. All of those associated entities relied on Maui Gas so the Insurance Program that hung off the Maui Platform was very large. We were told it was the largest program for single platform and the dependencies in the market at the time.
The premium for that package was greater than the premium volume that went through the entire Wellington Branch at Norwich which supported a team of about 25 staff. It was certainly a steep learning curve (insurer to broker and a massive account in an industry I had never had anything to do with in my insurance career to date. Although I did know a bit about the industry as my Dad had worked for Shell and Caltex and I had worked at the Caltex Terminal in Lyttelton in some school holidays) I got involved in a couple of interesting claims fairly early on. The first was the only "significant" Oil & Gas well blowout that NZ has had when there was an issue whilst drilling the McKee 13 well. (Unlucky 13) and the second was a potentially much more serious incident that happened on the new Maui B Platform and a gas leak. Fortunately the gas never caught fire or there would have been a really serious situation and claim.
About 3three or four years after I started at Marsh the Government decided that it would break up Petrocorp and sell the assets off to various companies. Fletchers were one of those companies but there were numerous other companies that took various parts of the company.
Marsh maintained a strong position in the Energy market but the fortunes of the Oil & Gas market in NZ has had its ups and downs since then. For many years the supply of gas from the Maui and Kapuni were more than sufficient to meet NZ's requirements and development of other fields simply was not commercially viable as there was no market for any gas discoveries.(NZ being more of a gas region than oil). This led to a partial breakdown of the Energy Team I worked in and the need for all of us to get involved with companies in different sectors.
Over the years I have been involved in numerous Industries including:
Crown Research Institutes
Universities
Mining
Fuel Supply
Port Industry
Meat Industry
Dairy Industry
Large Property Owners
Govt Departments (Housing, Post, Banking and Defence)
The majority of the clients I have looked after have been large Corporates or companies that require more technical covers or placements that require some or all of the support from markets outside of NZ. I have been fortunate enough not to have had clients that have lots of routine claims but unfortunately when things do go wrong there can be lots of dollars involved and tragically human loss.
I was involved with the Christchurch Earthquakes in 2010 and 2011. I was in Christchurch seeing a client in Feb 2011 when the most major of the EQs hit. Fortunately the building I was in at the time stood up OK but it soon became clear as I made my way through the rubble that the building our office was in hadn't and it was one of the major building collapses in Christchurch. I was left with my notepad and phone and my bags and computer were never to be seen again. We lost three staff in that collapse of the PGC Building, in total 18 lives were lost in that building but it could have been much worse as most people were out at lunch. One was a claims specialist who was a Kiwi based in Sydney who had been in Christchurch seeing clients who had suffered losses from the September 2010 EQ and was due to be a key speaker at a seminar we were holding in Wellington the next day. Another was the person I had my next meeting with and the third was a lady in the office. Most of the staff met on the grass on the other side of the road by the Avon River and the Christchurch Manager and I started taking down a roll of those we knew were safe. About 90 minutes after the Quake we had accounted for most and a number of staff had been rescued out of the building and people had started to head home to support families. There wasn't much more I could do and I started a walk to the airport from the central city area. It wasn't a pretty sight. When I got part way along Memorial Avenue on my way to the airport a Coke Rep wound down his window and asked if I wanted a lift. He dropped me off further down the road short of the airport and I recommenced my walk. Whilst there appeared to be no damage out that way the Airport had closed and no one was around including in the Rental Car area which was my plan B - get a car and get myself back to Wellington. A car came in but the people didn't want to hand over their keys to me but when the second person came in he didn't know what he was doing and turned out he was from over in the Wairarapa. I told him what I had planned and he came on board with the plan and so we headed for Picton and a late Ferry back to Wellington. There were a number of people on that sailing who had made the same decision and lots of Rentals were dropped off in Picton instead of in Christchurch.
My father died in November 2010. When I was at his funeral my phone in my pocket began vibrating continually. I ignored it until after the service when I said to Lorraine I've got to have a look at my phone as its going crazy. News was breaking of an explosion of some sort at Pike River Mine. I had been involved with that project since well before the first turf had been turned on site. I'd been there when you could only fly over the site in a helicopter and been down to the mine several times during the development of the facilities and into the mine when small amounts of coal were being extracted as part of the development . The last time I'd been down underground in the mine was about a month before the explosions. As we all know now that was a tragic event with 29 lives lost and large claims arising from it and myself and a claims specialist from our Australian Office spent considerable time negotiating settlements with the Receivers appointed to the mine and various other parties. The other most notable claim I've had a lot of involvement with were the losses from the Investment Properties that CentrePort had built down on an area of land the Port owned that was surplus to current Port requirements. BNZ, Stats, Customhouse Buildings and another building known as Shed 39 were the main ones along with other minor buildings and infrastructure. Obviously BNZ and the Stats buildings were eventually demolished whilst Customhouse and Shed 39 were repaired.
Shed 39 was an interesting building, The ground floor was a mess in much the same way as BNZ looked. However on the first floor there was little sign of anything wrong. Flowers were still in vases filled with water. Computer screens were all standing up correctly. Files were on desks or in cabinets where they had been left. Nothing was out of order. I never went into the Stats Building after the quakes choosing to stay outside whilst others had a very quick look around. I did however go inside the BNZ building on several occasions noticing more damage each time I went in. Again I worked with that same Australian Claims Colleague. We worked hard with the client to get the insurers to agree that the BNZ building should be demolished rather than repaired which was the pathway the insurers and the loss adjusters were pushing for.
Because of the types of clients I have worked with I have been involved with lots of travel both internally around NZ and to markets overseas. For the last 20-odd years Australia, Singapore, Shanghai and London have been regular destinations with between 1 and 3 trips per year to London and back with side trips to the others. Covid put an abrupt halt to that in 2020 (I had 4 trips planned 2 of which had been booked and paid for.) The first one was cancelled the day before we were due to fly out and obviously there were no trips in 2021. These were replaced by zoom meetings but they aren't anywhere near as effective as person to person meetings when you are trying to negotiate a deal in an industry that still today has a lot to do with personal relationships as well as all the technical data.
I have just returned over the weekend from another of those whirlwind visits to London with a client. We left the weekend before last to have meetings in Singapore on the Monday, flew overnight to London and had a day out of the office and then three days of presentations, lunches and dinners and back on a flight home on Friday night. (Typical sort of schedule). It was just as well we didn't have meetings booked for the Tuesday after arrival in London. Our plane was an hour late, we sailed through immigration in the fastest time I have ever entered the UK with no one in front of me at the e-gates and no one queuing at the manned counters either, only to spend just under two hours waiting for our bags. It wasn't just my bags or my client's bags it was nearly all bags from our flight. I'm not sure what was going on behind the scenes but for the first 1.5 hours about two bags would come out every five minutes and then nothing. So after 1.5 hours, there were still 95% of the people from our flight standing around very frustrated with Mums tearing their hair with kids who had long since lost it.
It was certainly an interesting week to be in London. Train strikes planned but then cancelled upset some of our meeting schedules, special service in Lloyds (couldn't go as not a Lloyds pass holder) and queues miles long. Our offices in London are right beside the Tower of London. The queue on the south side of the river stretched from Westminster back to and just past Tower Bridge at one stage.
My learning from my 50 years in the Insurance Industry is that it is not that well known from the outside and often not very well thought of - and to be fair for good reason sometimes. The industry is not good at its own PR and highlighting when good things have been done and has certainly completely botched up the handling of some major events like the Christchurch earthquakes and how people have been treated.
However once you get into the industry there is a really wide range of job opportunities and different skill sets employed and you get to meet and know some really interesting people over a wide range of industries. You also really need to grow a deep understanding of how specific industries work and where your specific client fits within its own industry to be able to put together the right protection for their risk exposures. Unless you specialise in insurance for just one industry, and there aren't many in NZ who do that, I'm not sure there is another profession where you are exposed to gaining such a broad understanding of so many companies and the industries they work within.
I certainly have no regrets about joining the Insurance Industry.