Blog
Rotary Club of Plimmerton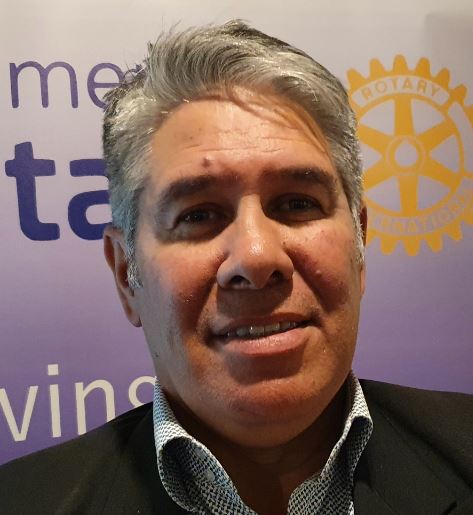 Dexter Traill gave us his Viewpoint tonight. He said,
'I'm a Tararua lad through and through. Tararua country is bounded by Norsewood in the north to Eketahuna in the south, out to Herbertville just north of Cape Turnagain and the eastern coastal waters with awesome sand dunes, rocky shores, and countless historical homesteads. My paternal grandfather farmed locally before dying at the young age of 36 leaving behind five young children, the youngest was only two and that child was my father.
'Growing up in Eketahuna, my family was one of three Māori households. My maternal grandparents lived in 'town' and all the 'cousins' went to the local school. I am a shareholder of Owahanga station, one of the biggest single land holdings in the Wairarapa with over 17,000 acres. It is one of the few Māori owned properties that have been Māori-owned throughout history. The woolshed at Owahanga was built in 1938 and can probably boast to being the biggest shearing shed in the country.
'Owahanga station included Owahanga Native School which provided children from the pa with education. My mother attended here.
'My father was a shearing contractor, fencing contractor, and part-owner of Traill's tea rooms in Eketahuna. My mother was a wool handler, cook for the shearing gangs, chair of the Māori Women's Welfare League, a pretty handy golfer, and catered for Lion's weekly meetings. Both my parents lived, worked, and employed locally. Because Eketahuna is a village, everyone looked out for each other and there were no foodbanks. Everyone grew their own food, families down on their luck always had meat dropped off. Bill, the Policeman would administer instant sanctions and there was never any hint of racial profiling.
'I wonder what my parents would have made of the announcement 365 days ago today that we were to go into lockdown. I wonder how the Eketahuna community which I grew up in and the faces of past friends, neighbours, and families would have reacted. What I do know, is this community would have galvanised to protect its vulnerable, the young, the elderly, the afflicted, and because everyone was known to each other, all 'outsiders' would have been sent away swiftly. No beachside retreats in Eketahuna, but it does have a very good camping ground.
'Which leads me to my view point; that the bubble with Australia should not commence imminently. While I desperately want to see and hug my daughter and her family who reside in Sydney. I believe the only way my boyhood community can be kept safe is for the border to remain closed. I want the border to remain closed until the numbers of Australian and New Zealand residents who have received COVID-19 vaccinations exceed 70 percent of the populations, enabling community herd protection.
'While my viewpoint may not have a right of reply, it will be an interesting ride home this evening as my fellow Rotarian wife has an opposing view.'