Blog
Rotary Club of Plimmerton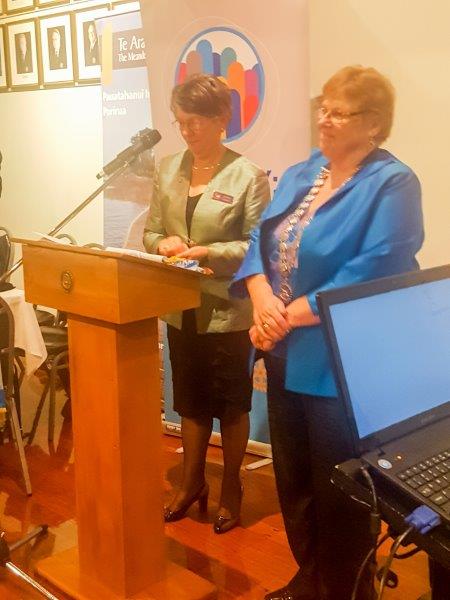 Newly elected President Donna began her speech with a mihi and the waiata "Te Aroha", before thanking Mayor Mike Tana and her support group of family and friends. Donna took pleasure in presenting Past President Jenny with a gift to acknowledge her efforts as president. She also presented three badges to Amandine, our French Youth Exchange student, to add to her jacket.
Describing her Rotary journey, Donna emphasised strong community service beginning with her Rotaract years and continuing with the theme "Service Above Self"; citing her father who was still helping others until he died.
Her Masters in Education Leadership, begun when Donna was 50, opened doors to teaching for five years in Bangkok in a Catholic school next to a mosque, in a Buddhist country. The school celebrated 50 years since it was created by the missionaries. Donna facilitated an Interact Club in Thailand, working closely with Rotary, teaching English to Thai school children on a Saturday, and teaching English in the men's remand prison (some with the death penalty and 43 to a cell). After the tsunami there was a need for rebuilding so she partnered with Habitat for Humanity to build four homes with her teens. Walking through the jungle Donna spotted a water tank donated by the Rotary Club of San Francisco and decided she wanted to belong to an organisation that can make such an impact.
Donna has been a member of the District Conference Committee, and the District Youth Committee. Some events that have been important to Donna over the years include 120 years of Women's Suffrage, 100 years since Paul Harris started Rotary, and 30 years of Polio Eradication. The ongoing Balibo Project has been supported by generous donations from Debbie Mair (50 soccer balls) and Joy Allcock (10 Literacy Kits). Donna listed a number of people who have influenced her Rotary journey including her special Rotary family, Wendy, Adrienne, and Jenny who have blazed the trail for women. Donna is looking forward to working in partnership with President Janet Reidy of Inner Wheel.
Donna then introduced her new Board whose names are on our Club intranet under the heading Board 2018-19.
The new banner with RI President, Barry Rasssin's theme "Be Inspirational", was revealed before Donna ended by reading a poem.
In a departure from the usual pattern of speeches by incoming presidents, Donna asked Daniel Raneira Albert to speak about Te Matariki. Daniel gave a fascinating description of the stars of Matariki, ending with a superbly sung waiata.