Blog
Rotary Club of Plimmerton
Last week, I alerted members to an opportunity to join a Zoom meeting with the Rotary Club of Bridport, Dorset, England. Their speaker was Habib Saba, President of Beirut Cosmopolitan Rotary Club.
It sounded too good an opportunity to miss, so I dialled in at 6.30 am on Thursday 10 September.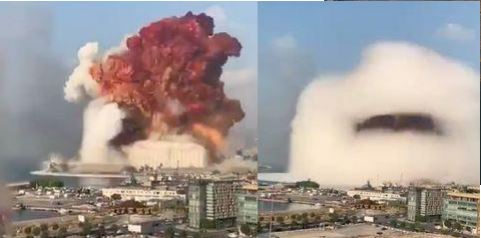 There are some things that simply touch our hearts. This was one of them. Habib's presentation was superb, tragic on the one hand and very educational on the other. Since that meeting, I have been corresponding with Habib and he has sent me, not only his presentation, but also some of the information that he covered. Clearly, we in New Zealand, traditionally support projects in the South Pacific, and Lebanon is far away. That having been said, you may know of some way in which we could help by way of a New Zealand global grant.
Habib writes, 'As you have come to understand the explosion at the port of Beirut on 4 August 2020 impacted the entire city resulting in widespread destruction, leading to the loss of lives in the hundreds, injuries in the thousands and the displacement of hundreds of thousands of citizens overwhelming the hospitals and emergency services.
'This tragedy came on top of a political, economic and financial meltdown that had already paralyzed the country, significantly devalued the Lebanese currency and driven more than 50% of the population below the poverty line (an issue RC Beirut Cosmopolitan is addressing through sustainable economic development solutions). To add insult to injury the whole deterioration in the country was further exacerbated by the COVID-19 virus.
'In tackling the Beirut crisis in the aftermath of the explosion, the following areas were identified by RCBC as needing attention:
Medical Supplies, PPE Equipment
Food
Shelter, blankets and house items
Cleaning up damage and debris
Repairs and rehabilitation
Psychological trauma support
Collecting recyclable material such as glass, aluminium, metal and wood, etc
'In particular we at Rotary Club Beirut Cosmopolitan (RCBC) decided to focus our efforts on projects that had a longer-term impact, noting that immediate relief items were already getting adequate attention anyway. In that context, our primary focus was repairs and rehabilitation and more specifically our effort would be to concentrate on a section of a devastated public hospital in the needy Karantina area by providing the necessary medical equipment via a global grant. That section in question is the Operating Theater for paediatric and neonatal patients with an approximate cost of USD400,000 based on the BOQ list received from the hospital. Additionally, we have been assigned a section of the paediatric wing of the hospital with an approximate cost of USD90,000 based on the BOQ list received and which we also hope to achieve via a Global Grant. There are many other needy projects in the wake of the August 4 explosion but these are the immediate priorities for us. These are tangible self-contained projects that we are currently discussing with our international partners to reach the target and naturally, we would be delighted to have clubs in New Zealand on board with us to collaborate on these initiatives.
'To accomplish these projects we, RCBC, have set up our own and direct emergency fund accounts to differentiate ourselves from other initiatives that may be taking place. If you would like more clarification naturally we would be more than happy to provide you with all necessary details and in the event that you decide to support us following are the details of our emergency fund accounts:
USD Account
Bank name : BLOM Bank SAL
Address: Sodeco Branch - Beirut - Lebanon
Account name : Rotary Club Beirut Cosmopolitan
IBAN: LB05 0014 0002 0302 3531 4334 2414
Currency Code: USD
BIC: BLOMLBBX
EURO Account
Bank name : BLOM Bank SAL
Address: Sodeco Branch - Beirut - Lebanon
Account name : Rotary Club Beirut Cosmopolitan
IBAN: LB75 0014 0002 0304 3531 4334 2412
Currency Code: EUR
BIC: BLOMBBX
'On behalf of RC Beirut Cosmopolitan thank you for reaching out and for your heartfelt concern.'
Kind regards, Habib