Blog
Rotary Club of Plimmerton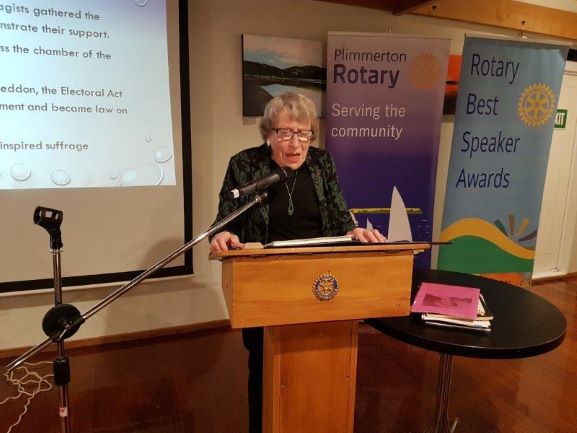 This week's speaker was Dr Judy Whitcombe, a powerful and energetic woman whose achievements are broad and deep.
Perhaps she is best known as a social researcher, especially in the field of women's changing role in society. She took us through the proud history of the suffrage movement in New Zealand, from the landmark Electoral Act of 1893, to more recent moves to promote gender equality in all corners of national life.
Some features stand out. Over the whole of this period New Zealand has attracted a good deal of international attention, not to say envy, in its efforts. In 2005 all of our most important roles were filled by women: Governor-General, Prime Minister, Chief Justice, and Speaker of the House. Our current PM has rarely been out of the news overseas, as a rare example of a working new mother in the top job.
Secondly, the movement has had prominent pioneers to provide leadership. Many of them are household names: Kate Shepherd, Elizabeth McCombs, Miriam Dell and Cath Tizard.
Thirdly, it has been careful to inform the ongoing debate through credible research, and win its battles on the basis of well-informed opinion.
Lastly, it has promoted change without a serious backlash from the other half of the community. Perhaps this has been its greatest achievement.
Although retired, Judy is as active as ever, as a JP, a member of the Parliamentary Watch Committee, coordinator of the Porirua CAB and member of Zonta.