Blog
Rotary Club of Plimmerton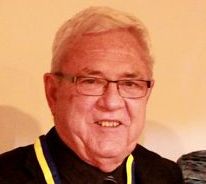 Bob Austin gave us the Viewpoint tonight. He said ...
'I am referring to what I call the Golden years. We have had six to eight decades of very significant achievements.
'I will take you down memory lane, and as I put examples forward I am sure you will recall many other achievements that have had an impact on your lives.
'Many will recall the walking sticks at the front door of your grand parents house - not to be seen to day because of the replacement of troublesome parts with artificial joints.
'The old manual telephone, the party line, Mrs Smith the eves dropper to advances with portable telephones you can put in your pocket that operate globally
There are almost no boundaries - taking photos, and on it goes.
'The weekly wash. Boiling the copper on a Saturday morning to wash the clothes. Everyone had one and pity help you if you mixed the colours with the whites. Now of course we have the automatic washing machine.
'Gone are the families of eight and ten kids, the mistakes, and so on. The pill has enabled us to plan our families.
'Some will recall the old Morrie 8 and the Austin 7 cars we had in the post-war period. You could strip the motors down in the weekend, replace the piston rings,
head gaskets and so on. Nowadays we almost have self-drive cars, and electric cars are now on the scene.
'How many recall burning the toast and scraping the ash into the kitchen sink? What a great invention was the pop-up toaster. Just as well we didn't have smoke alarms.
'The advent of electric tools, now even battery-driven. A big advance on the days when only manual tools existed. Hand planes, chisels, and the like are seldom used on a
building site these days.
'Mechanical Typing, remember the carbon paper we used to get duplicate copies. Now of course superseded by the computer with all its benefits
'Finally to everyone's delight we have a pill that will now extend our sex life maybe for a further ten years. Who would have thought about that in the later teenage years?
'You are probably wondering where all this is leading to.
'Over the past six to eight months we have experienced levels of fear, stress, and anxiety with Covid-19 lockdowns, etc., and I am sure we have all had down times
as a consequence.
'My message is that when you have downtime, reflect on the golden times we have had in our generation. Positive thoughts will help you return to normality.'