Blog
Rotary Club of Plimmerton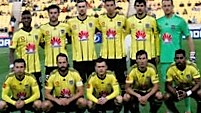 Every time the Phoenix Football team find themselves outside the top four in the Hyundai Football A League, the home crowd at Westpac Stadium will number about 7000. But whenever the Phoenix achieve a top four placing, the home crowd swells to around 10,000.
Speaking at Plimmerton Rotary on 25th October, Phoenix General Manager David Dome noted that even with mixed results, the Phoenix was the second most supported team in New Zealand. "We have 5000 members in our supporters club, known as the Yellow Fever, as well as 105,000 followers on Facebook, Twitter and Instagram. The dilemma we have is converting that support into bums on seats for our home games."
There is an atmosphere at home games unlike any other sport. "You get the 'Yellow Fever' singing, drumming and chanting. If the Phoenix are winning with ten minutes to go, there is a countdown, at the end of which all the guys take off their shirts and twirl them above their heads. It's magic!"
A League games were regularly watched on TV by 200 million people in 150 countries. "This is a massive audience. Largely because of this global reach we have the full support of the world's largest Telco, the Chinese firm Huawei."
The Phoenix Club was determined to do everything it could to promote the game of football throughout NZ. "It is well known that more Kiwis play football than any other sport, and 20% of those who play regularly are female." The Phoenix Academy had been established to fast-track talented youngsters to the highest possible level. "We also have our 'Footschool' which is aimed at a much broader audience of young people.
In recent years the Phoenix has worked hard to attract overseas high profile teams to NZ, and will continue to do so. "We have had the LA Galaxy here, a team that included David Beckham. That game sold out the Stadium. We are currently in negotiation with Manchester United and Chelsea. The Phoenix regularly take part in the Hong Kong Football Sevens, which attracts teams from Japan, Europe, Asia and America. We are passionate about wanting more overseas teams to visit us, to raise the profile of football in this country."
The Phoenix is generally recognised within the A League as having a standard of governance higher than any other A League team. "We are very proud of this, plus the fact that, every year, we pump about $16 million into the Wellington economy."
Asked if he played football himself, Mr Dome admitted to playing in the local Masters Competition. "And I'd have to say that I'm in exalted company because I often play against Piney's side (Jason Pine of Newstalk ZB), and also the new mayor of Wellington, Justin Lester."