Blog
Rotary Club of Plimmerton
Here are the students who received a Leadership Certificate this year.
The excellent photography throughout the Awards was carried out by Luke Pilkinton-Ching of Vision Photography.
Bishop Viard College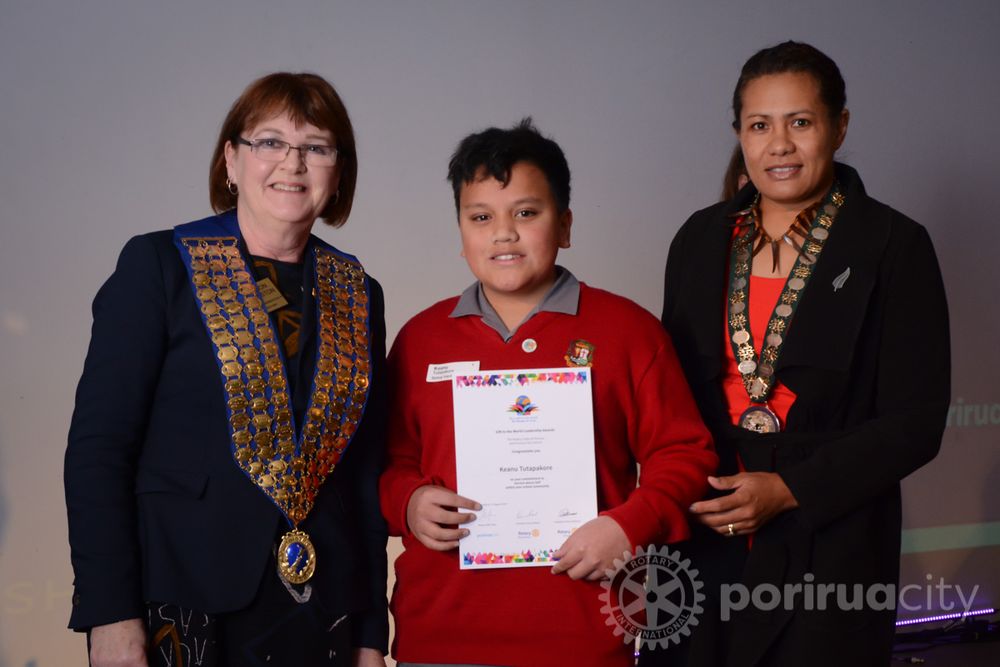 Keanu Tutapakore
Keanu is a gentle leader who quietly redirects himself and his peers when required. He is focused and has a strong sense of self. Keanu's leadership style is calm, quiet but effective. Kenau has the confidence to step up in front of his peers to speak, lead through words and actions, and demonstrates a strong set of values consistently.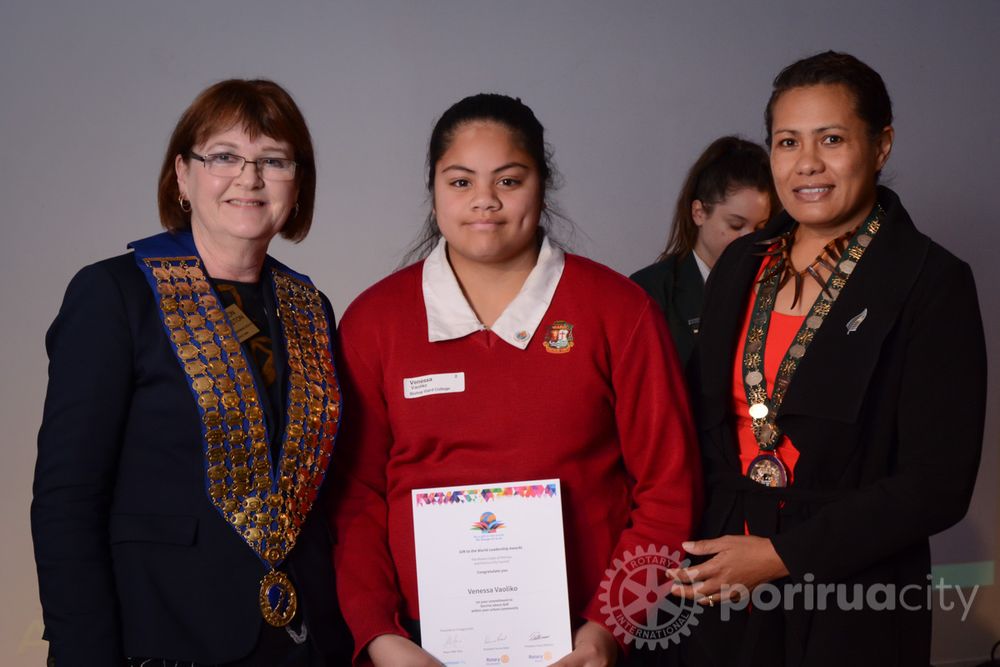 Venessa Vaoliko
Venessa is an exceptional young leader. She is consistently focused and engaged in her learning. She displays positive behaviour and although she is quiet and reserved, she is strong in her own identity and is able to stand apart from her peers. Venessa has a very bright future in leadership.


Brandon Intermediate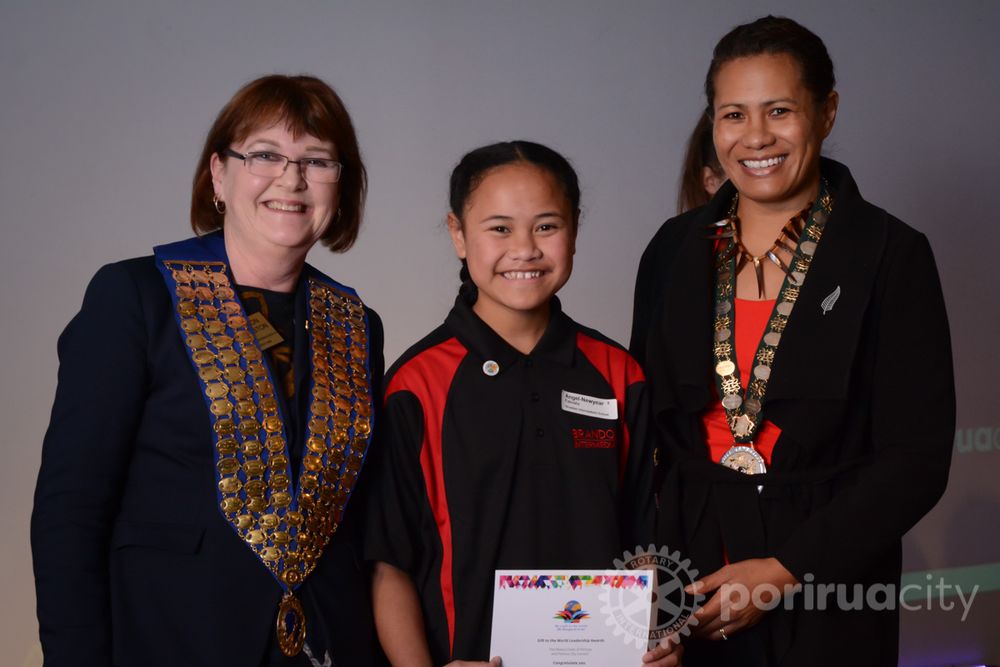 Angel-Newyear Faivalu
Angel is an excellent ambassador of Brandon Intermediate and exhibits our school values both in and outside of school. She sets herself goals and takes pride and responsibility in her learning to ensure that her goals are met. She consistently goes the extra mile in her own time to improve her learning opportunities. Angel is one of our lead student councillors and is a respected student among her peers with her quiet leadership manner, in which she shows initiative and maturity in her contribution to the promotion of student needs and the school. Angel takes pride in her culture and is actively involved in many of the cultural activities at Brandon Intermediate. We see a bright future for Angel and are so pleased to see her qualities and efforts celebrated today.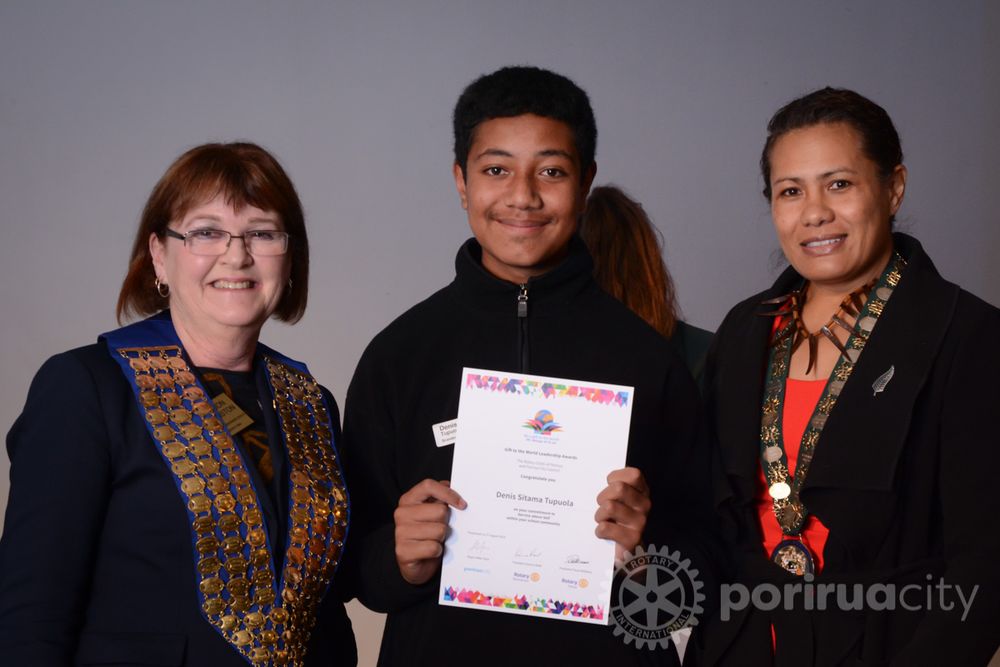 Denis Sitama Tupuola
Denis is warm and funny and is exceptionally respected by staff and peers. Denis is a mature leader who is able to voice his opinions constructively whilst being able to listen to other people's view and able to come up with a positive outcome that works for all. He is an active member of the Brandon Intermediate Junior A netball team and shows respect to his fellow teammates and in return, has their respect. That shows the true strength of his character. Denis role models the utmost highest level of the school's expectations and encourages those around him to also uphold them. Denis is a member of the student council and also a school peer mediator. When given a challenge or task to undertake, he completes it within the required timeframe and he always goes above and beyond to ensure his personality and flair shines through. Should one of his peers lag behind, he will assist to ensure that person completes and understand the required work. In the community, Denis is also a valued member of the Virtuoso Strings orchestra who have recently returned from a successful tour of the South Island. All the traits that he shows in school is also spoken about out in the things he is involved in out of school. We see a bright future for Denis and are so pleased to see his qualities and efforts celebrated today.
Cannons Creek School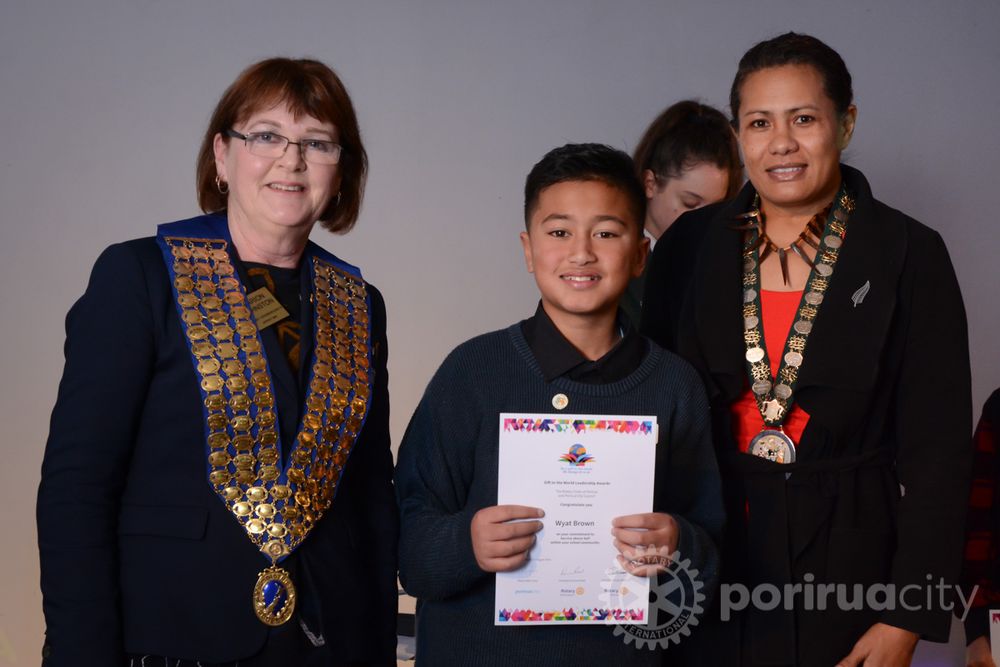 Wyat Brown
Wyat is a well-rounded student who has demonstrated his leadership in all areas of his school life. He has an academic record that has been consistent throughout his entire school life. He participates with a small group of students every week to train for Civil Defence using a 2 way radio. He also represents our school during powhiri every term and during special occasions.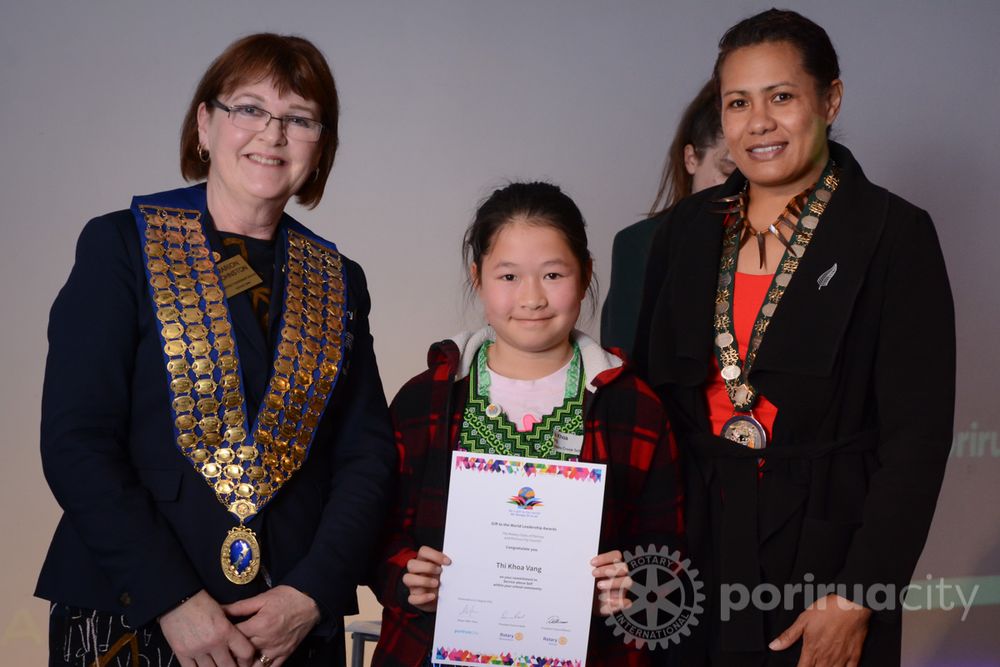 Thi Khoa Vang
Thi Khoa is a migrant student who when she arrived at Cannons Creek School from Vietnam had little to no English. She has worked extremely hard to increase her ability to speak English and is now able to speak fluent English. Thi Khoa has a very good work ethic and is a role model to her peers. Thi Khoa is also an extremely attentive older sister to her younger sister who has special needs. She often spends her time attending to her during her own time at morning tea and lunchtime. Thi Khoa has learned to play the Violin and has persevered with her effort to practice and become a competent player.
Corinna School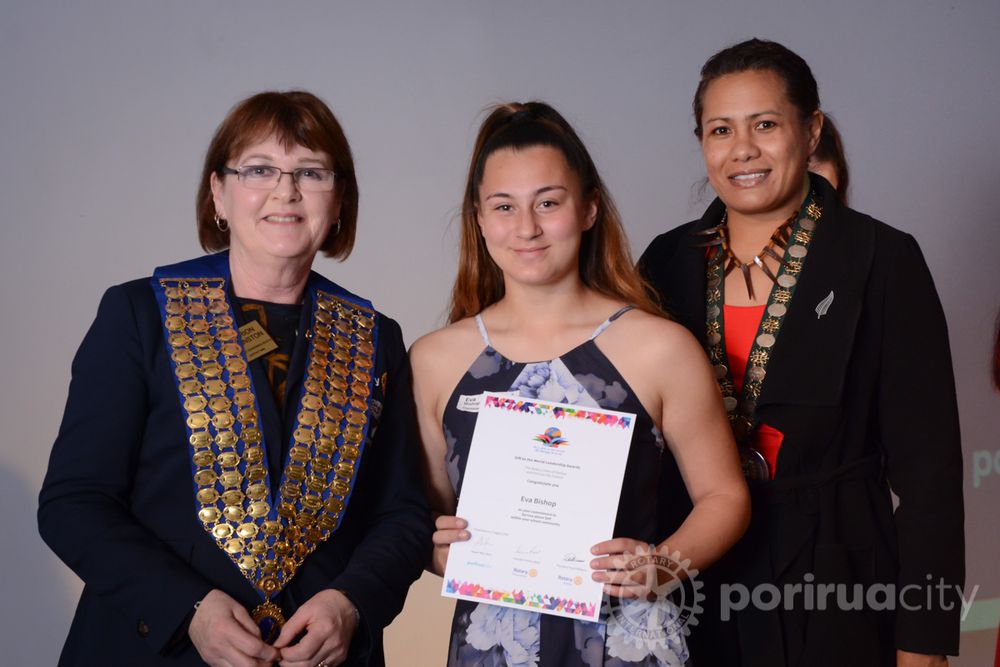 Eva Bishop
Eva is an enthusiastic and motivated learner. She always gives 100% and challenges herself to take risks and learn new things. Eva is an inspirational leader and role model and has many skills and talents including writing, public speaking, performing arts and digital technology. Eva is also a kind and caring classmate who always includes and supports others in their learning and play.
Jillian Tupuse
Jillian is an extremely confident, positive and responsible student who has many talents. These include being an outstanding singer, violin player, sportsperson and speech maker in English and Samoan.She runs school events. Jillian always completes learning tasks to the best of her ability and they are of a high standard. She participates fully and enthusiastically in any learning opportunities and is also supportive of other learners.
Discovery School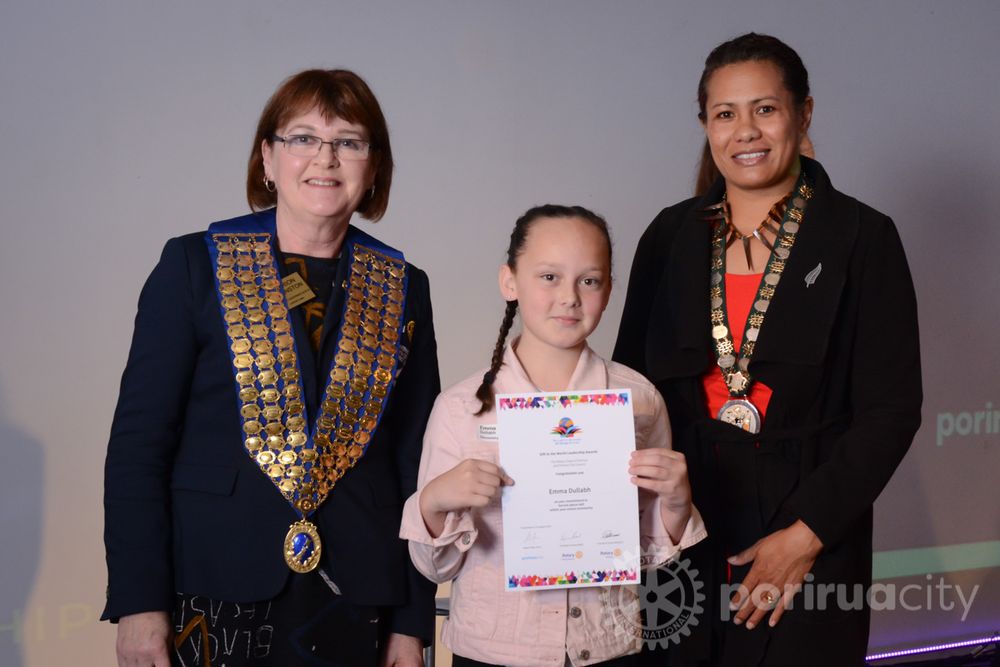 Emma Dullabh
Emma is a conscientious student in all subject areas and is always willing to help other students. She leads by example and is a natural role model for her peers and younger students, with a big heart and caring nature. Emma is an accomplished dancer and used her skills to set up a Dance Club to teach younger students during her lunch hour. She certainly deserves this award.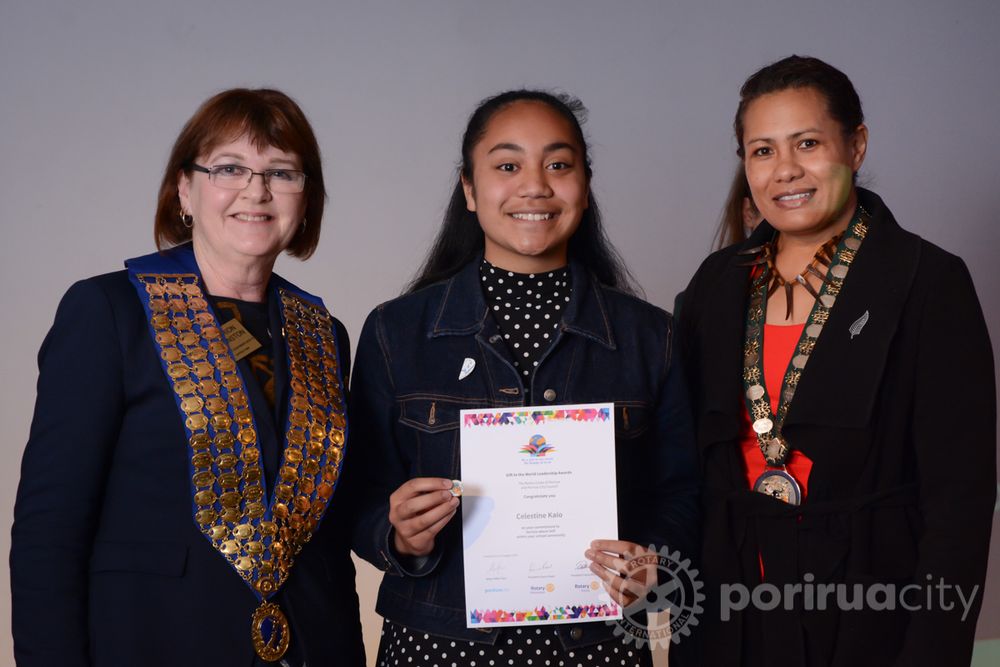 Celestine Kaio
Celestine is a role model at Discovery School. She has a mature outlook and a positive approach to all aspects of school life, including academic, cultural and sporting. She is a natural leader. She works co-operatively with her classmates demonstrating patience and tolerance. Celestine has worked hard towards completing her Discovery School badge, frequently giving service around the school. She leads by example and she is a conscientious student. She shows initiative and makes an excellent contribution to her class and the student council.
Glenview School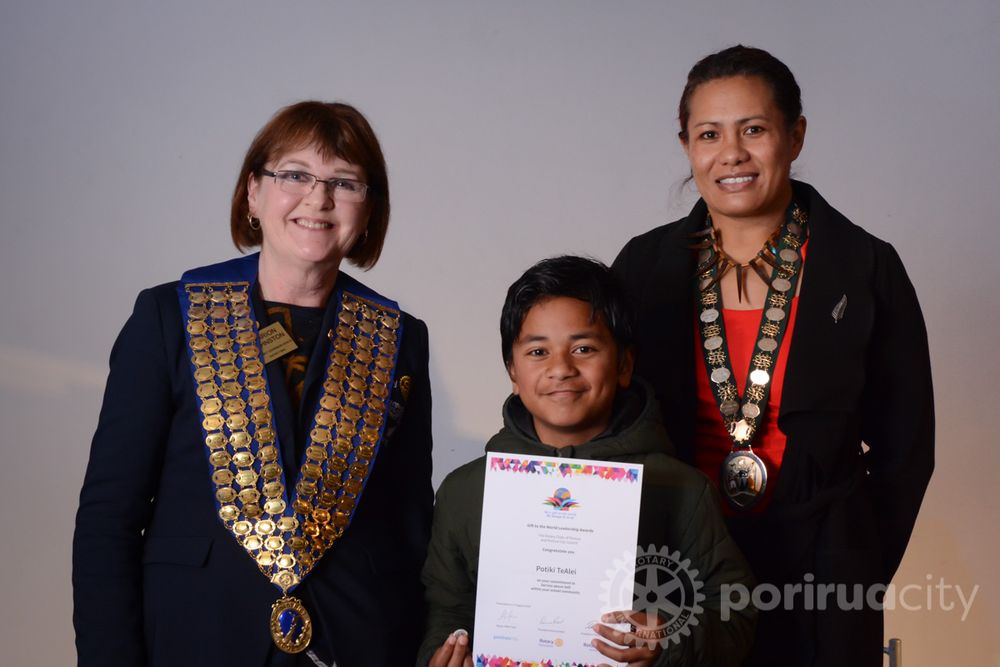 Potiki TeAlei
Potiki is a popular member of the tuakana class, with a great sense of humour. He has established and maintained positive relationships with his peers and teachers. He has been nominated and voted House captain for Akoga house this year and has provided guidance and support for his younger house members during our house rotations and formal school assemblies. Potiki has worked well in our DMIC mathematics lessons. He is open to the ideas and strategies of others and has shown the ability to explain his own methodology and strategies employed to work out problems. He plays point guard for our school basketball team and
is a member of the Glenview Gladiators representative cricket team. He is an opening batter, an athletic fielder and useful bowler.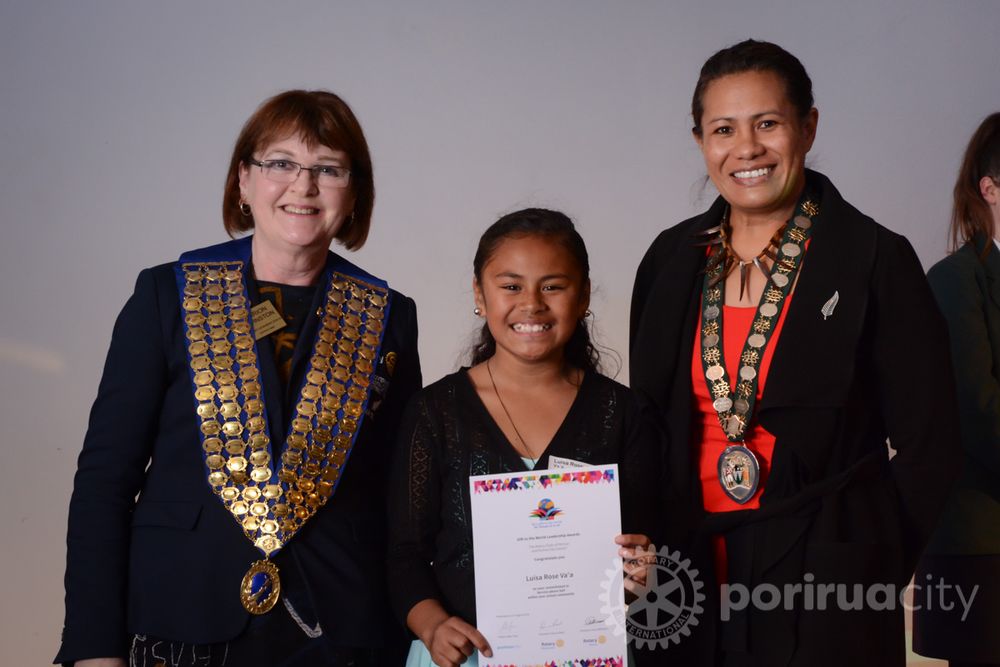 Luisa Rose Va'a
Luisa Rose was an easy choice for Manaaki house captain. She is a confident and caring member of the school who can be relied upon to model and encourage others around her to show Glenview MANA. Luisa has grown in confidence this year and her activities include swimming, gardening, enviroschool, class drama sessions, singing, guitar and being a
member of the senior kapa haka group representing the school in many formal ceremonies. Luisa's confidence sees her give new experiences a try and encourage others around her to do the same. She is a supportive and very emotionally intelligent child.
Holy Family School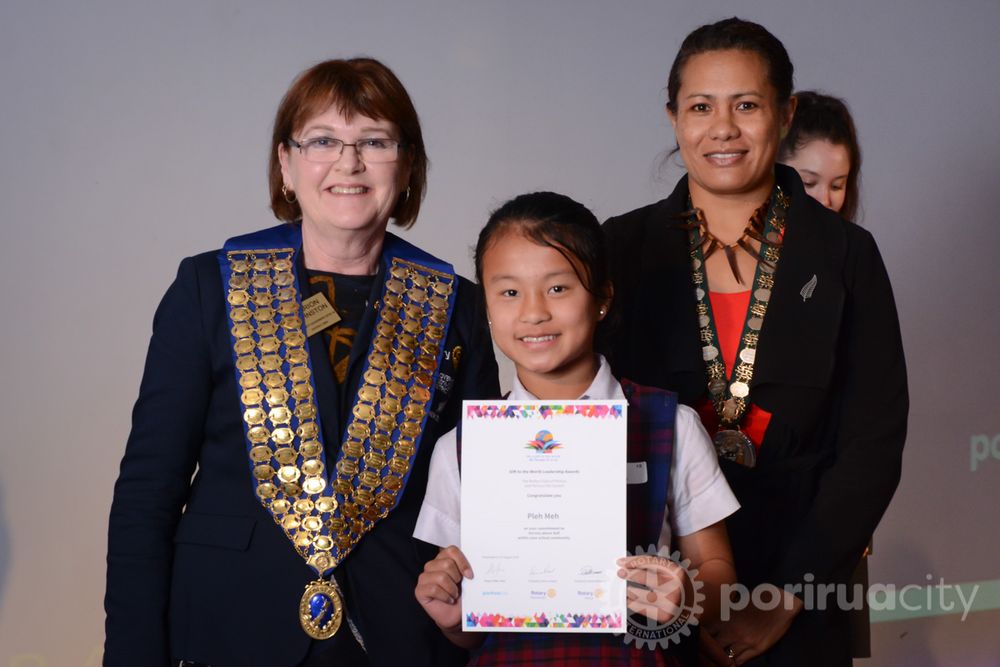 Pleh Meh
Pleh decided from a young age she wanted to learn English and do well in school so she could help her parents and other immigrants who come to New Zealand seeking a better life. Pleh is an outstanding student who is self-motivated and has the respect, not only of her classmates and staff but also of her Burmese community who see how hard she works.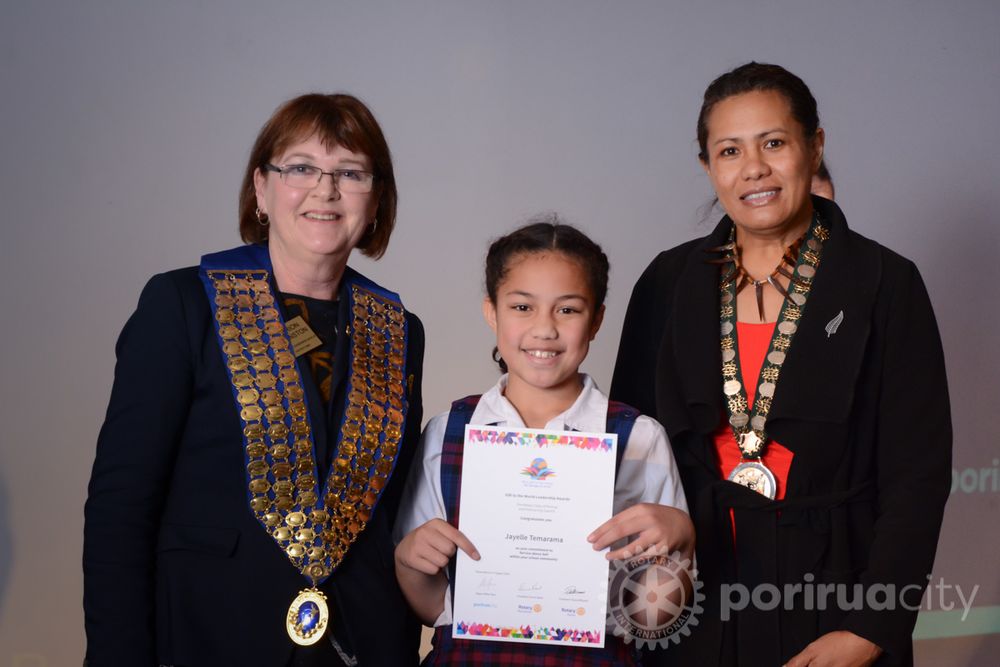 Jayelle Temarama
Jayelle is always willing to go above and beyond for her own learning, for her classmates and for her school community. She consistently demonstrates all of our school's phenomenal values - Mafana, Grit, I can, Optimum and Mana. She is a well-respected leader in our school and a worthy recipient of this award.


Maraeroa School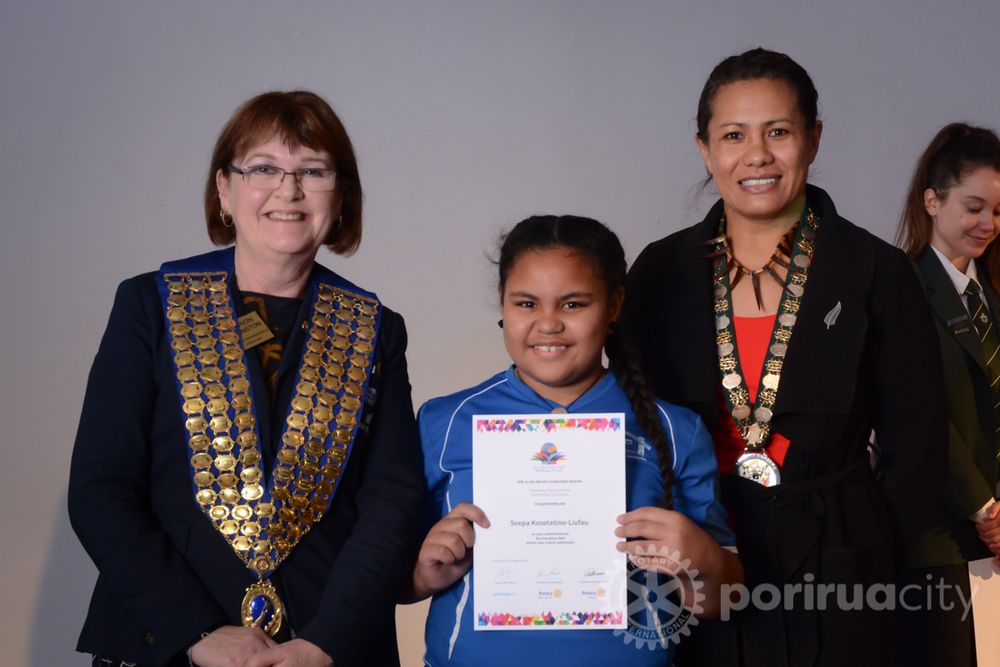 Seepa Kosetatino-Liufau
Seepa is a determined and positive year 5 role model. She has a relentlessly positive, curious attitude to her learning. Seepa is a thoughtful friend and schoolmate, she is a member of the Maraeroa School student council. Seepa is a self-assured young woman whose passion and leadership are a real asset to her school. Maraeroa School is so pleased to have another year with Seepa.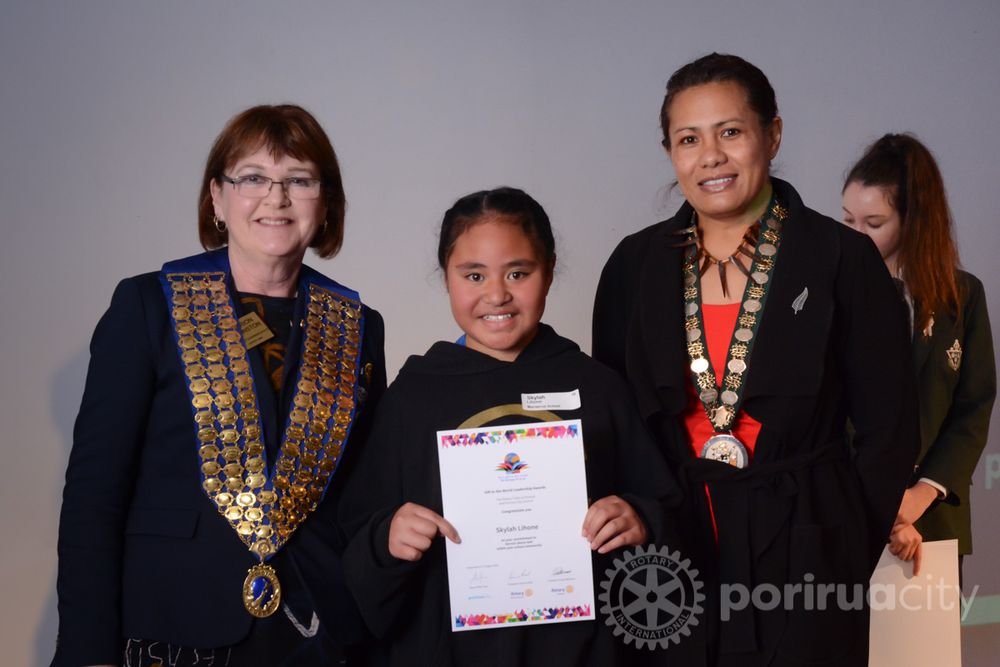 Skylah Lihone
Skylah is a quiet and intuitive year 5 role model. She has high expectations for herself and for others. Skylah works quietly to support others through encouragement and engagement, all the time working to achieve at a high level herself. Skylah is developing confidence and voice through her leadership in our school. Skylah's sense of empathy and work ethic are invaluable to our school.
Natone Park School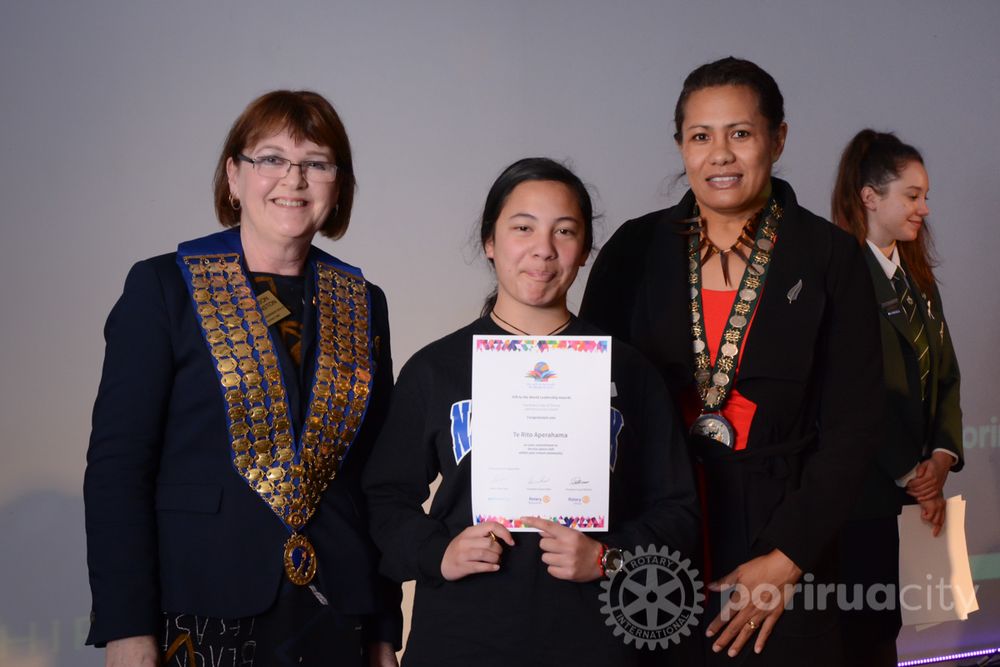 Te Rito Aperahama
Te Rito Aperahama has an enquiring mind. She has blossomed from a shy person who always stands back and checks out the situation to one who will give anything a go. Knowing that her time at primary school is closing she has built self-courage and confidence to prop herself up to completing set tasks and challenging those that she feels don't quite fit the situation. A leader in the making with an adventurous mind for change.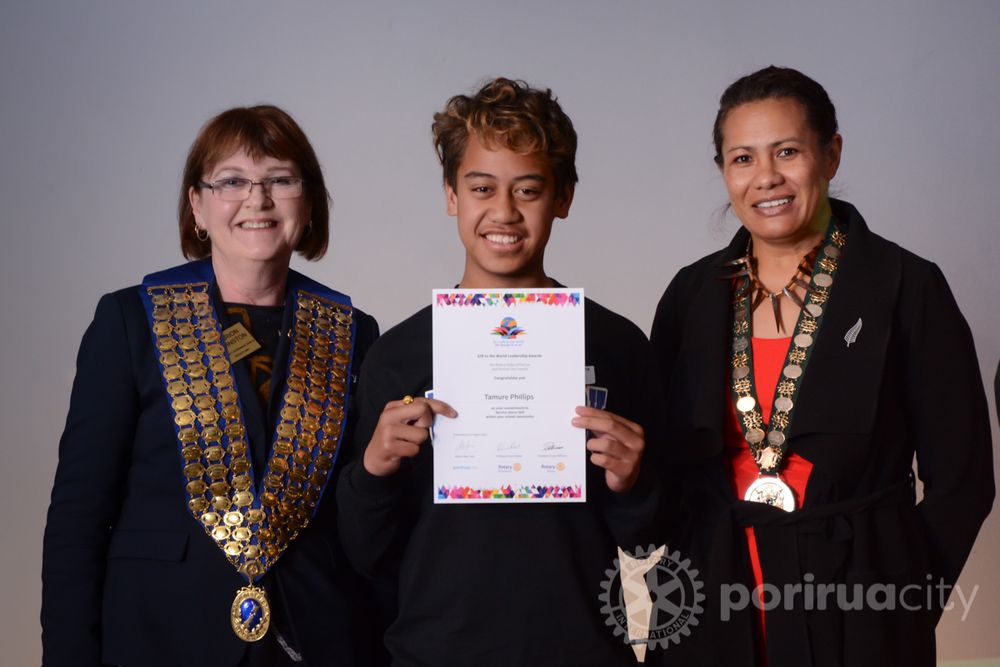 Tamure Phillips
Tamure Phillips is a determined young man who will always endeavour to give things a go. He is adventurous and makes sure that everyone involved is settled and feels welcomed. Tamure has worked hard to get to where he is. He has shown empathy and responsibility. He is a kind- hearted person who will always help out where required and is on track for future success.
These two students are role models at Natone Park School that everyone looks up to. They aspire to do good and lead by example. They are always on task and lend a helping hand when required. As year 8 students of Natone Park School we are confident to send them on to the next stage of their life's journey.
Ngati Toa School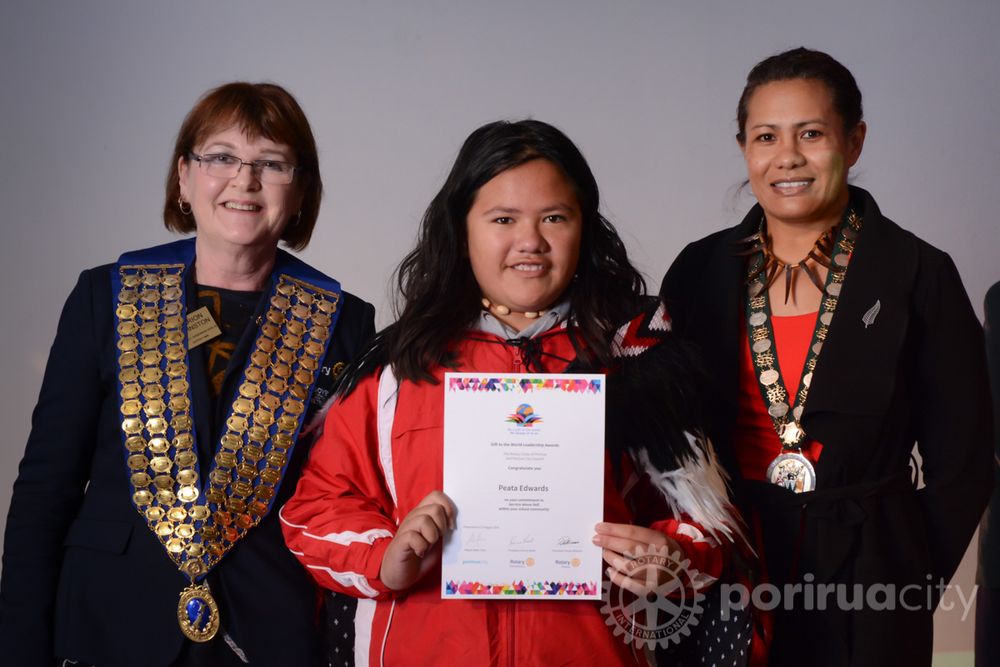 Peata Edwards
Peata is a friendly girl who is constantly finding ways to help out others. Her peers have said, "she is always cheerful and helps you when we're stuck. She has a really good attitude and shows a lot of aroha".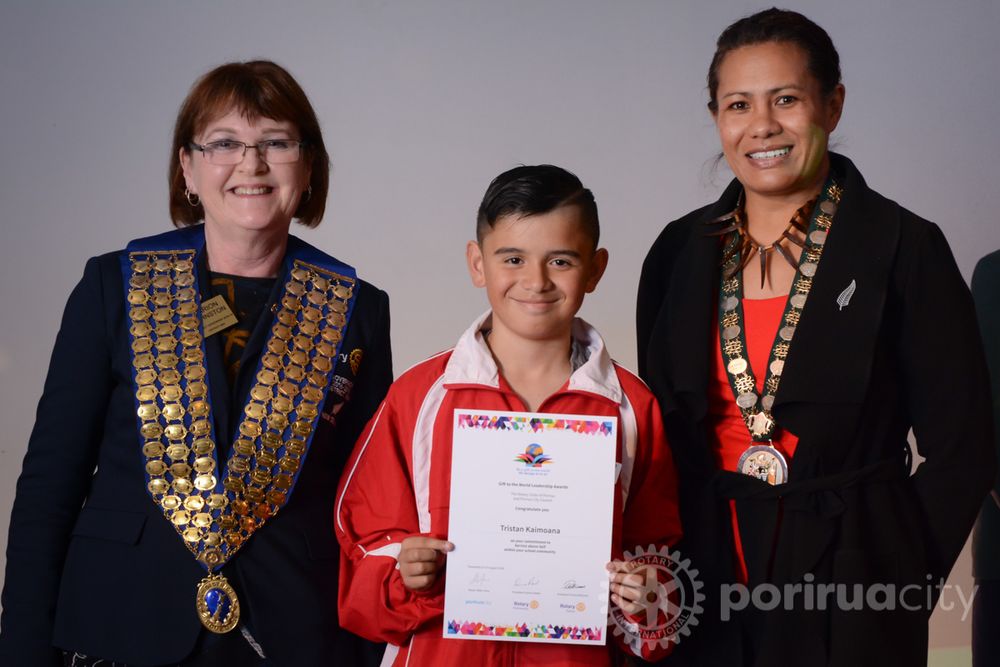 Tristan Kaimoana
Tristan is a humble boy who always has a smile on his face. He is brave and gives things a go even when he is feeling nervous inside. His peers have said, "he is kind. he gets others involved in activities and makes sure we are all playing fair".



Papakowhai School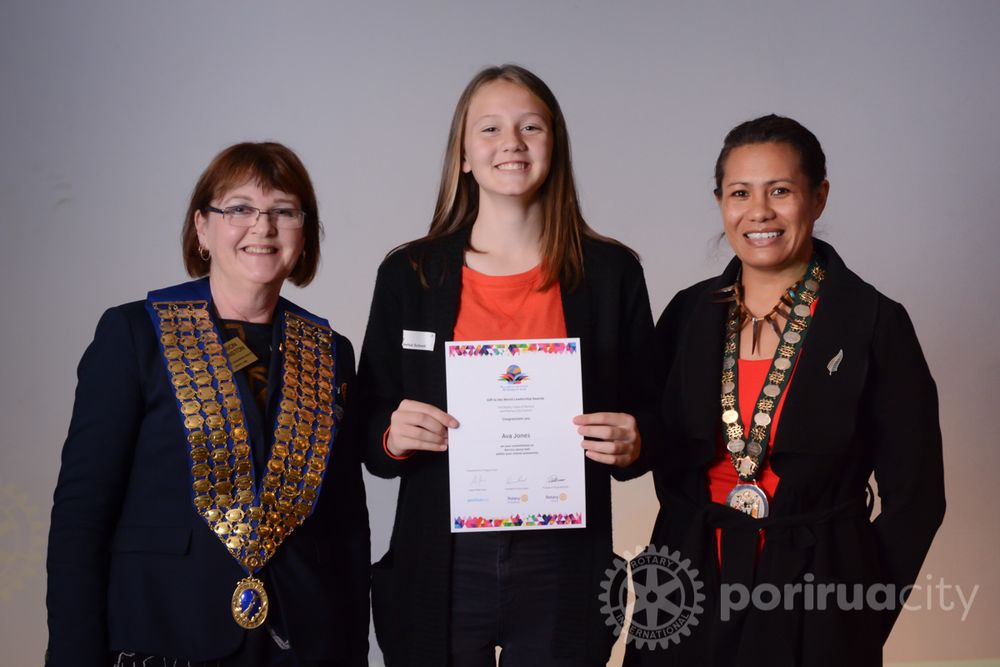 Ava Jones
Ava is an exemplary student, who is a positive role model to others. She shows leadership, initiative and a growth mindset on a daily basis. She is a Whānau leader who is always willing to go above and beyond to help others, and gives up her time without expecting rewards. Ava is very involved in sporting and cultural activities at Papakowhai School.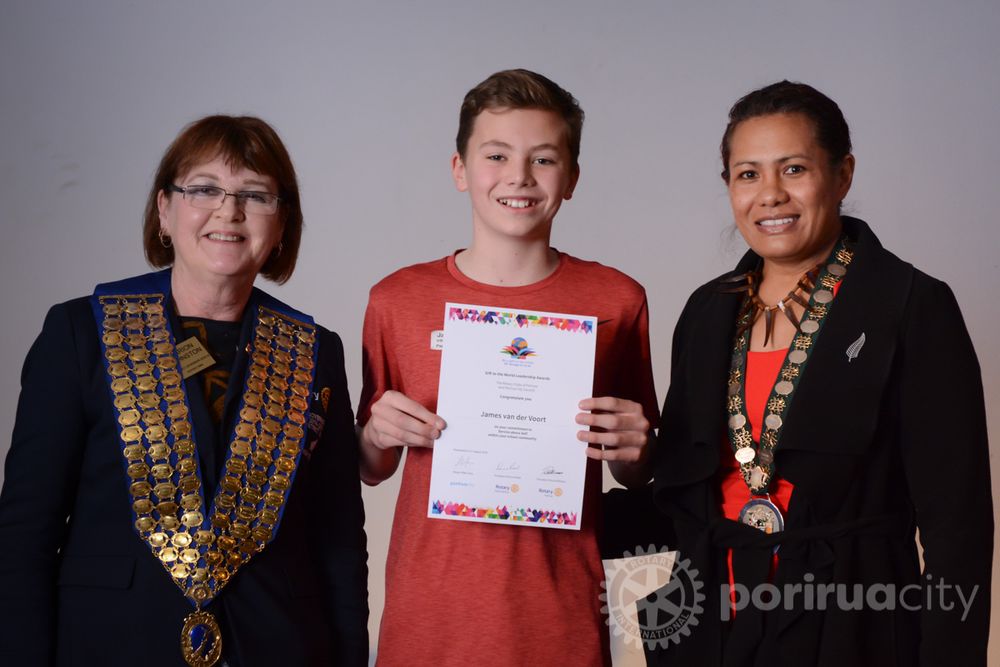 James van der Voort
James is a strong leader in our school, often setting an example and upholding school values. He is a Whānau leader, who exhibits a positive, can-do attitude in the face of challenges and supports his peers to do the same. He is very involved in sporting, cultural and academic activities at Papakowhai School.


Paremata School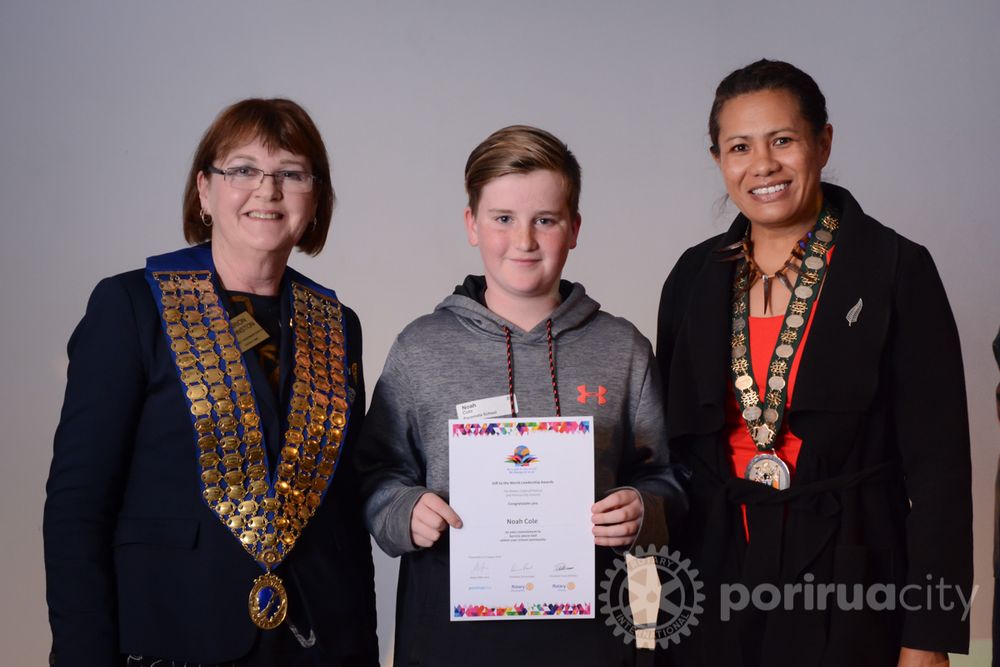 Noah Cole
Noah is great at supporting others around him in so many different ways. He is always happy to lend a hand with other people's projects in order to make them more successful and seeks no recognition for his thoughtfulness. Noah has demonstrated plenty of patience, kindness and tolerance while teaching our syndicate to play flag rugby. A skilful volunteer who has helped younger students with weaving projects. Noah is an outstanding young leader!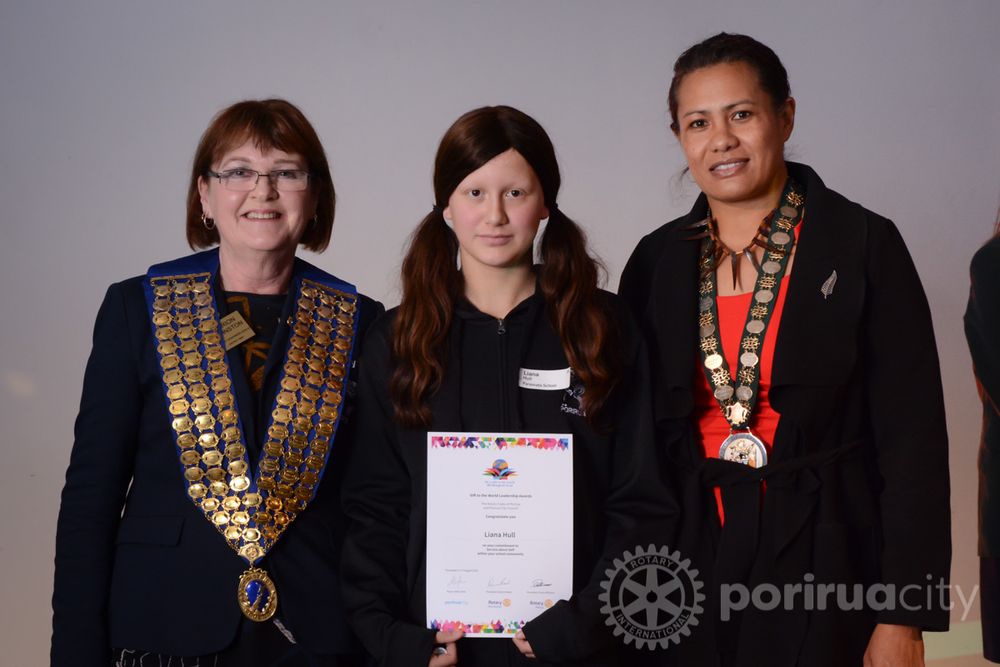 Liana Hull
Despite suffering from alopecia, Liana has continued to remain positive and upbeat. She is always happy to share her weaving skills and support younger students to make beautiful creations. Liana worked with drive and passion to independently organise a very successful beach cleanup in her own local environment, inspiring many others to take part. She shows great leadership in our school envirogroup.
Pauatahanui School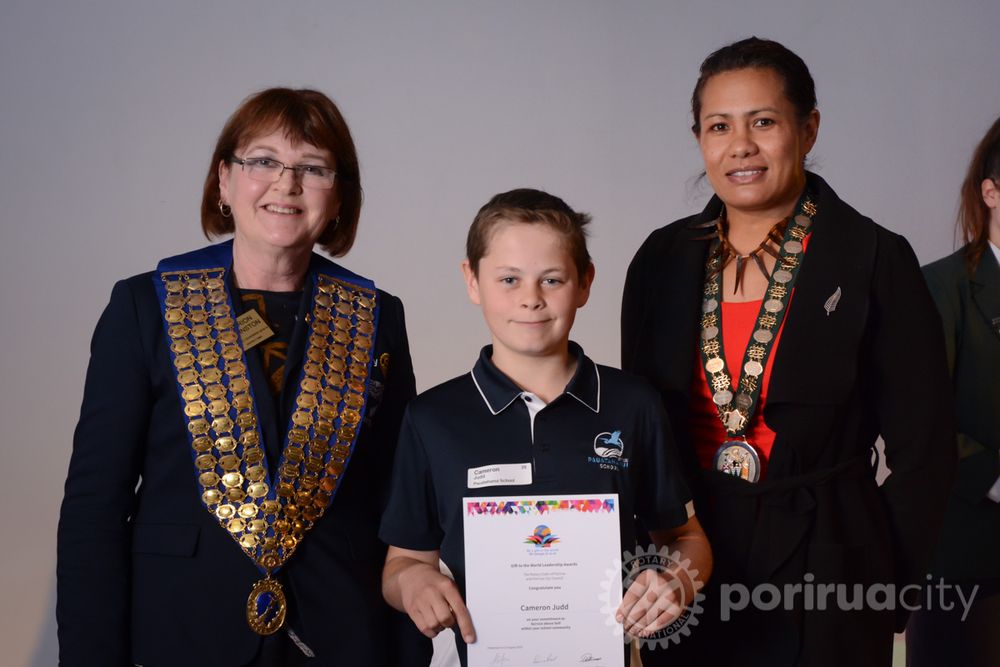 Cameron Judd
Cameron is a year 8 student in my class who has put his hand up for every opportunity that has presented itself through the year. He is a peer mediator at lunchtime, is a member of our road patrol group, and is also a leader in our Kapa Haka group. Cameron puts his hand up to different opportunities that have presented themselves throughout the year. Well done.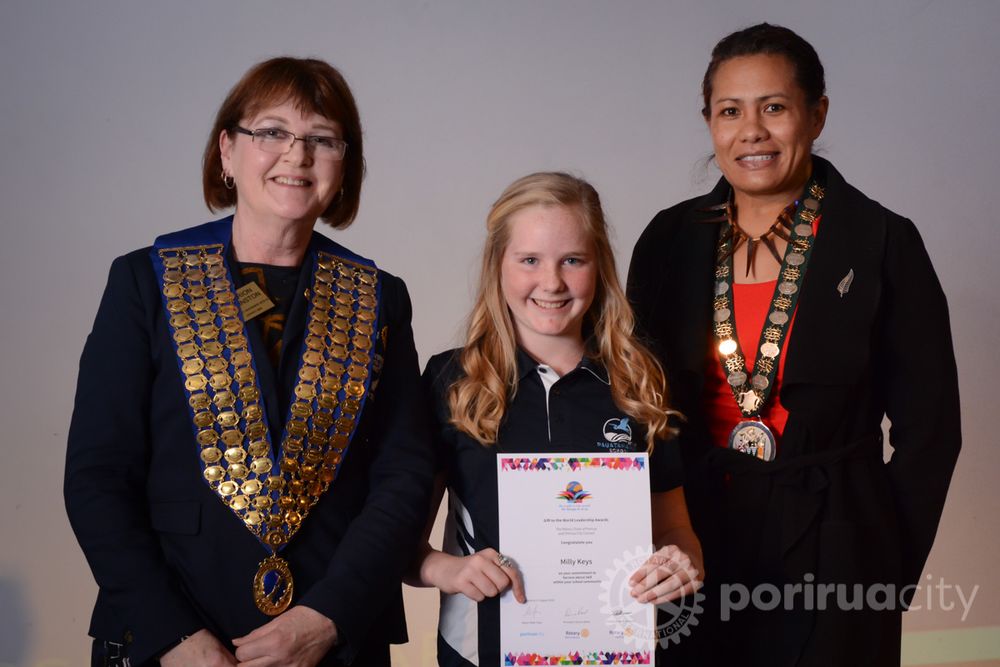 Milly Keys
Milly is a hard-working and diligent student who shows quiet leadership in everything she does. In class, she is always on task, works so hard with a smile on her face. Milly is helpful, and nothing is too much to ask of her. She has recently been to Tonga and helped build housing, which provided her with skills and experiences to bring back to NZ. A pleasure to teach, well done.
Plimmerton School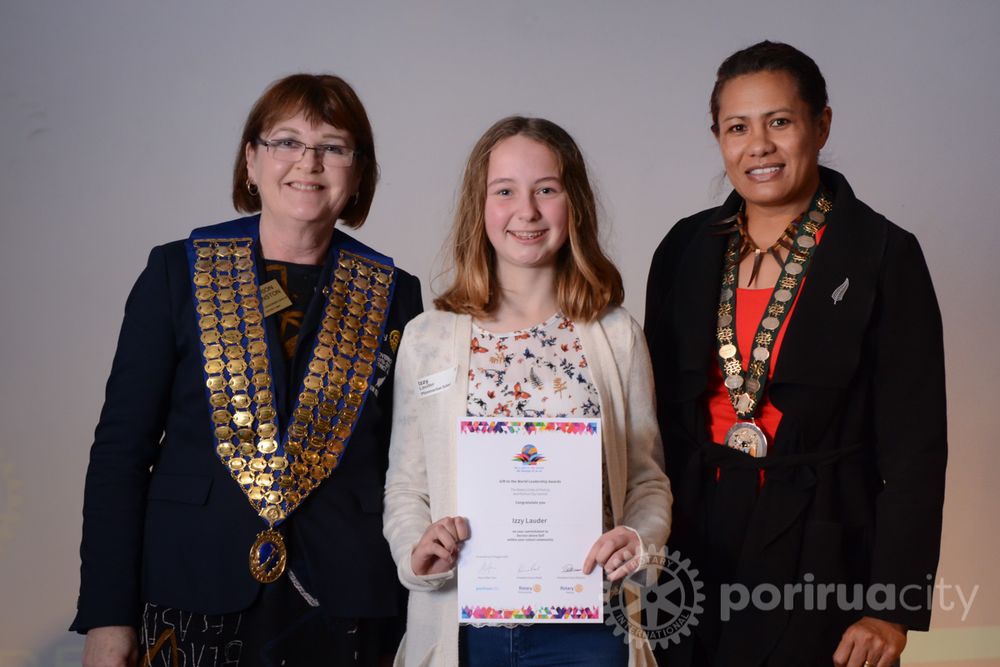 Izzy Lauder
Izzy is a member of the school council and is involved in organising and leading many events. Izzy leads by example with integrity and respectfulness. She thinks about others needs above her own. In 2015 as a year 5 student Izzy shaved her hair to raise money and awareness for the Fred Hollows Foundation.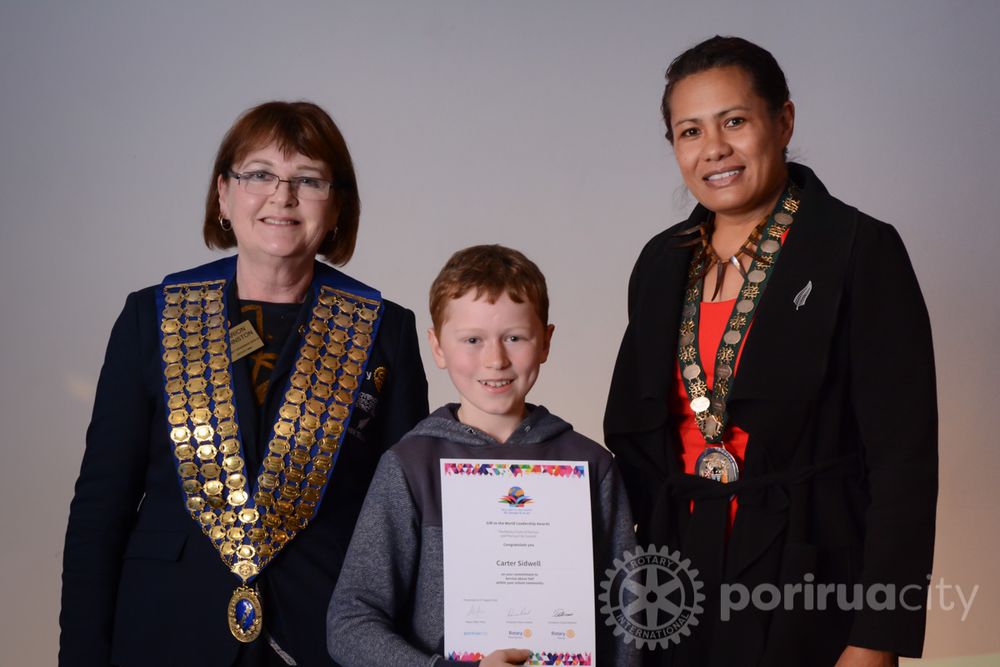 Carter Sidwell
Carter is a member of the school student council. He has been involved in the organisation of school wide events and fundraising activities. Carter is a giver. He thinks about others and the environment and always volunteers for extra responsibilities. Carter is honest, respectful, caring, motivated and a role model to others.
Porirua School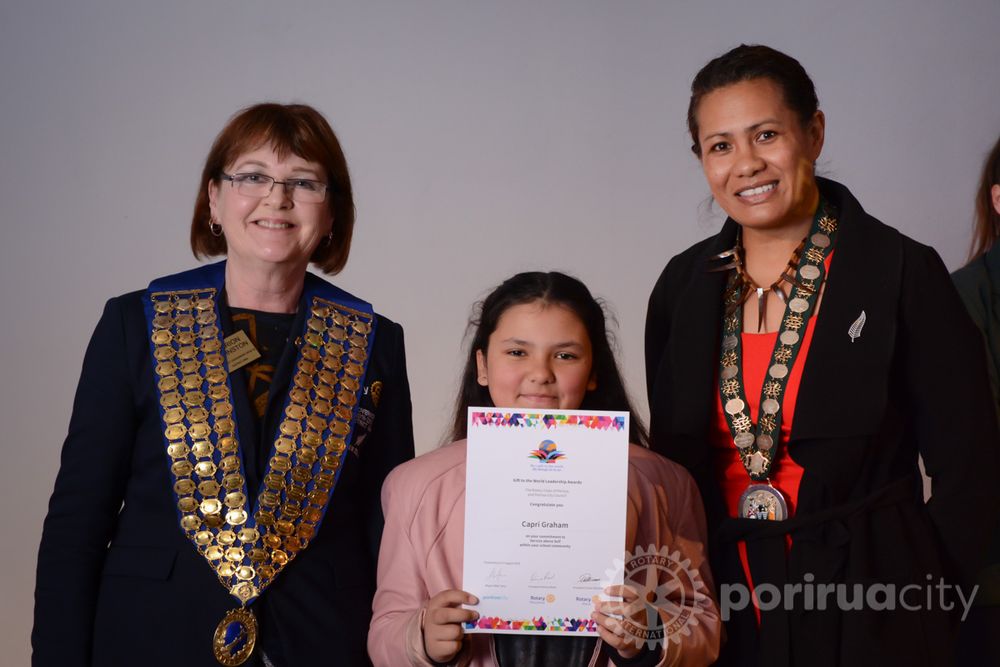 Capri Graham
Capri is an incredible asset to Porirua School and our community. Her positive, helpful and friendly manner means she is a respected and highly regarded leader among her peers. She frequently volunteers to do various jobs during the school day and is one of our fantastic Road Patrollers, often covering duties other than her own. Capri consistently leads by example, offering to help others, demonstrating teamwork and participating in all aspects of school life with a smile. Capri, you are going to achieve great things.
Lucas Joe
Lucas is a helpful, kind, caring and actively involved member of Porirua School. He consistently offers to do different tasks during the school day and always completes jobs with a smile. Lucas supports his peers in class, sharing his skills and knowledge to help others to be successful. He is a keen sportsman and demonstrates respect, resilience and teamwork and is a role model to all of the children at Porirua School. You have a big future ahead of you Lucas.
Pukerua Bay School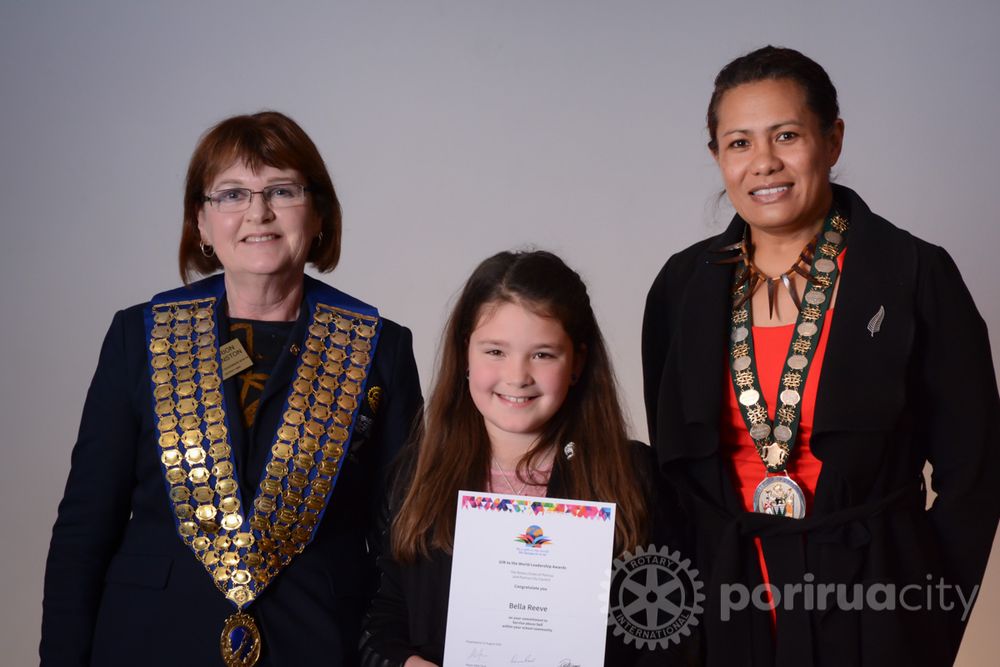 Bella Reeve
Bella has enormous heart and empathy for others. We love her kind and caring attitude and she constantly displays this at Pukerua Bay School. Bella tries her best and like Nyzanah is an unassuming leader who doesn't shout out that she is here but works quietly in the background problem solving and developing others.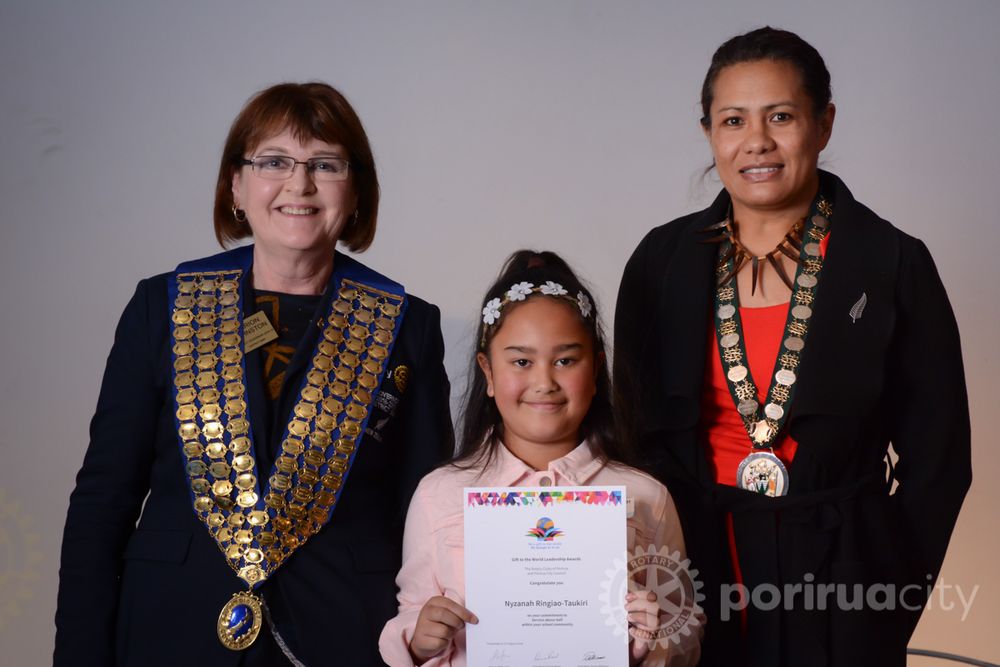 Nyzanah Ringiao-Taukiri
Nyzanah is an outstanding year five student who role models those important life skills we all want for our children; kindness, caring for others, empathy, trying her best and giving everything a go. Nyzanah is one of those quiet and unassuming leaders who is always reliable and never lets people down. She never seeks the limelight and will go on from Pukerua Bay School in the coming years with a strong sense of self and commitment to helping others.
Rangikura School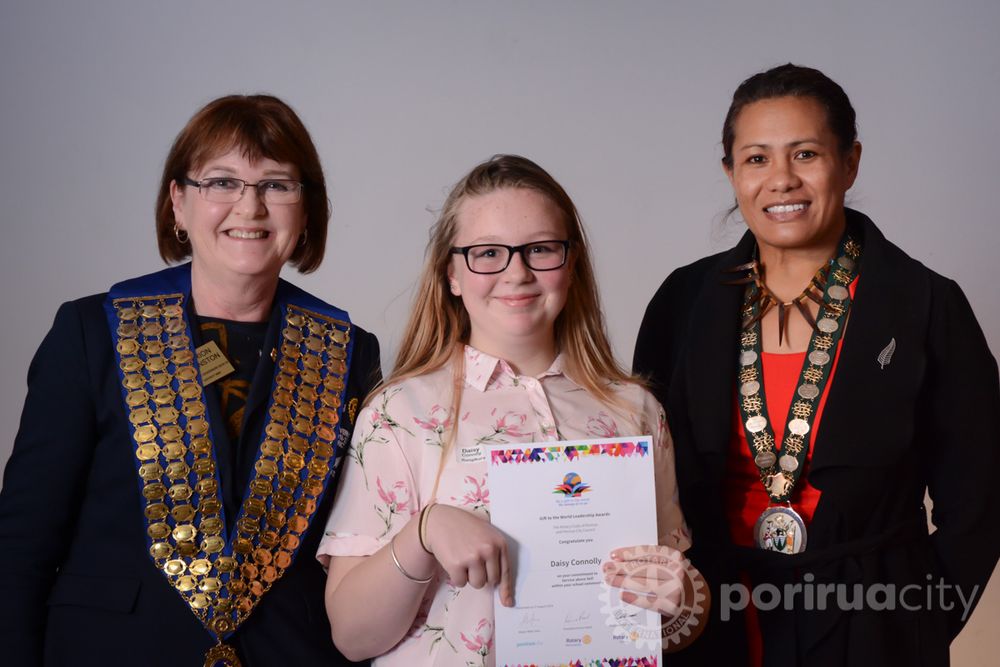 Daisy Connolly
Daisy is a key member of Rangikura's student council. She has a vibrant, confident energy that lifts others. Daisy has consulted and listened to our students and can be relied upon to finish projects she has started to a high standard. Daisy is well mannered, and always has a smile on her face.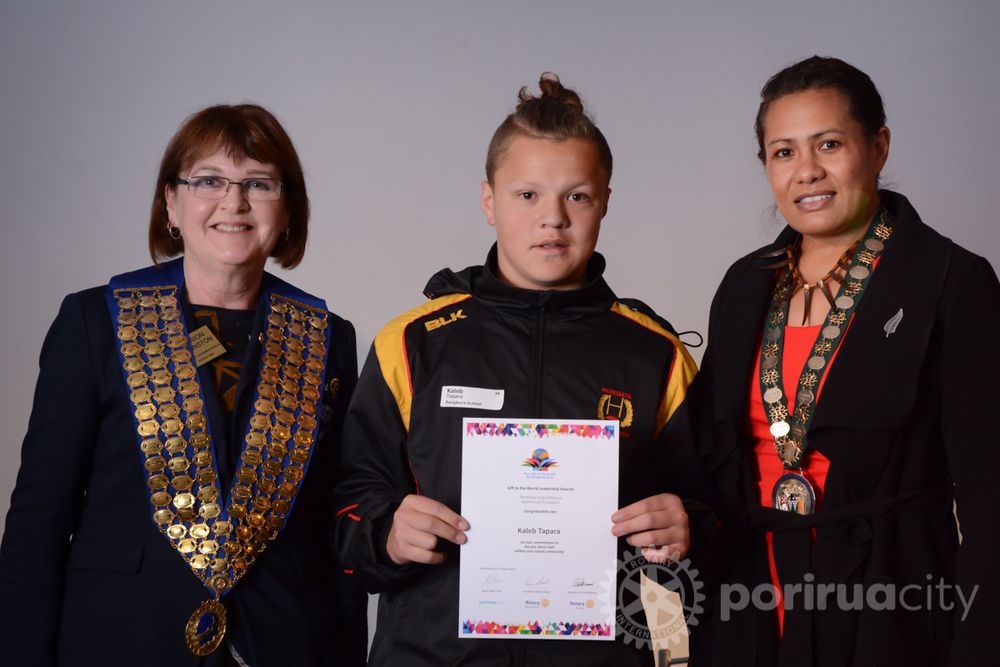 Kaleb Tapara
Kaleb leads by example, is an excellent role model for other students, and takes on challenges leading with confidence. He is a quiet, positive leader who never says no. A senior leader of our kapahaka, Kaleb also excels with all sporting endeavours. He models commitment, determination and hard work both on and off the sports field.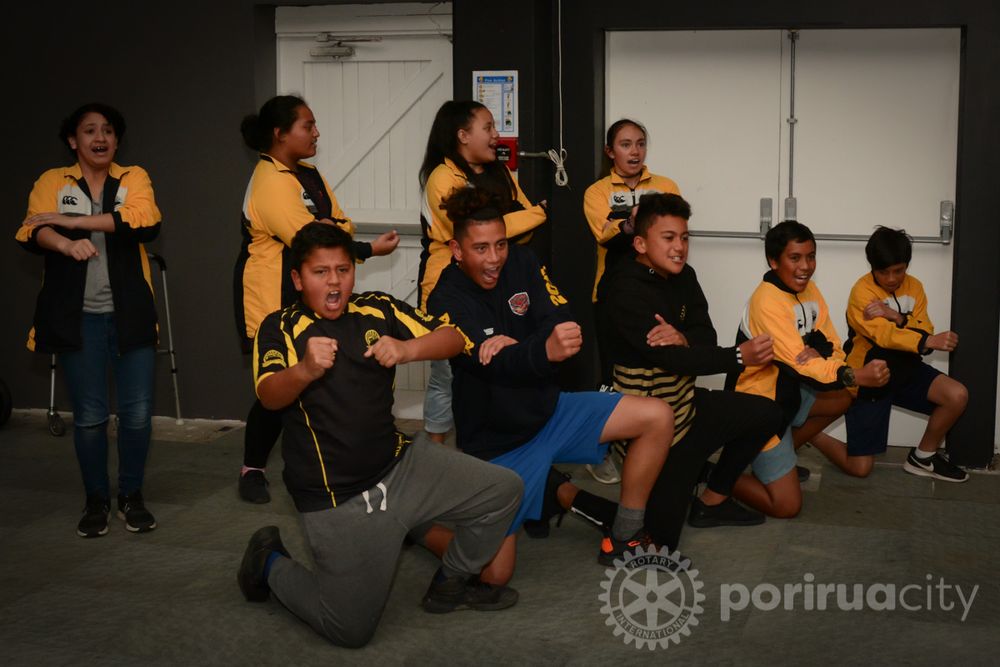 Rangikura students perfprmed a spontaneous haka to honour their students.
Russell School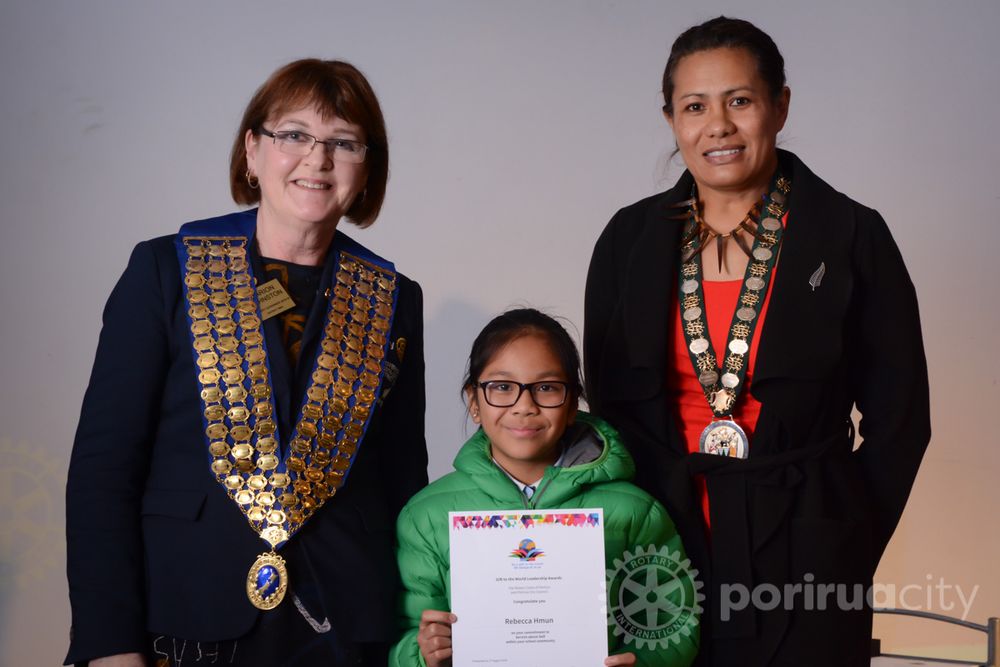 Rebecca Hmun
Rebecca is a quiet achiever with a considerate and thoughtful nature. She is respectful and diligent in any role or duty she is allocated as a senior student. It is no surprise that Rebecca is a recipient of this award as she exhibits the same attributes in her community.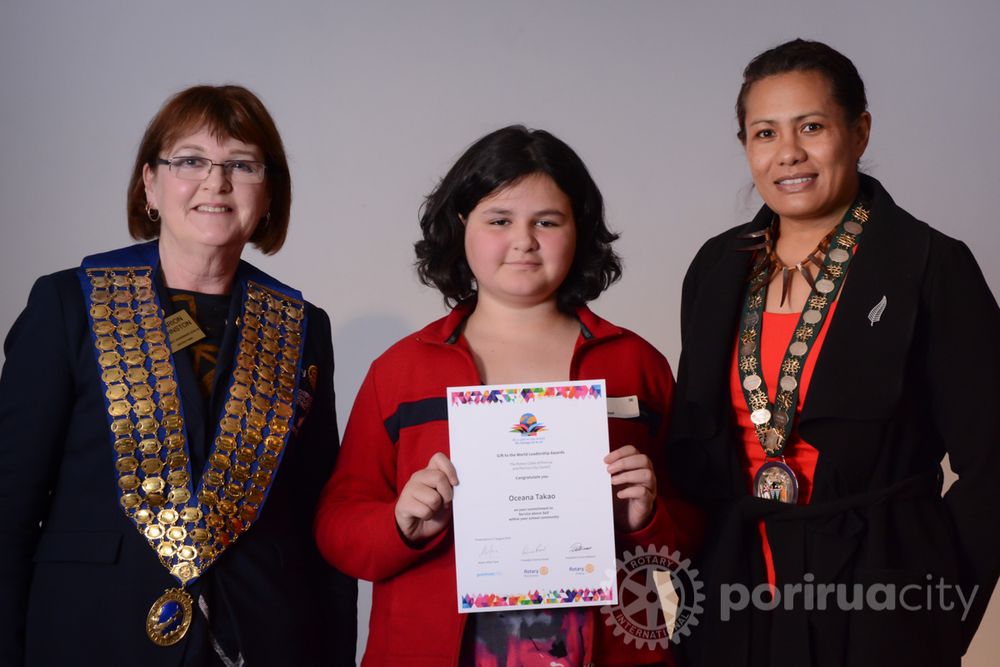 Oceana Takao
Oceana is a confident, self-assured student who shows a caring and considerate attitude towards others at all times. This year, Oceana has stepped up even more as a leader leading whole school karakia and waiata. Her reliability and responsible attitude in her role as the school office monitor has earned her the trust and respect of our school office staff.
St Pius X School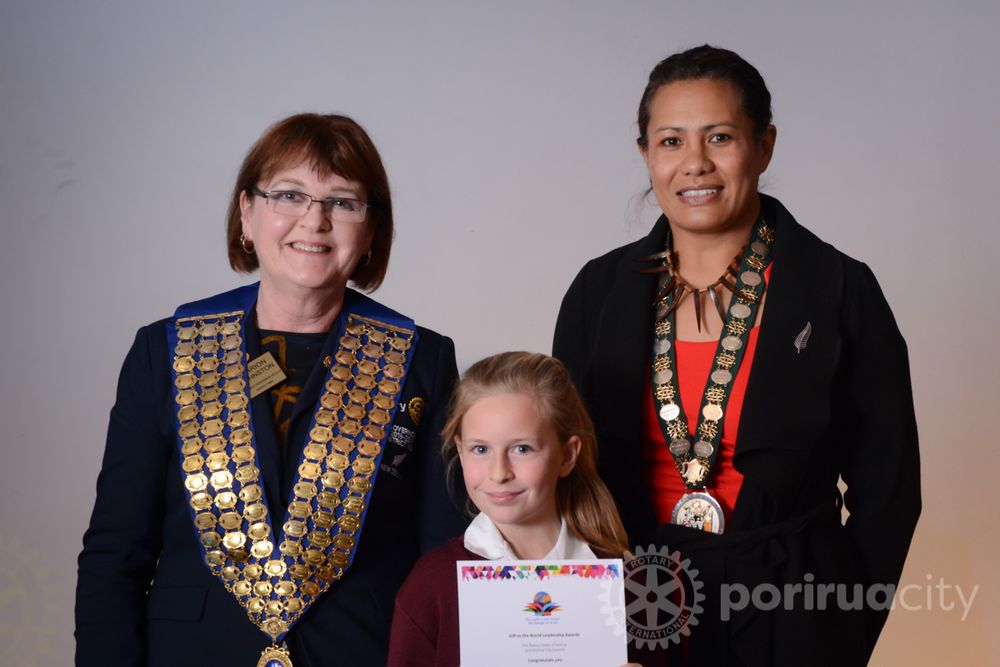 Sophie de Boer
Sophie de Boer, St Pius X School, Titahi Bay. She is a quiet, unassuming and humble leader motivating herself and others. She is a reliable and resourceful trustworthy leader. Sophie has shown leadership as milk monitor, in road patrol, medical monitor, young vinnies, student librarian, prayer assemblies and general school assemblies. At the recent Kotahitanga performance at Titahi Bay Intermediate, Sophie showed strength and tenacity. She is a kind, caring and cheerful person who is always willing to help others. We are proud to select Sophie for the Young Leaders Award.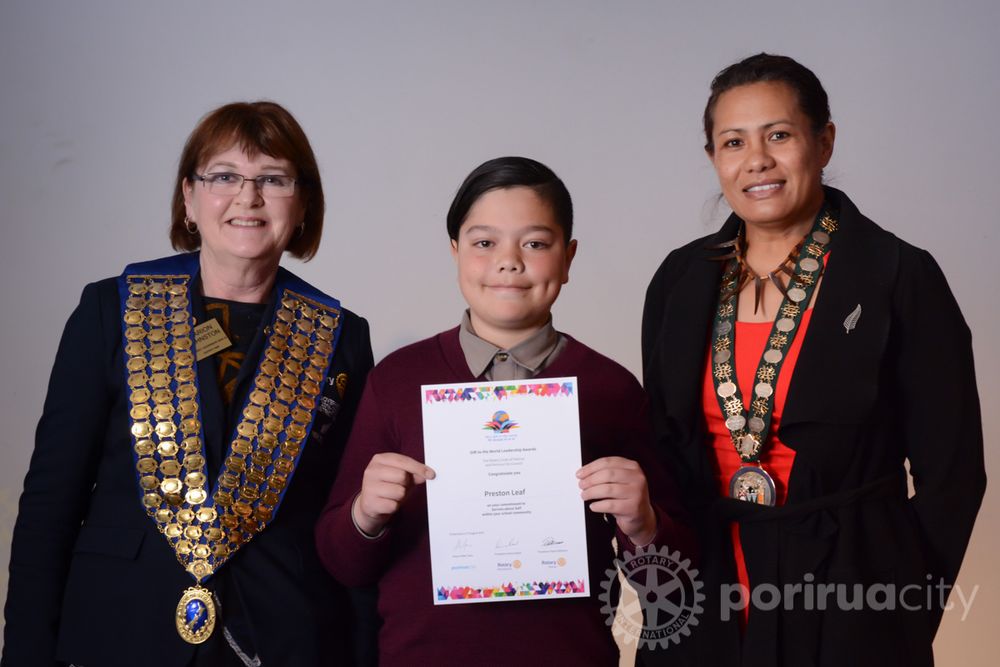 Preston Leaf
Preston Leaf, St Pius X School in Titahi Bay. He is a strong leader who has led his class and school in tournaments, kapa haka, competitions, prayer assemblies, and general school assemblies. He is responsible for road patrol, computers, audio-visual equipment, and is a young Vinnie. He was Kaea at the Kotahitanga performance at Titahi Bay Intermediate. Preston is an all-round achiever shining in many areas at St Pius X School as a life-long learner. We are proud to select Preston for the Young Leaders Award.
St Theresa's School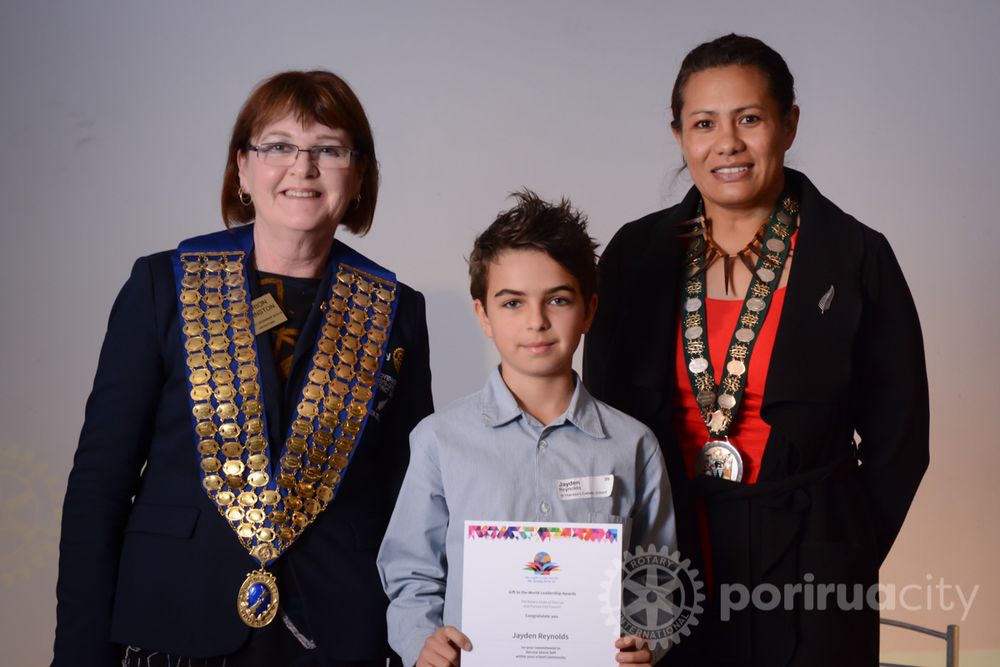 Jayden Reynolds
Jayden, like Mary McKillop, 'never sees a need without doing something about it'. He is always willing to help and serve others. Jayden enjoys the opportunity to work on collaborative projects. He is always respectful of the ideas and perspectives of other people. Jayden is a reliable and responsible Technical Leader at our school. His leadership contributions are valued throughout the school. He is well deserving of this Rotary Leadership Award.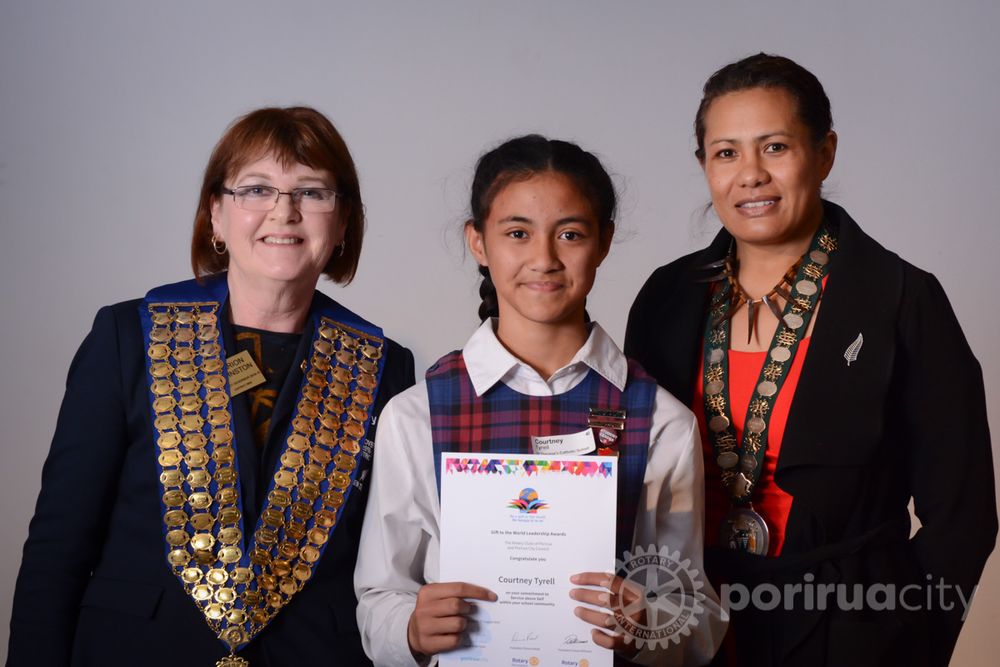 Courtney Tyrell
Courtney's contributions as a leader are valued and she interacts with others in the spirit of tuakana teina. She relates well to other students and willingly shares her learning. Courtney is an awesome Cultural Leader. Her confidence to speak in front of large groups in leading the Sasa in her role as a karanga Leader is exceptional. Courtney is well organised and a positive role model. She is well deserving of this Rotary Leadership Award.
Samuel Marsden Collegiate School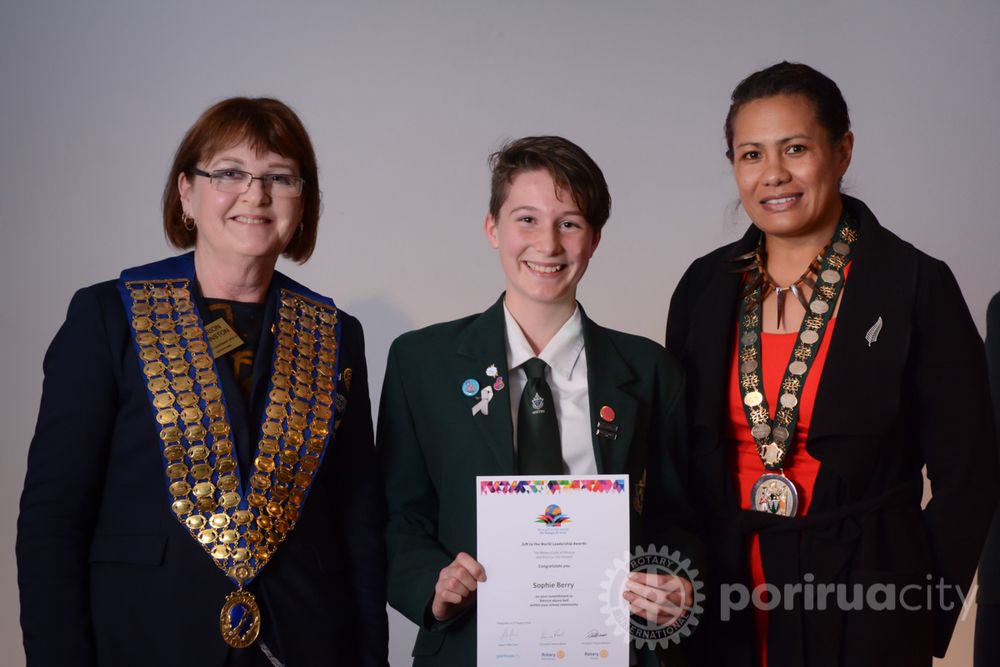 Sophie Berry
Sophie is a very active member of the school. She is also a true leader. She is always reminding others of the things they need to do or bring for the next day. Sophie is very proactive to help others with whatever they are doing. She looks for opportunities to serve and actively looks for leadership opportunities for the only reason being that she wants to help. Sophie is confident and she is not shy about saying and demonstrating what acceptable behaviour should be. She has a mature and calm demeanour.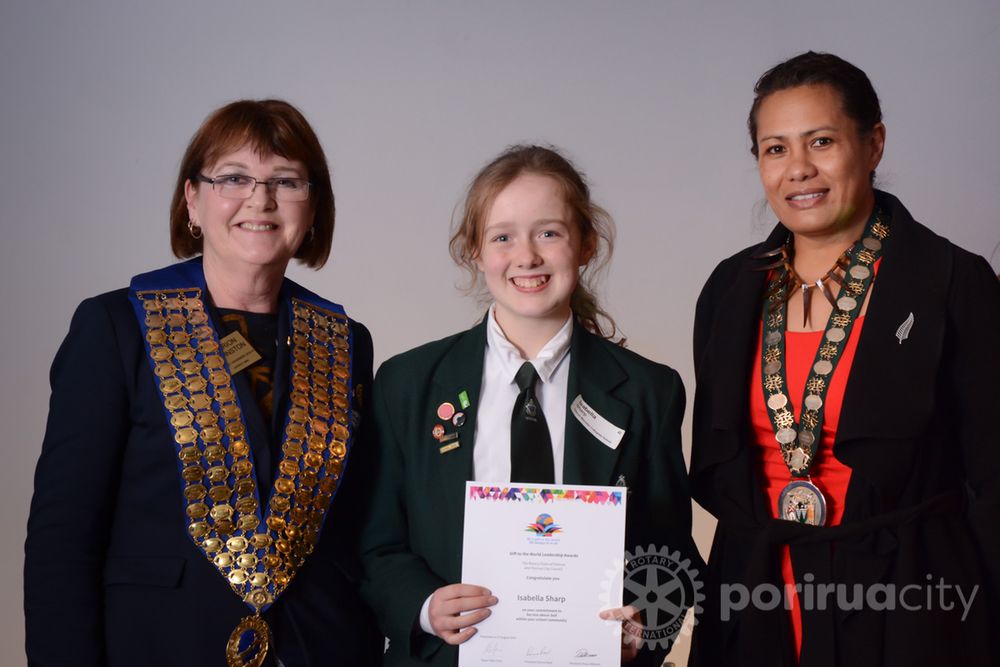 Isabella Sharp
Isabella is a quiet leader in her class. She always looks for opportunities to help her classmates. This comes in many ways: whether supporting her classmates with kind words and encouragement or actively giving support by helping them perform tasks. All the students respect Isabella and she is often mentioned by them for her thoughtfulness and helpfulness. She also involves herself in all school activities and though she is one of the youngest in the school she participates enthusiastically wherever and whenever she can.
Te Kura Maori o Porirua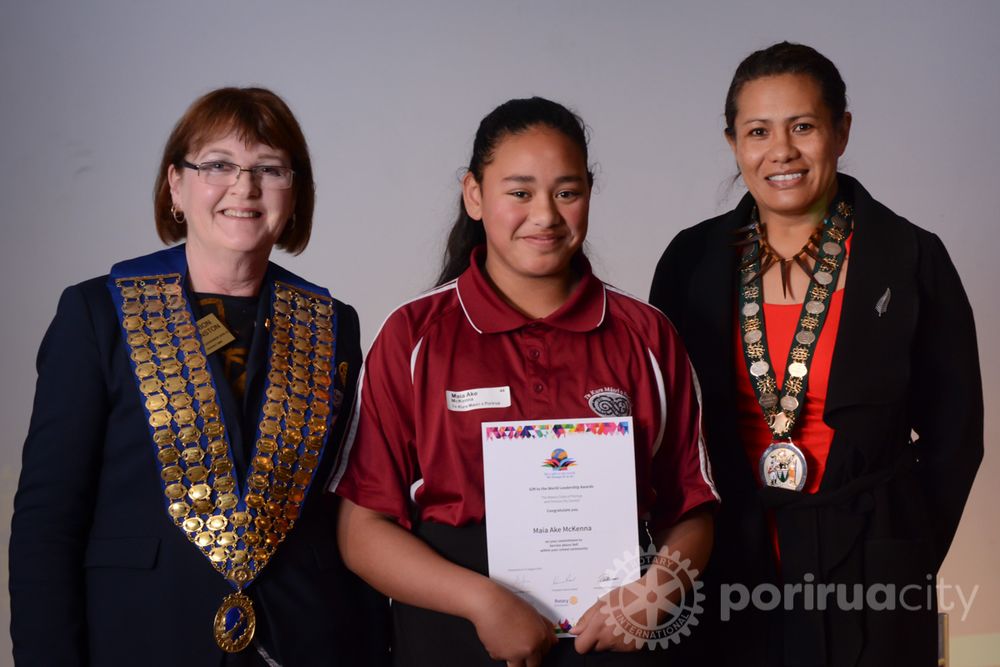 Maia Ake McKenna
Ko Tautoro te maunga
Ko Punakitere te awa
Ko Mahuhukiterangi te marae
Ko Ngapuhi te iwi
Ko Ngati Moerewa te hapu
Maia Ake always demonstrates a positive disposition and reflects this in all aspects of her school life. She is a leader in kapahaka as a kaitataki wahine and demonstrates expected behaviours of being in a kapahaka group for her peers. Maia Ake has led the Whitireia kapahaka group in Regional and National competitions. She supports the younger children of the kura during Whānau wide time and is a valued member of Te Whānau Te Pihinga. Maia Ake has recently represented our Kura in a regional speech competition held in Martinborough. Her interests are singing, kapahaka, hanging with her friends and whānau.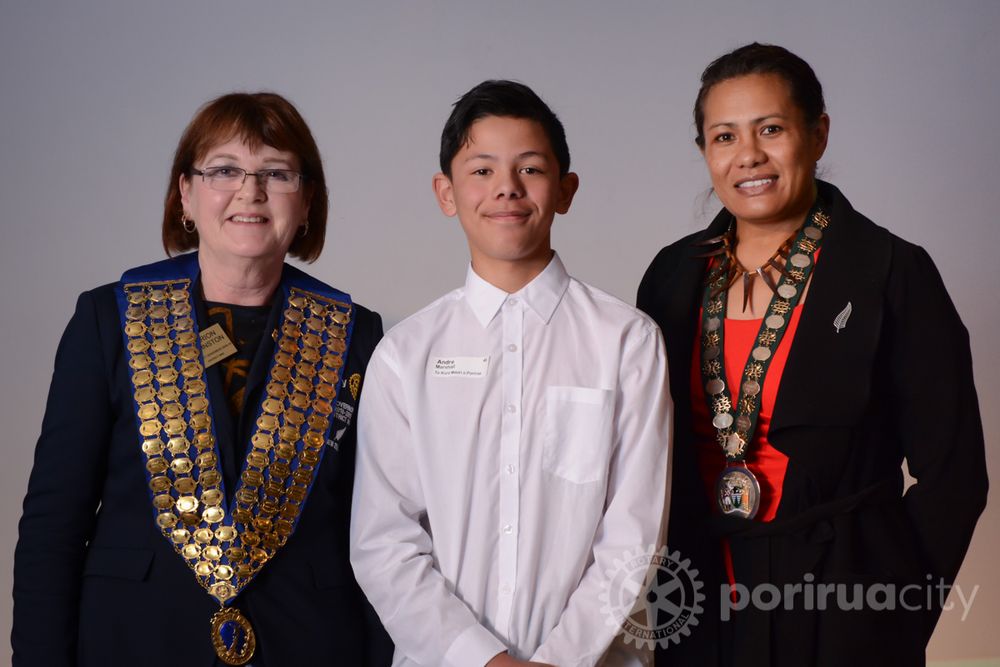 Andre Marshall
Ko Whitireia me Taiarahia ngā maunga
Ko Porirua me Ohinemataroa ngā awa
Ko Tainui me Mataatua ngā waka
Ko Ngāti Toarangatira me Ngai Tuhoe ngā iwi
Ko Takapuwahia me Rewarewa ngā marae
Andre proudly upholds his connections to this land of Ngati Toarangatira. Andre is a quiet student who leads and guides others in his quiet manner. He is of gentle nature and is always considerate of others. Andre always demonstrates expected behaviours and is a role model to his peers. Andre's interests include engineering, building, science, computers and programming. He enjoys gaming and cooking and art and drawing.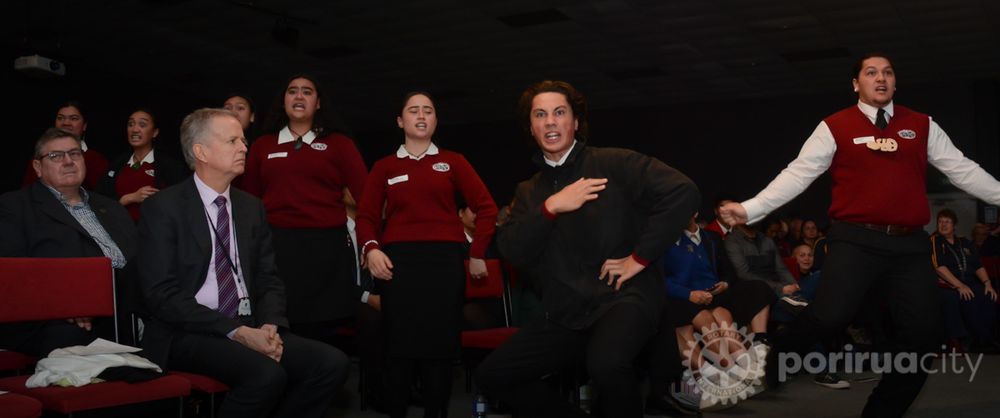 Te Kura Maori o Porirua senior students performed a haka to honour their students.
Titahi Bay Intermediate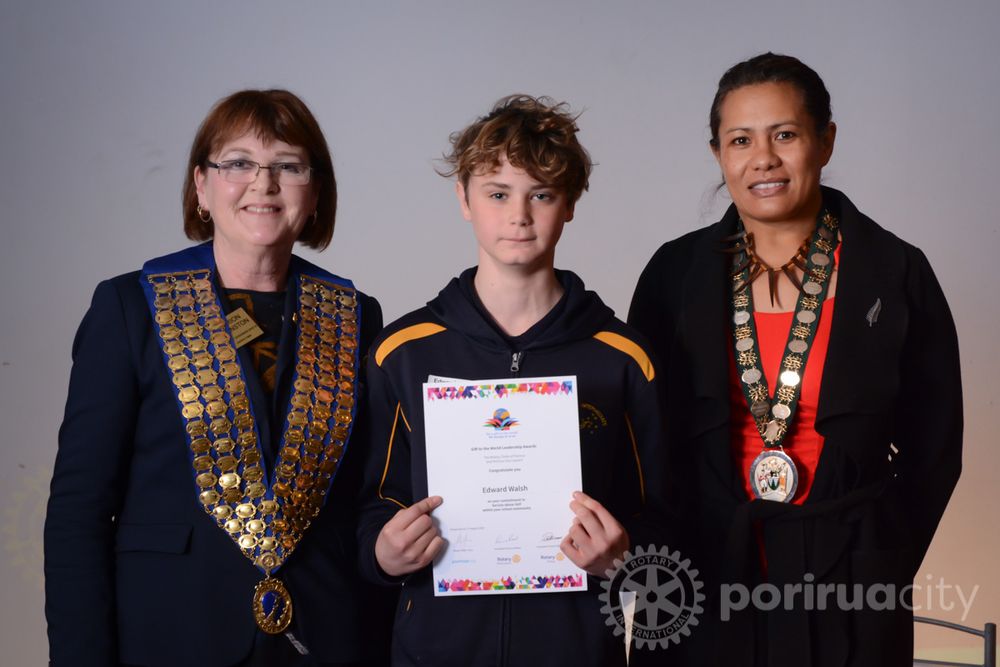 Edward Walsh
Edward Walsh, known as Ned, is a Year 8 student. He is a quiet leader who is composed and confident, even in the midst of chaos. He is a caring individual who shows manaakitanga in all situations. He is a very talented young man who plays the drums for our school band as well as the Cook Island drums.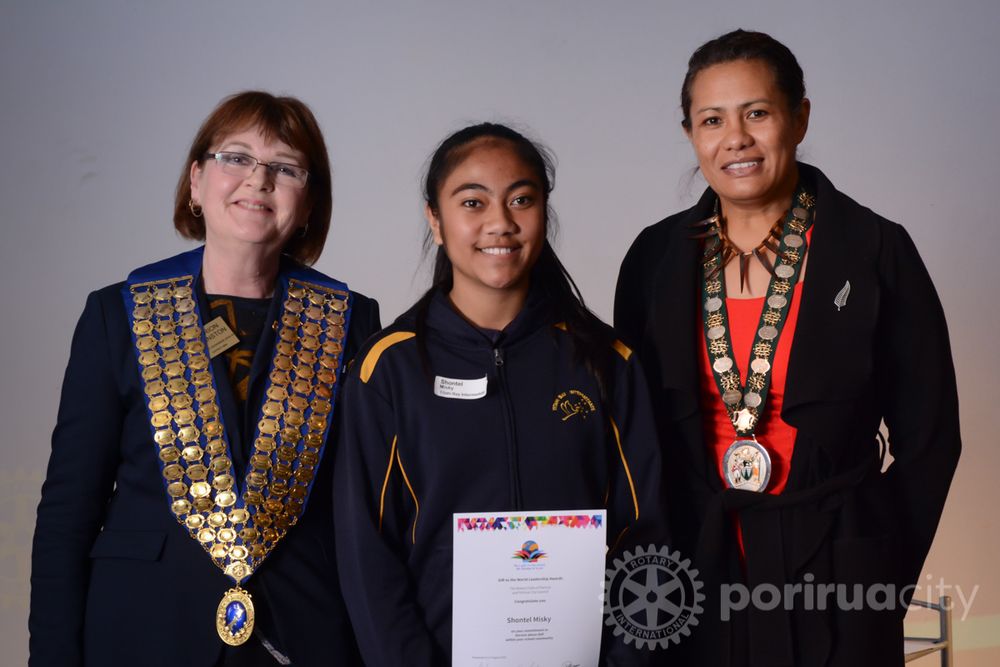 Shontel Misky
Shontel is a year 8 student who is a natural born leader. She is compassionate, confident, hard-working and always has a positive attitude. She is a student councillor, plays Netball, performs in our Kapa Siva group and always leads by example.
Titahi Bay North School
Maia Lapointe
Maia is caring and supportive of her peers and teina. She is confident, outgoing and never backs down to the challenge, giving everything a go. She is thoughtful towards others and has excellent negotiation skills seen in everyday classroom situations and school-wide. She is able to express ideas clearly and co-operates well with others. Maia is respectful and courteous and takes on leadership roles confidently and with ease.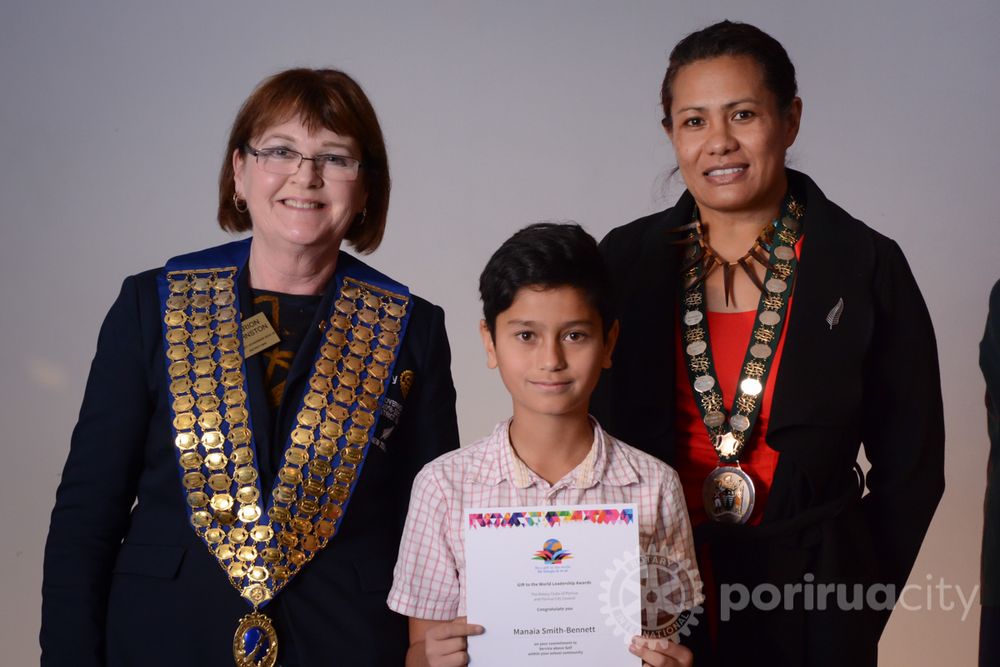 Manaia Smith-Bennett
Manaia is in the immersion whanau at Titahi Bay North School. As a tuakana he has been required to take on leadership roles amongst the whanau. A tangible example of this is his role as a kaikōrero (speaker) in formal settings such as pōwhiri, mihi whakatau and other formalities. Manaia is a well-respected leader within our whanau often facilitating games and activities for his peers. Mauri Ora.
Titahi Bay School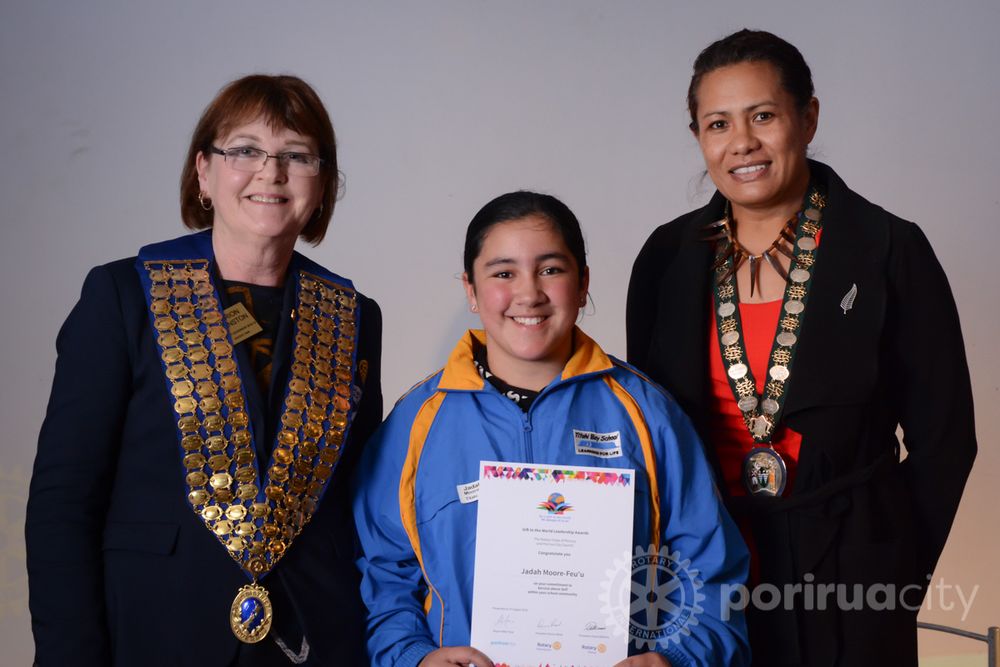 Jadah Moore-Feu'u
Quietly and without any noise she gets on and does what is needed. She works behind the scenes to ensure those around her feel supported and she does this in a very humble way. Leadership is not just being out the front. It is working in the back and doing what is right. She lives and breathes our school values.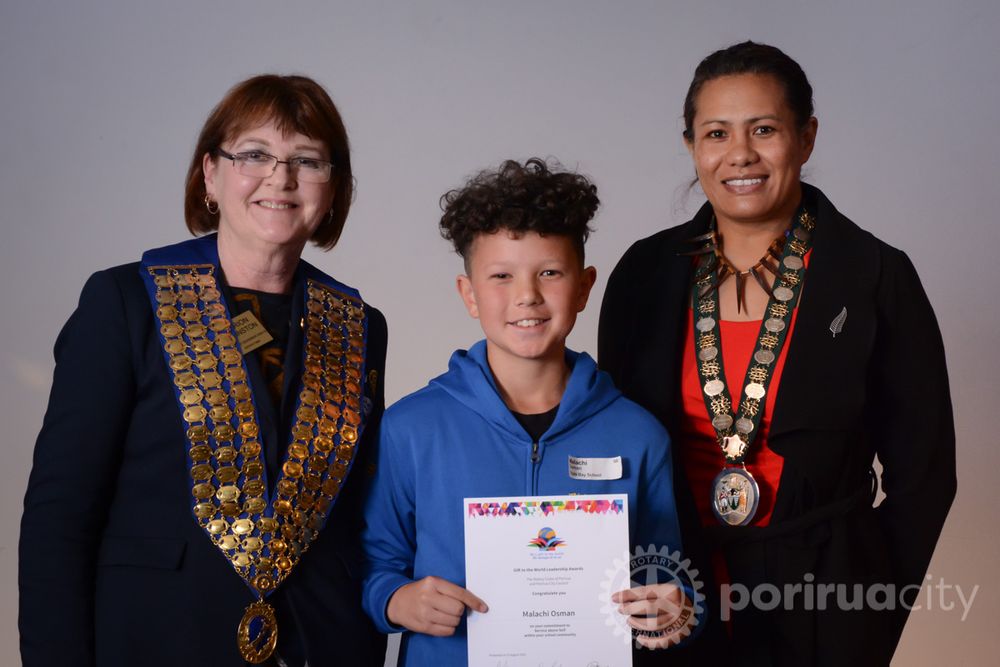 Malachi Osman
Malachi is what we call a leader who works in the background making sure that everyone is feeling okay and are supported. He likes to quietly go about doing the right thing and helping others make positive decisions in our school. He is a KURA kid and shows all our school values every day and every year.


Wellington Seventh Day Adventist School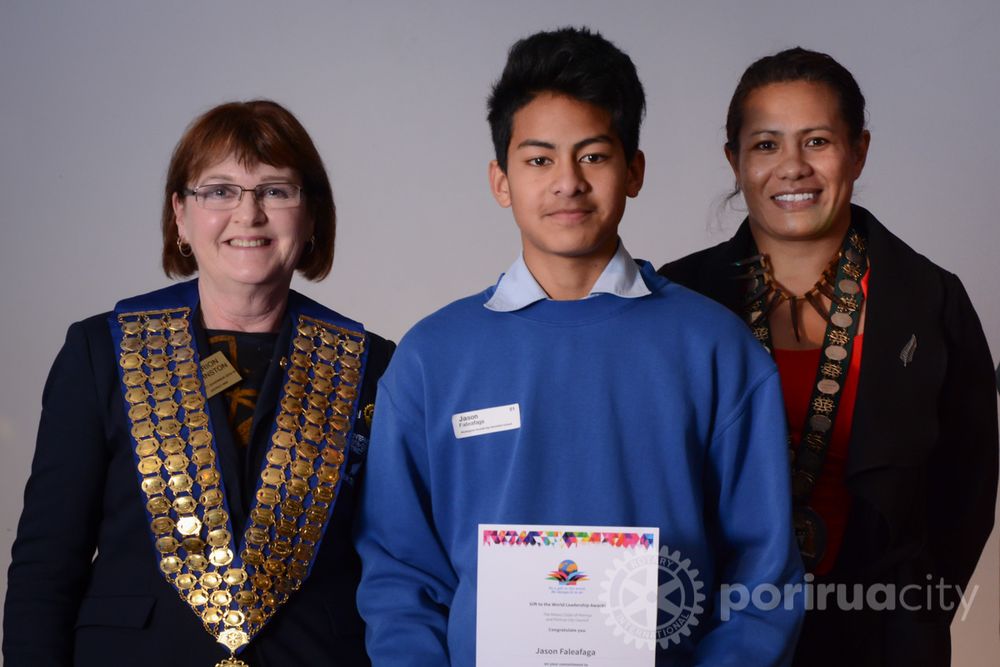 Jason Faleafaga
Jason is a student of outstanding character. He is always polite, respectful, and cheerful. He has lead the school's Maori and Samoan cultural items for the past few years. He demonstrates the school's values in his interaction with others and is great role model for younger students.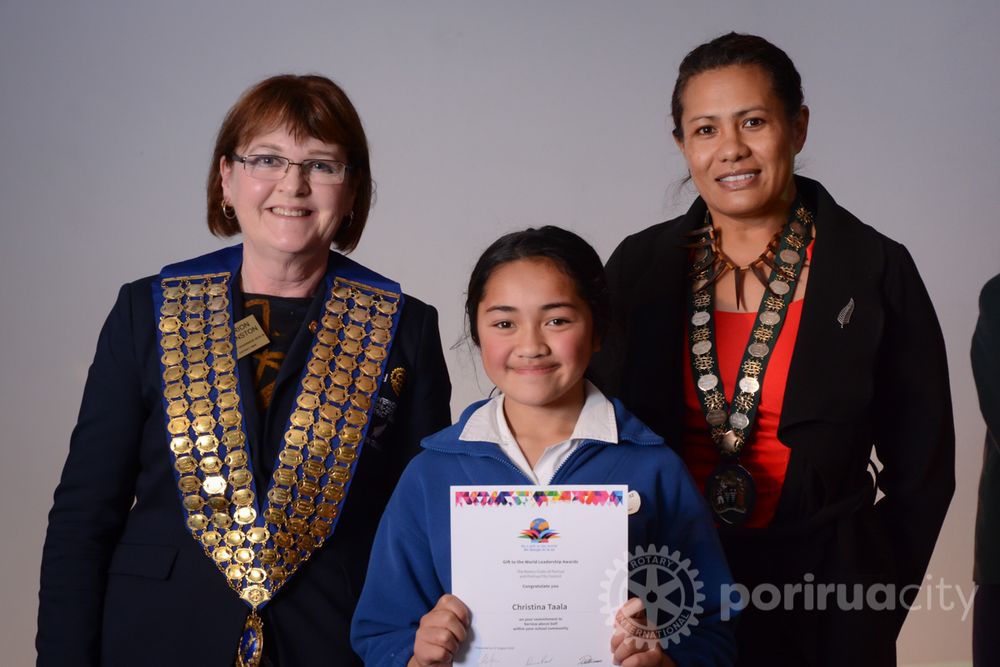 Christina Taala
Christina is trustworthy and responsible student who is willing to take risks in her learning. When given responsibility or leadership roles, she takes this seriously and is able to keep a group on task and ask thoughtful questions to spark discussion. She is a good mentor for younger and less able students.


Windley School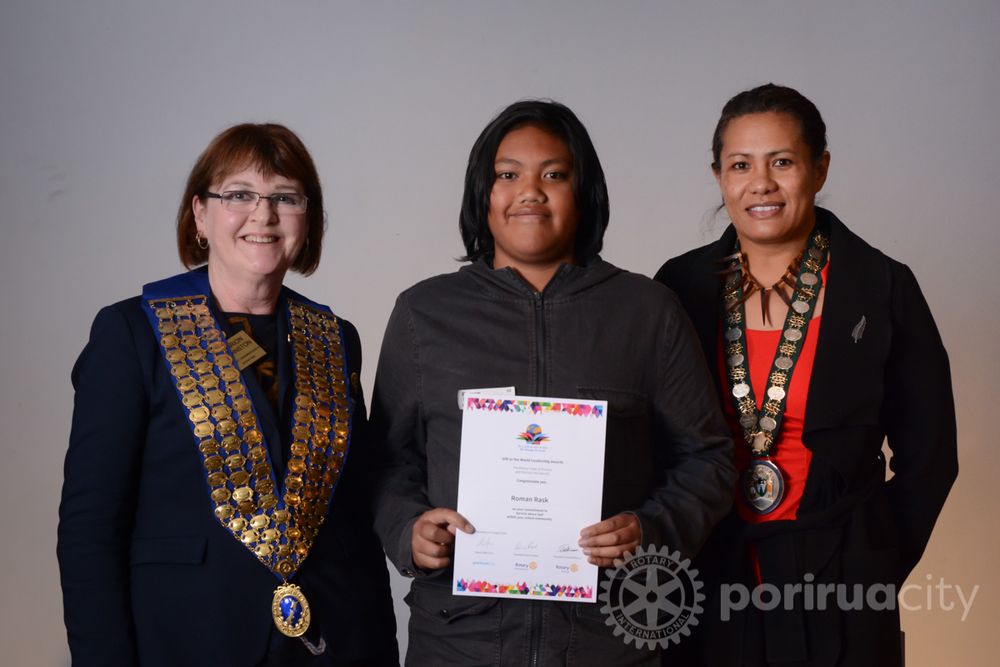 Roman Rask
Roman is New Zealand Maori, specifically; Te Atiawa, Samoan and Cook Island Maori. He has applied himself diligently to his work and extracurricular activities as well as supporting school events through planning, organisation and delivery. He has shown leadership skills in all areas of school life and hence the reason for this nomination.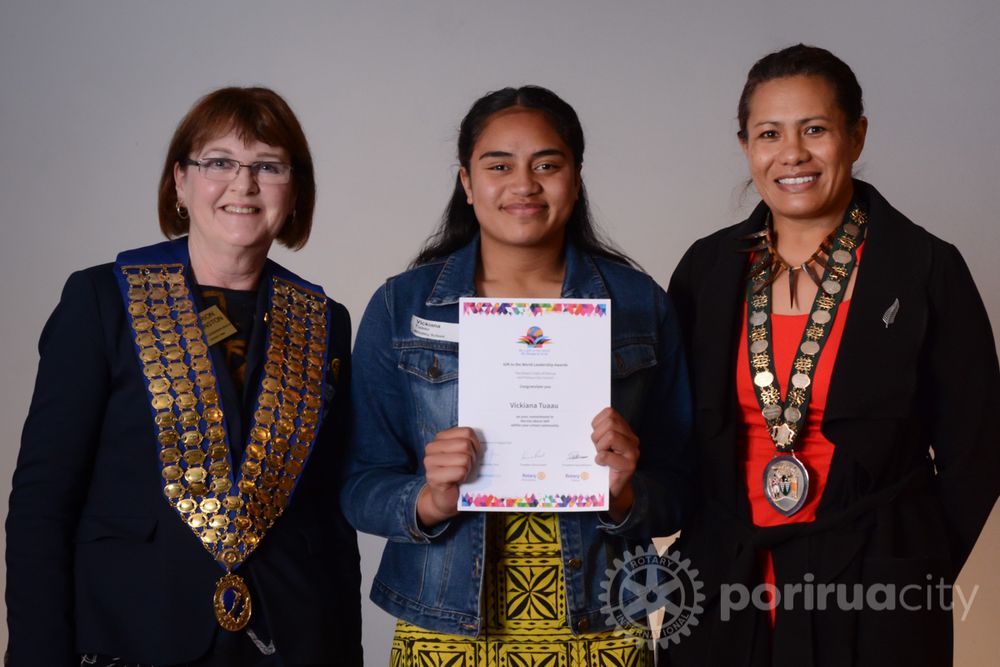 Vickiana Tuaau
Vickiana's family moved to Porirua, New Zealand from Samoa at the end of 2011, for the prospect of gaining a better education to help fulfil the family's aspirations. She has been nominated for this award, for her contribution towards school-wide events and present leadership skills she has displayed over the years.


And here are the names of the College students who came to support them. Some college prefects were unable to come because they were sitting mock exams.
Bishop Viard College
Simona Efaraimo
Mimisa Omeri
Imran Tautu
Theodora Saumani
Mana College
Hung Tien Ly
Jahnivah Ihe
Francis Nguyen-Ly
Lucia Bresaz-Underhill
Porirua College
Murray Faivalu
Liza Masoe
Josiah Gagamoe
Raumataillen Salale
Samuel Marsden Collegiate
Kian Knight
Liri Salz (who also delivered a speech)
Te Kura Maori o Porirua
Te Paea Tana
Harmony Barriball-Harrison
Mairangimoana Te Angina
Levi Skelton
Ngatuere Matakatea
Tairoki Tahau-Hodges