Blog
Rotary Club of Plimmerton
A book of this name by American author David Schwartz has been the driving force behind Ian Balme's creation of Forgotten World Adventures, based in the King Country. The company operates a tourist trail in the area between Stratford and Whanganui, offering rides on golf carts that have been fitted with steel wheels, which glide along railway tracks which had been built in the 1930s by men using only hand tools.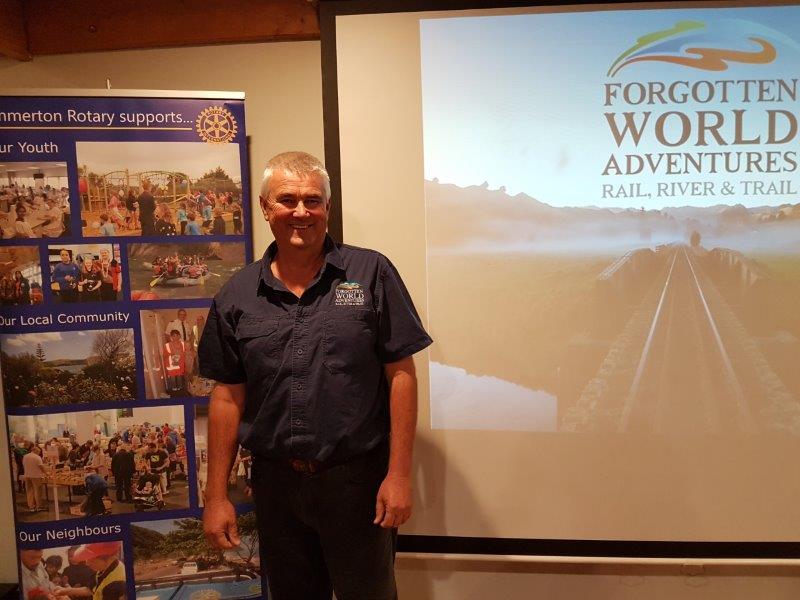 In an enthusiastic address to Plimmerton Rotary, peppered with clever one-liners, Mr Balme noted that in the early days of the "Forgotten Highway", it was not always plain sailing." I had this grand idea of what I wanted to achieve but it took a lot longer and cost a lot more than I had ever imagined."
A former Waikato Regional Councillor, Mr Balme had been a farmer for many years before deciding on a complete change of direction. "In my time on the council, I'd noticed this upward creep of rates with no real extra benefit to the ratepayers. I got disenchanted with that whole scene so decided to move on."
In 2011 the opportunity had arisen to purchase 140 kilometres of disused railway line which featured no fewer than 24 tunnels and 98 bridges. "It's pretty unforgiving terrain and I can't imagine how these guys built it by hand all those years ago. The railway had been part of the main trunk line, but when the Government decided to re-route the main trunk, this bit was just forgotten about."
For many years Mr Balme's venture had grown steadily but recently he realized the business was too big for him and his wife to manage on their own. They needed more people and fresh ideas.
The upshot was that an experienced businessman had been appointed as General Manager, who was supported by a group of business savvy directors. "Then all of a sudden they decided they didn't like the idea of the business owner being the General Manager, so they sacked the General Manager! But I'm still the majority owner."
The venture had gone from strength under its new leadership with radio advertising bringing in large numbers of people eager to travel on the railway. Adding to the attraction was that along the route was the town of Whangamomona. "It's a nice little town with an excellent pub and a population of about 15, including the Mayor. Now and again we hold an election for a new Mayor. Recently a passing Swedish tourist campaigned for the job and he won it fair and square."
Future plans for Forgotten World Adventures included creating a cycling track alongside the railway and introducing golf carts of varying sizes, still carrying two, four or six passengers. A variety of tours were offered, ranging from a short ride taking in five tunnels to longer excursions spread over three nights and four days. "Also we can include a jet boat ride on the Whanganui River."
Mr Balme's audience was left in no doubt that Forgotten World Adventures would be remembered for a long time to come.