Blog
Rotary Club of Plimmerton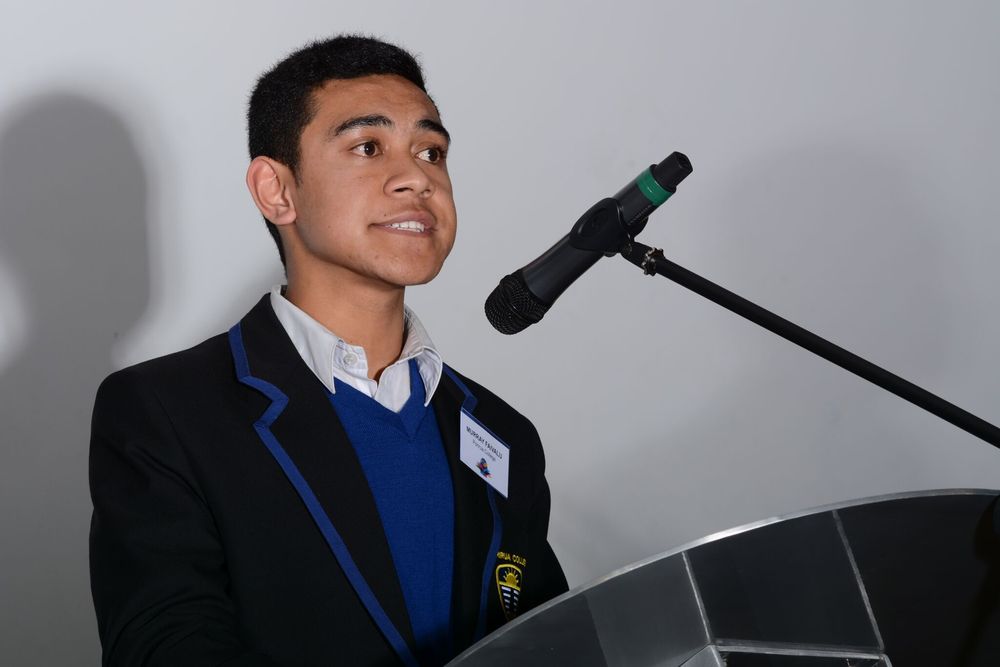 Following the success of last year's event, the Rotary Clubs of Plimmerton and Porirua, together with Porirua City Council, staged this exciting event again.
This year the venue was Elim Church which proved to be a perfect venue with lots of space for the very many principals, whanau, friends and relations who came to pay tribute to the city's future leaders.
Murray Faivalu of Porirua College spoke to the students about his own leadership journey.
This is what the principals had to say about the students they had nominated for the award.
Adventure School - Emily Singer and Connor Miller
Emily is an outstanding and enthusiastic House Captain. She is self-assured and uses her calm demeanour to support and encourage others around her. She has the initiative to complete tasks without direction and takes on extra duties and completes these well. Emily has worked co-operatively with her peers to organise and to run School Assemblies where she has presented, as well as taken on the lead role of planning and preparing items. She is an accomplished dancer and used her skills to set up a Dance Club that she runs with her friends during her lunch hour. She has successfully choreographed and taught a group of students a dance that they then performed to the school. Emily believes in herself and is a team player and is able to use these strengths to inspire others around her.
Connor is an energetic, outstanding young man. He takes roles of responsibility seriously and is a natural leader. Well respected by his peers, Connor thrives in leadership positions where he understands that a leader doesn't always lead from the front. An active participant in his class, syndicate and the wider school community, Connor is involved in the class as a student council representative and an active member of the wider Student Council group where he has helped run school-wide fundraising events.
Bishop Viard College - Laumau Tamala-Mani and Joziah Maukeni-Partsch
Laumau is a very mature student with a very bright future. Her leadership not only of herself and peers but in the way she conducts herself is a credit to her family and to herself. Laumua is a quiet leader who holds strong values and beliefs and is confident within herself to ask questions and to be a voice for those who need someone strong to support them. She is an incredible person with an intelligent mind. It has been an absolute pleasure to see Laumua conduct herself with dignity during challenging times with her peers and teachers. I believe Laumua is not only a leader now but will grow to be a very well rounded leader in the future as she is a person who is very well respected and has integrity with everything she does.
Joziah is a very young and upcoming leader. He has already faced challenges with his peers balancing his own values and expectations with those of his peers. When he has stumbled he has risen above it, learning from his mistakes. He is a reflective leader with a level of maturity beyond his years. Although Joziah is still learning how to navigate his place within leadership he shows strong potential and has a very supportive family behind him. Joziah is very personable and reliable. He has integrity and wears his heart on his sleeve. Joziah is well liked by his peers and respected for his morals and values. He takes feedback on board and listens well to reason. Joziah is also a quiet leader who is open to guidance and has a lot of potential to succeed in anything he puts his mind to. A fantastic role model, especially for his male peers.
Brandon Intermediate - Sarah Habib and James Pese Akerise
Sarah displays strong leadership within Brandon Intermediate. She displays strong leadership of the Student Council, public speaking and excellence with academia.
James displays strong leadership within Brandon Intermediate, leadership of the Student Council, sports teams, drumming and music.
Cannons Creek School - Rochelle Pese and Brooke Wakefield
Rochelle is an outstanding student and role model with an amazing 'never give up' attitude towards school. She gives everything a go including sports events, academic challenges, dance performances and violin which has become her passion Rochelle works hard and is proud to demonstrate this attribute whenever possible This shows in all areas of her school life.
Brooke is a mature student who applies our school CARE values in everything she does. She is a fantastic role model for her peers as well as the young children of our school. Brooke is a natural leader with a big heart.
Discovery School - Sarahn Windle and Tayne Loubser
Sarahn is a fantastic role model at Discovery School. She achieves excellent academic results, including in external testing, such as ICAS competitions. It is exciting to see her growth and to watch her continually challenging her thinking. Sarahn takes up every opportunity that she is offered and she sets herself goals in all subject areas. She is a very capable, enthusiastic, highly focused and diligent student. Sarahn was awarded her school badge earlier this year for school service. She is an active member of our school council and recently attended a leadership forum. She participates and achieves in multiple extra-curricular activities, both in school and in the community. She demonstrates talents in public speaking, acting and sports (such as running, karate, gymnastics, dancing and netball). I believe that Sarahn is an excellent candidate for this award and I wish her all the best for this as well as her promising future.
Tayne not only uses his initiative whenever he sees something that needs doing, but he has also been responsible and reliable as a student councillor this year and as a recycling monitor. During the Touch Rugby Tournament he took time to teach his skills to his peers and helped coach the team for the Parumoana Interschool competition. He often gets alongside other students and helps them succeed in tasks he is involved in. This was noted by syndicate teachers during swimming when he helped other students get organised for snorkelling. He is kind and caring and has embraced our class philosophy to work together cooperatively to ensure we all succeed. Tayne thinks carefully when offering his opinion and is happy to listen to others' ideas and change his stance if this necessary. He is a leader in our class and across the syndicate.
Glenview School - Aaliyah Faletutulu and Henry Yates
Aaliyah is a gentle, thoughtful leader. She leads by example, always modelling manaakitanga and respect to others. She is an excellent student in the classroom and a leader across the school, showing initiative, care for younger children and leadership in a range of areas.
Henry has developed into a confident leader this year. He leads by example and is always ready to articulate his thoughts and speak in front of others. He is a great sportsman, particularly in basketball. As a house leader he shows manaakitanga and responsibility for younger students.
Holy Family School - Anastasia Sheck and Vaolupe Leiataua-Finau
Anastasia is a very confident young girl who leads by example. She is passionate about learning and wants to become a fire fighter when she grows up. She knows she has to work hard when she gets to college. Reading, Writing and Maths are key areas that she wants to develop. She is a road patroller at school and is also a peer mediator. She enjoyed participating in Artsplash recently and is currently learning the violin. She also enjoys singing. She has 4 sisters and 2 brothers. Her parents' best piece of advice to her is to try her best and try and learn something new every day. She certainly deserves this award.
Vaolupe is a courageous, intelligent, kind and caring model student. Her life has not been easy. She has faced many hardships and she is a shining example of resilience at its best! Vaolupe is not only working at Intermediate level for reading, spelling, writing and in maths but she also serves not only our school as a road patroller, peer mediator, ipad monitor, librarian, kapokapo, art splash member and breakfast monitor but also serves our wider community by being a "Little Vinnies". She has her mother's gift for art and design and is a proficient 3D printer designer. As a natural leader her greatest gift is her humility. She certainly deserves this award.
Maraeroa School – Otis Baker and Joseph Logologo
Otis is a role model for the Maraeroa School values. He demonstrates leadership skills in learning and sport. His quiet, inclusive manner makes him a popular member of our school community. He is a problem solver and perseveres to see a project through.
Joseph is a role model for the Maraeroa School values. He has a quiet manner and commands respect as he respects others. Joseph demonstrates leadership through learning and school activities. He is a problem solver and perseveres to see a project through.
Natone Park School - Shaun Wilson and Eve Talilai
Shaun is a natural born leader. He gets the job done and sees it through. He enjoys academic and sporting achievements. He is a helpful and responsible student. He is not afraid to put himself out there, to lead from the front.
Eve is a quiet yet determined leader. This settles on her naturally. She is a great role model. She has a calm and consistent manner about her. She just gets on with life and enjoys being an active participant.
Ngati Toa School - Rakaipaaka Paea (known as Rakai) and Rangitiaria Eru (known as Tiaria)
Rakai is a student who epitomizes what hard work and dedication look like. He has been a leader in our many school sports teams as well as the school Kapa Haka group. He has led in the Pōwhiri as a Kaiwero and a Kaikorero. Rakai is a great role model for the younger students in the school and they all appreciate his help when there are issues in the playground.

Tiaria is a kind and considerate student who has been chosen by all the students in Ngāti Toa School. She has been a great role model in helping students in the playground with issues, and leads by example. She has been member of the Regional Champion Rippa Rugby Team and is the female leader of the Kapa Haka Group. She has also been the first call of welcome during our Pōwhiri as a Kaikaranga.
Papakowhai School – Alex Crampton and Simon Avery
Alex is a leader in our school. She is a positive, co-operative and supportive person. She demonstrates a caring and patient nature towards others and is always helpful. Other people notice and respect her diligence and integrity. Alex makes an outstanding effort and always perseveres to achieve her potential.
Simon is a positive member of our school. He is particularly kind and thoughtful to others and is a friend to many. Simon willingly works with a range of people and is very inclusive. He is a good listener and makes every effort to contribute to schoolwide activities. Simon is a great role model to younger students.
Paremata School - Felix McBride and Davey Lindsay-Connolly
As a member of our Senior Council, Felix has taken responsibility for organising a range of fundraising events, encouraging others to participate and contribute in whatever way they can. Felix leads by example and consistently gives 100 per cent effort and enthusiasm to everything he takes on. His gentle manner, positive outlook, and fun sense of humour all work to make him an outstanding leader of our school.
Davey has consistently shown herself to be a valuable leader at Paremata School. She demonstrates patience and empathy in a wide range of circumstances including looking after our junior students, supporting classmates with understanding new concepts, and including those in need of a friend. Davey is a polite, thoughtful, and well-respected role model who is truly valued by us all.
Pauatahanui School - Wiremu Johnston and Amber Roberts
Wiremu is a good role model for peers and younger students. He demonstrates the school values consistently in the classroom and around the school. Wiremu is a responsible young adult who makes good choices when required.
Amber is an outstanding leader. She is the chairperson of the student council and she always uses her initiative to make things happen. She is someone for the younger students to look up to. Amber is good at supporting her peers and looking out for others.
Plimmerton School – Hannah Mercer and Madison Henderson
Hannah is a co-chairperson of the school's student council. She always willingly volunteers to take on extra responsibilities within the school and performs these to a consistently high standard.
Madi is a student council representative who willingly gives her time to serve others within the school. She displays outstanding leadership in supporting junior students during buddy class and peer-tutoring activities.
Porirua School - Azaria Wilson and Anaru Iles-Treiblmayr
Azaria is a thoughtful, caring and respectful role model, who is very supportive of others in her class. She shows initiative and takes on leadership roles within our class and around the school and always leads by example.
Anaru is a positive, thoughtful and resilient role model within his class and around the school. He treats other people respectfully and is able to work effectively with a range of people in a leadership role. Anaru is very reliable and we can always count on him to help around the school.
Postgate School - Tatiana Mareko and Sophie Taylor-Edwards
Tatiana is always willing to help support others in either their learning or around school. Tatiana loves to get involved and always does it with a smile on her face. At Postgate our value system is PRIDE. Tatiana would be the poster student for this. She is an outstanding leader. Tatiana is a quiet leader and is always leading by example.
Sophie always takes on responsibilities with a smile. She is always willing to support her fellow peers and has a 'can do' attitude with whatever she undertakes. Whether it is in or out of the classroom Sophie is confident to take on a leadership role and makes sure that everyone is involved. She uses her initiative and has often thought of doing something before anybody else has. She is a fantastic leader and demonstrates Postgate PRIDE with such mana.
Rangikura School - Kevin Taliulu and Losania Wilson-To'omaga
Kevin shows outstanding leadership skills at all times through his positive attitude, respectful behaviour and hard-working nature. He is a natural leader amongst his peers. He leads from the front as a role model to our other students. Besides being an outstanding sportsman, Kevin also leads his peers in the classroom. He can be relied upon to work hard and produce work of an excellent standard. Rangikura will miss Kevin next year.
Losania possesses and displays outstanding leadership skills in all aspects of her education and extra-curricula activities. Losania cares a great deal about her peers. She looks to include any child who may be left out, and she donates her own pocket money to cover the costs of activities so that less fortunate children don't miss out. Losania excels on the sports field in multiple sports, and in the classroom right across the curriculum. She is an asset to the school and her community. We will miss her next year.
Russell School - Alexia Rota-Kereti and Angel-Newyear Faivalu
Alexia thinks nothing of standing up in front of the whole school and leading the Culture Club. She is always a fantastic role-model at Russell school and always demonstrates the school's values of Honesty, Empathy, Aroha, Respect and Teamwork in all she does. She has a range of jobs within the school such as librarian, patrols, office monitor, wet day monitor and is always keen to fill in for others without complaint when they are away.
Angel New-Year is not your typical Leader who points out how great they are and uses the loudest voice to be noticed by the teacher, and that's a good thing because some of the best leaders are those who just show the way and lead by example. Angel is a fantastic role-model at Russell school and always demonstrates the school's values of Honesty, Empathy, Aroha, Respect and Teamwork in all she does. She is always ready to help others with their work or just to find a friend to play with when they are looking a bit sad or lonely in the playground. She has a range of jobs within the school such as librarian, patrols, office monitor, wet day monitor and is always keen to fill in for others without complaint when they are away.
St Pius X School - Jesse Elias and Otaki Mihaere
Jesse goes out of his way to do things for the school. I can rely on him to sort out any odd job around school. He's one of the leaders of Kapa Haka as well. He is an excellent role model to the juniors.
Otaki was a very shy person but has come out of his shell tremendously and I am really proud of him. He's very willing to do anything that needs to be looked into - mostly even without asking. He is our strongest Kapa Haka leader so far.
St Theresa's School – Alysse Saipani and Zara Lynne
Alysse is a wonderful role model to others in all that she does at St Theresa's School. She lives out the Gospel values in her daily interactions with others. She has particular leadership strengths in the arts and culture area. Alysse willingly gives of her time to coach other students in learning the karanga and she leads the senior school in teaching them the sasa. Alysse is well respected by her peer group and is a natural choice for this leadership award.
Zara leads by example. She is a delightful student and has excellent relationships with other people. She always takes responsibility for her learning and that of others. Zara is a 'giving' person and there is nothing she enjoys more than serving others, although her love of animals is a close second. Zara shows particular leadership strengths in the organisation of events for other people to enjoy. She is a member of the Young Vinnies, serving the community and those less fortunate than herself. She is not afraid to stand up for her beliefs and what is right.
Samuel Marsden Collegiate School - Melissa Thomson and Charlotte Alston
Both Melissa and Charlotte are fully committed to the values of our school, being positive, responsible, organised, supportive and engaged at all times and throughout the whole of school life. They are both keen members of the netball team and show considerable leadership potential in their commitment but also their engagement with and support for all other team members.
Te Kura Maori o Porirua - Emery McGill and Hoani Akavi
Emery is a happy, considerate young man. He is caring towards the younger children and a loyal friend to his classmates. Emery maintains the kura and whānau values every day. He is honest, modest and consistently displays excellent sportsmanship. He is a great role model.
Hoani is consistently seen as a humble, serving leader. If asked for an opinion he will offer a considered, honest response. He is loyal and considered a fair opponent in sports. Hoani is well regarded and respected throughout the kura. If he is given a responsibility he can be relied upon to get the job done.
Titahi Bay School - Tenga Pickering and Maggie Peterson
Tenga has shown outstanding leadership this year. His actions represent our school KURA values on a daily basis and he has really stepped up with being a supportive role model towards some of his peers within his classroom and within the playground who need positive direction. In doing so, he is always willing to offer his help to support others in a positive way and never does so to be recognised, rather because he genuinely cares and wants others to do well.
Maggie has shown outstanding leadership daily during her time at this school. She is always a positive, kind and supportive young lady. Throughout this year she has always been willing to support her peers who struggle to develop friendships by befriending them and supporting them to build relationships with others. In doing so she has helped to build others' self-esteem with taking part in unfamiliar situations and with openly mixing with others.
Titahi Bay Intermediate - James Dawson and Madelaine Vai-Little
James is an outstanding leader. He uses his initiative in a range of situations and is always supportive of others. James enjoys challenging himself to be the best that he can be. He is very deserving of this award.
Madelaine is a mature and responsible student who is always striving to be the best that she can. Madelaine is very caring and supportive of others. She volunteers to participate in a range of extra-curricula activities that are offered and encompasses all aspects of leadership roles.

Titahi Bay North School - Zenin Sutton-Mea and Isaiah Waiti
Zenin is a great 'all-rounder'. She loves her sports and is talented in a number of codes. She is a very good cross country runner. She also enjoys the arts and is keen to give artistic things a go. She is enjoying success at school in her learning and she looks after other people well. She is attuned to social justice principles and tries hard to make a positive difference for those around her. She is into conservation and is very involved in our waterways kaitiaki work. Zenin is a resilient, positive young lady who always looks on 'the bright side of life'.
Isaiah is one of our senior boys. He is doing very well at school and is a hūmārie young man. He speaks on our school paepae. When we have formal occasions Isaiah is one of our speakers, having been tutored by kaumatua and kaiako. He carries out this important duty humbly, quietly and bravely. Isaiah enjoys sports, music, academic and cultural activities. He is a great tuakana and looks after other people in a kind, quiet and respectful way. He is knowledgeable about many things and is a real gentleman.
Wellington Seventh Day Adventist School - Pauline Pule and Angel Simanu
Pauline shows positive and strong leadership, taking a leading role in practising and performing in the Kotahitanga o Tuauru o Porirua celebration.
Angel is a positive role model and leads by consistent example - always looking out to help students in need.
Windley School - Logan Louez and Rachael Davis
Logan is a thoughtful and proactive student. He is able to anticipate what needs to be done and gets things completed with ease. He relates well to both his peers and adults alike. He always asks teachers if they need help with anything. He is also in our school PB4L team and has contributed to the development of this team by giving ideas and solutions.
Rachael is a very inquisitive student who is interested in everything that happens around her. She is an active participant in all school activities and always goes the extra mile. She goes over and above what is expected of her and she is always looking for opportunities to display her leadership qualities.