Blog
Rotary Club of Plimmerton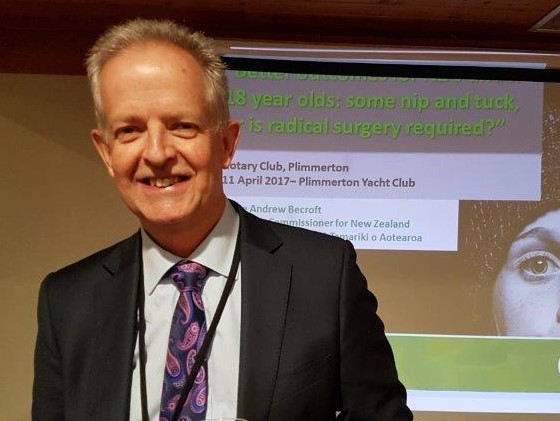 Members and guests at Plimmerton Rotary's meeting on 11th April were privileged to hear a lively and articulate presentation from New Zealand's Children's Commissioner Judge Andrew Becroft. However, the Commissioner's remarks about the plight of children from disadvantaged backgrounds left his audience in sombre mood.
Judge Becroft had previously served for 16 years as a District Youth Court Judge, during which time he became disturbed by the degree of child neglect. "New Zealanders under the age of 16 represent 24% of our total population, and a quarter of this group is of Maori descent. But young Maori are grossly over-represented in the numbers of young people coming before the Youth Courts. On average, 48 out of every 100,000 young Maori come before the Court, compared with just 17 out of every 100,000 non-Maori.
"In other words, young Maori are 3 times more likely to offend than non-Maori. This disparity is inescapable and represents a fundamental challenge for all New Zealanders."
Unemployment among young people of working age showed a similar disparity, with 12% of young Maori being unemployed compared with 4% of young non-Maori. This trend was gradually worsening.
"There is no doubt that throughout New Zealand there are pockets of entrenched generational disadvantage."
Judge Becroft related some interesting anecdotes from his days on the bench. "On sentencing one young man, he said to me: 'Well, I just hope I get the help I need'. In another case, before I sentenced the young offender, he said to me: 'Well, I hope you get it right.' One important thing I learned was that all offenders hate to be separated from their siblings, and the system has been changed now to ensure that if at all possible, this does not happen."
Research carried out by the Commission clearly demonstrated a link between poverty, inequality, and disadvantage. "Our research has shown that 90,000 kids in New Zealand come from disadvantaged families. And the number is increasing." A frustration for the Commission was that successive Governments had in the past chosen not to set any targets to reduce the amount of child poverty. "But the Government can actually set targets. The amount of inequality in this country is huge, and I really do believe that the Government is starting to 'get it' now."
Judge Becroft urged Rotary Clubs throughout New Zealand to focus on helping reverse the appalling trend in youth inequality. "One way of doing this would be to lobby for a lowering of the voting age to 16, as is the case in several other countries including Brazil and Scotland. In fact, in these countries, young people aged 16 and 17 have the best voter turnout of any age group. These young people are intensely interested in the future and they know a lot more than us older people give them credit for."
Another way Clubs could help was to develop or support schemes which ensured that all school children were provided with good food. "Also you could find ways to encourage children to remain in the education system for longer. This would be immensely positive."
The Judge quoted two of his favourite sayings, both from Martin Luther King:
"Power at its best is love implementing the demands of justice. Justice at its best is power eliminating everything that stands against love."
"If I cannot do great things, I can do small things in a great way."
Following the meeting, Judge Becroft's office sent us some of the information sheets that he'd referred to during this presentation:
Children's Commissioner's top priorities in 2017. Final_Priorities_March_2017
Being child-centred - what does it mean for your school? being_child_centred_February_2017
Children's Commissioner: Statutory role and function. Statutory_functions_August_2016