Blog
Rotary Club of Plimmerton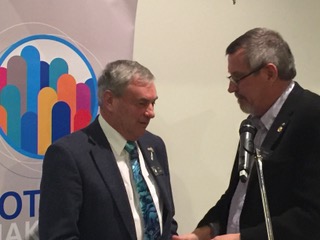 The Paul Harris Fellowship Sapphire Pin Award to Ron Lucas reads as follows:
For the last 15 years, along with a dedicated team of members and support from The Rotary Club of Plimmerton and Porirua City Council, Ron has led the development and construction of Te Ara Piko Pathway, 'The Meandering Path'. The dream of a pathway around the Pauatahanui Inlet is now nearing completion.
To see the project realised has been through the dedication, drive, and leadership of Ron. He has put endless hours into working with interested Groups in the area to get their agreement and support for the pathway and worked with Porirua City Council to complete the necessary resource consents before work could begin. He has been a key driver in seeking funding for the project, construction and maintenance of the boardwalks, and planting along the pathway.
As we drive along Grays Road we can feel proud of what has been achieved. The pathway is recognised as one of the recreational jewels in the Porirua Region and is bringing pleasure to people across our region, nationally and internationally. The pathway provides educational material on the fragile nature of the Inlet and why it is such an important ecological area that must be protected for future generations.
This Sapphire pin recognises Ron's years of service to Rotary and his dedication to Te Ara Piko Pathway Project.