Blog
Rotary Club of Plimmerton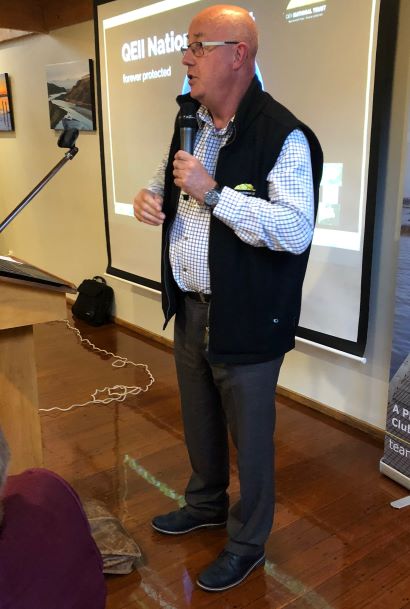 What is the QEII Trust?
Although most club members have heard of the QE II Trust, few of us knew what it does. This was remedied in fine style last evening by CEO Mike Jebson and Wellington region manager Trevor Thomson.
The Trust is a conservation organisation which works in a particular way with DoC and private landowners to protect and improve heritage parcels of land which have special value. They are often remnants of original bush or forest harbouring endangered plants and animals.
The Trust owns land in its own right here and there, but its main job is to establish and manage covenants with landowners who have volunteered to have a part or all of their land put under protection. There are close to 4500 covenants operating over the whole country, with two more being signed every week. Each site is visited every two years by Trust staff.
Mike and Trevor illustrated their work with two local examples: the Taupo Swamp, which is partly owned by the Trust, and a covenanted parcel in Pukerua Bay.
Taupo Swamp has an interesting geological history and is of great ecological importance now. It hosts 205 species of plants, 9 fish species and 19 indigenous birds. Many of these are threatened by weeds, pests, predators, pollution, sedimentation and climate change.
A 'Friends of Taupo Swamp' group has been established, (with Bill McAulay in a leading role). There are opportunities for research and education, and greater community access if a raised walkway can be built.
In Pukerua Bay a small area of bush was covenanted in 2015, with the Trust contributing to surveying, fencing and subsequent weed and pest control. The landowner lives on the edge of the site.
Mike and Trevor's passion for their work was very evident and their presentation was much appreciated by the club.