Blog
Rotary Club of Plimmerton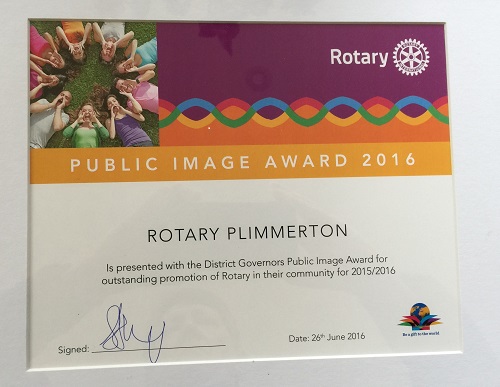 The communications committee, particularly Wendy, put a lot of effort into our club application for a District Public Image Award, for which we were duly rewarded at the District Governor's changeover at Tawa on Sunday 26 June. Three club projects feature on the RI Showcase. They are Te Ara Piko Pathway, the Inaugural Pauatahanui Garden Trail and Rotary Best Speaker Awards. Also several articles have appeared in our local press during the past year, and a number have been published in the Rotary Down Under monthly magazine and in the DGs newsletter.
At the DGs changeover there were a large number of Rotarians from around District 9940, particularly past district governors, who were present to congratulate outgoing DG Simon Manning and his team and to welcome in Martin Garcia and Denise and their team. The District chain of office is the most significant in New Zealand as it is the very original one and features the names of the two NZ Rotary World Presidents, Harold Thomas and Bill Boyd, as well as many other notable leaders.
In Simon's words, features of his year were the printed district directory and the monthly newsletter as well as the facebook page. Membership increased and 2 interact clubs, one rotaract club and a new club were formed. Rotary Kaukau will be chartered on 13 August 2016. The giving to the Rotary Foundation is the best in 5 years, due to increased awareness of the Foundation and polio eradication.
Thank you Simon and good wishes to Martin.