Blog
Rotary Club of Plimmerton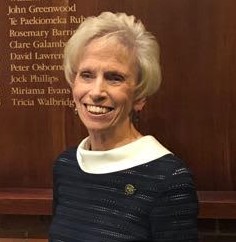 Tricia Walbridge addressed Plimmerton Rotarians at their Tuesday meeting. Numbers were lower than usual as it was also Plimmerton Inner Wheel's Changeover which many members were attending with their partners.
Tricia retired from Victoria University in 2017 where she was executive director of the Victoria University Foundation. She was on the boards of several charitable trusts, and in 2013 was one of the founders of Te Mana o Kupe, a charitable trust in Porirua that provides lease-to-buy laptops for families to help raise children's achievement at school.
Tricia also retired from the Rotary Club of Wellington in 2017 but continues to work with Tracy Brown, a current member, on the selection process for their Outward Bound project.
The Youth Committee of Wellington Rotary administers the District selection of 2-3 scholarships for young people to attend the Outward Bound Mind Body & Soul course for 16-18 year olds for 21 days each July. This has been made possible by a specific bequest from Sir Roy McKenzie, a former member of the Club.
The Outward Bound opportunity is circulated by email in February to all secondary schools in the District. This is always a very busy time in the school calendar and the email is easily overlooked, thus limiting the number of students who could benefit from the opportunity. The criteria for applying are broad and it can be difficult to assess the relative merit of the candidates. Also, expressions of interest seem to come each year from the same schools.
The 2018 Outward Bound opportunity was targeted at students who may not access this kind of experience due to family and/or financial constraints. Again, the targeting attempts were not effective and once again a small pool of candidates with seemingly similar life experiences were put forward.
Tricia & Tracy Brown are planning to speak directly with the Principals of low decile colleges in the District such as Porirua College. They want to talk with them and possibly their students, about whether the Outward Bound opportunity is of interest, and if so, how the students can be more effectively targeted.
As Plimmerton Rotary has an association with the colleges in the area and is dedicated to helping our City's young people, it is in a good position to assist Tricia and Tracy to make a difference in the lives of some students.