Blog
Rotary Club of Plimmerton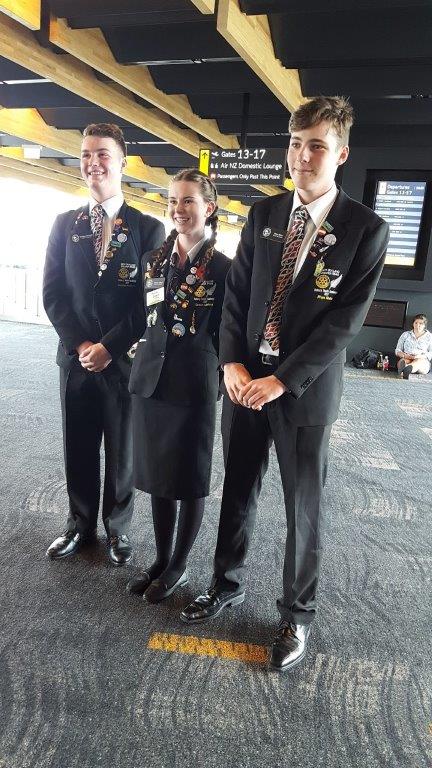 Airports are always emotional places. On Monday I welcomed home Hollie and Georgina from their 2016 Rotary Exchange to Germany and Austria. It was a pleasure to see them swept up in the arms of their families, returned safely home as young, secure, mature, confident people.
On Tuesday, President Peter and I joined Colin Whyte, John and Cheryl O'Connell with Laurie and her sister Jeanne, Lynne and Laurie from the District Committee, and the Sinke family to farewell our three nervous exchange students
Rhys Sinke, 17 years, is going to France District 1520, Laurie's District. Rhys's grandfather Peter, instilled in him the desire to take up this Rotary Exchange opportunity. It is a pleasure for Plimmerton Rotary to support him.
Christian Neumann, 16 years, is going to Germany District 1950, Host club South Masterton. Christian is heavily involved in Air Training Corps and wants to learn more about the history of Europe.
Grace Lindsay 17 yrs, is going to France District 1740 Host club Kapiti. Grace has always dreamed of going to France and started saving when she was 12 and learning the language as soon as she reached Secondary School.
Christian certainly won the most supporters with friends and family seeing him board the plane. A group of Wairarapa lads came by train to the airport, including the exchange student from Chile on another programme. One friend arrived back from Europe with his father that morning and waited at the airport to farewell Christian.
If you know any 16-year-old, confident, secure teenager who you think would benefit from a year exchange let me know as nominations close in April/May.
Donna Reed