Blog
Rotary Club of Plimmerton
Vicki has just returned to visit the Nepal Project in Ghusel, Lalitpur and will be spending three months there. Denise has sent us this update because of our collective interest in the project.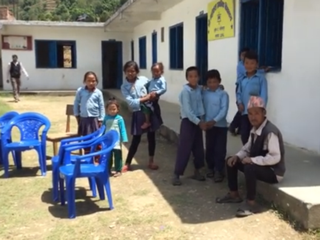 She tells how vibrant and happy the teachers and children are down in the small school. The school itself is looking really good and really clean. Peter, painting the walls on his last visit, had made it look so much fresher and more inviting. We hoped it would be a boost to everyone's morale and it's good to see that they are still looking pristine and they are taking a pride in the school and grounds.
Vicki took over a lot of wool and has taught the teachers and some of the children how to knit. They were very enthusiastic - even the men. Hopefully they will maintain their enthusiasm and when we go over next time we can take more wool.
She also went up to the library at the big school and was happy to see that the new librarian seems to be doing well and that there are a group of children who use the library regularly during their lunchtimes. Because they are a farming community, there has been a request for more books about farming and agricultural practices. And of course they would also like non- fiction reference books in Nepali. John Woods (author of Room to Read), has a big library building project throughout Asia and has set up a publishing house in Nepal. We wonder whether we could ask him if he would either donate some books, or sell us some to us at a friendly price.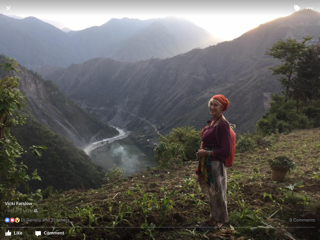 Vicki went with Prakash (Head of CASD, the NGO we are working with), and Govinda, the local headman, down to one of the little two room schools, a two-hour walk. This little school has just been rebuilt and the occasion was the ceremonial opening. They walked down the mountain and around the bend in the river to reach the school.
Once there, they found that there was a very rickety and small teacher's desk and a whiteboard donated by UNICEF. Other than a large banner on the wall proclaiming the ethics of the Nepali Government there was nothing else at all.
So we have decided to provide the twenty children with exercise books, pencils, pencil sharpeners and rubbers from our funds. Vicki will buy these in Kathmandu and take them out to the school.
She also took a ukulele out to the village and Mongzu, the ex-librarian who is now teaching grade one, was fascinated to watch Vicki playing and singing with it. The upshot of this is that Vicki taught her a song and the chords and we have decided that Vicki will buy a ukulele and a book of chords and simple songs for her to use with the children.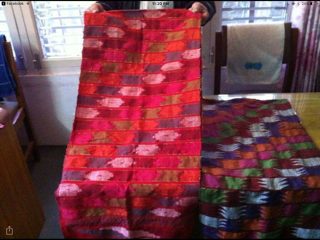 Prakash took Vicki to see the Women's Project and the wonderful cloth they are producing. She was really impressed and is going to try to find an outlet over here where they will get more money for their work.
Denise and Peter plan to go to Nepal after the monsoon in late October to oversee the building of the classrooms. The boys they had hoped to send to Kathmandu to do building apprentices will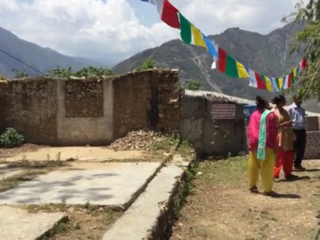 now have on the spot training by CASD engineers/builders whilst participating in the rebuild. The demolition of the earthquake damaged rooms is now complete, providing space for the two new classrooms.
Denise hopes to run a holiday programme, if she can get a translator. They can get by in the village on their rudimentary Nepali and now Govinda and his daughter, plus a few others, are speaking some English. However, Denise believes that, taking forty children some of whom only speak Tamang, a dialect, for a holiday programme on her own without help, would be credibility suicide - they would be so out of control.