Blog
Rotary Club of Plimmerton
In his inaugural speech, incoming Rotary International President, Ian Risely, said, 'And so I am asking every Rotary club to plant at least one tree for each member, sometime between the beginning of the Rotary year and Earth Day, which is 22 April 2018. This can be a true feature of Rotary in 2017-18'.
In a wonderful way to support the community, members from Plimmerton Rotary, Porirua Rotary, Plimmerton Inner Wheel and some family members (mainly children) got together for a Rotary Tree Planting Day at Bothamley Park Saturday, 26 August. It's great to see the collaboration between the Rotary clubs and the Plimmerton Inner Wheel Club in the Porirua area.
The weather gods were looking after us. After many days of rain we had a couple of fine days to get the ground relatively dry for us and then Saturday was beautiful – if a little cold. However, by the time 195 natives and 15 fruit trees were planted no one seemed to be cold.
Everyone was kitted out with a safety vest and the Porirua City Council arrived with all the trees. Health and Safety messages ensured that everyone had the necessary tools and knew how to use them.
It's always special to hear that our efforts have been appreciated so this email to both Plimmerton and Porirua clubs from Andrew Gray at Porirua City Council was a lovely surprise.
A huge thank you to your members for their awesome effort and thanks to you both for picking such a good day and timing.
The rain today will certainly help bed the plants in.
We ended up doing a total of 195 native plants and combi guards: 150 at the site across the stream and 45 plants at the easier site.
Plus 15 fruits trees:
6 apple trees species (Monty's Surprise x 2, Dayton x 3, Granny Smiths x 1)
5 x Plum species (Fortune x 2, Blue Almond x 1, Louisa x 2)
4 x Pears species (Taylors Gold x 2, Winter Nelis x 2)
There are some photos of the planting on a Facebook page for Bothamley Park.
All the best regards
Andrew Gray
Landscape Architect

Three areas were planted. One on the flat,

one on a steep bank and then the fruit trees along the path so in a few years, people will be able to pick fruit as they wander through the park.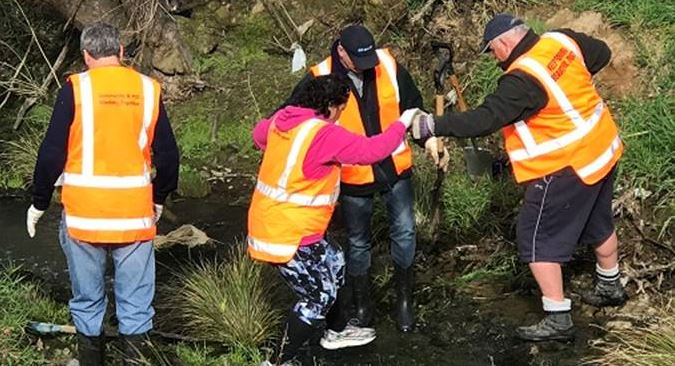 Some of the areas could only be reached by crossing the stream.
At the end of planting – over two and a half hours - most people were still smiling and the BBQ sausages along with a cuppa were warmly welcomed.