Blog
Rotary Club of Plimmerton
Instead of reading about history from books, wouldn't it be much more interesting to look at and listen to people's actual recollections of times past? Thanks to the concept of Oral History, through which people from all walks of life are interviewed about their past lives, we can now do just that.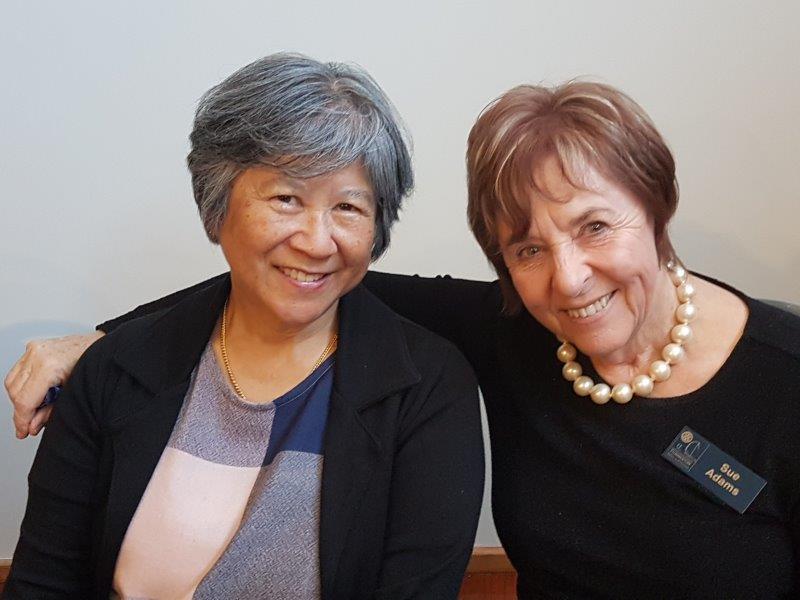 Speaking at Plimmerton Rotary on 14th March, Lynette Shum, Oral Historian from Alexander Turnbull Library, (seen here with Rotarian Sue Adams) explained that for oral history to be meaningful for listeners or viewers, three important standards needed to be met. "First and foremost, the interview needs to be structured, thoroughly researched, and planned, and then carefully archived when it is finished. Second, it is important to maintain the best technical standards so that listeners or viewers will enjoy a high quality experience. And third, high ethical standards must be maintained, for example: treating the interviewee with dignity, respecting their rights, and fulfilling their expectations."
One interesting aspect was that while some people were happy to be interviewed, they did not necessarily want their families to know all of the details. Wishes such as these had to be respected. "These people want to tell the world, but not their families, at least not in the short term."
The concept of oral history had been pioneered in New Zealand in the 1980's by broadcasters Judy Fyfe and Hugo Manson, who established the archive at Alexander Turnbull Library. Many of the interviews gave a fascinating insight into the lives and times of the interviewee. "The great thing about oral history is that you learn so much through the way people speak about the events they experienced, and the emotion in their voices. You can't learn this through the printed page."
Lynette explained that part of her role included advising people on the oral history process, providing support and training where necessary, hiring out audio visual equipment if required, and running courses on interviewing techniques. "The process is to a large extent reliant on the person's memory of events being accurate. It is fascinating to learn about their reflections on past events with the benefit of hindsight."
It was most important that oral history, once recorded, was protected through back-up of at least two copies held in different locations.
Through her experience as the daughter of Chinese immigrants, Lynette spoke about the early days of Chinese settlement in Wellington which centred around Haining Street, a narrow street between Tory and Taranaki Streets. "This was the centre of what came to be known as Chinatown. Chinese settlement in Wellington began in the late 18th century. The news media of the day painted Chinatown as one big opium and gambling den but while there were elements of this, the vast majority of Chinese residents were hard working, striving to provide a better life for their families here in New Zealand and at home in China. This is where the concept of oral history is so important because it demonstrates what things were really like, rather than how the news media depicted them."