Blog
Rotary Club of Plimmerton
By Julie McLagan
Posted: 16 June 2015
A tap on the arm as I have been walking through North City Plaza twice in the last few months has reminded me that little things do indeed mean a lot. Each time I have looked down to see a different youngster, big smile, eyes shining, who asks me the same question, "Are you coming again soon?" I smile and nod and feel a twinge of pure happiness every time I think of those moments.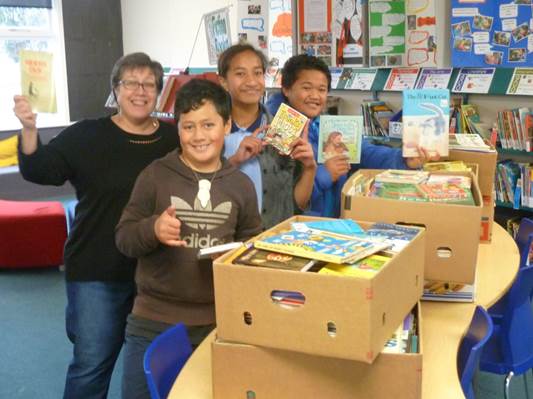 Well yesterday we did indeed go back. This time to Corinna School in Porirua East, hatch and back seat piled with 13 cartons of wonderful books for the children. Trish the librarian/deputy principal called three delighted youngsters to help unload the car.
Each carton was carried so carefully into the library where the fun began. How excited the helpers were to get first choice! They get to choose for their siblings too! Word had got around from last year! This is our fourth visit to Corinna School. There are enough books for everyone!
On Friday 18 June, Corinna School will celebrate Matariki (the Maori New Year) with a school family lunch. Each child, and small sibling too, will take home a book to add to the excitement of this special day. Happy smiles from the helpers and a big hug from Trish plus an invitation to join the party on Friday. What fun!
But, we had better do some homework so that we understand the significance of this celebration and be a little intelligent on Friday. Here is the gen …
"During Matariki, we celebrate our unique place in the world. We give respect to the whenua on which we live, and admiration to our mother earth, Papatūānuku. Throughout Matariki, we learn about those who came before us - our history, our family, our bones. Matariki signals growth. It's a time of change. It's a time to prepare, and a time of action. During Matariki, we acknowledge what we have and what we have to give. Matariki celebrates the diversity of life. It's a celebration of culture, language, spirit and people. Matariki is our Aotearoa Pacific New Year."
How privileged we are to be invited … I wonder what we should take to contribute towards the feast.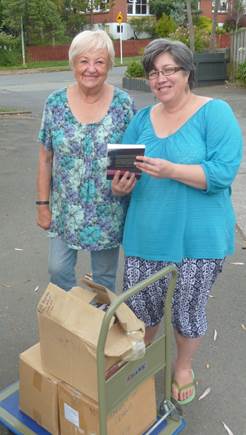 The books we so happily deliver are courtesy of The Rotary Club of Plimmerton. Each year we run a mammoth book fair to raise funds for our numerous community projects. We are part of the team of Rotarians on duty. I adore the cook books but I keep a watchful eye on the trestle tables piled with children's books. As soon as we close the doors to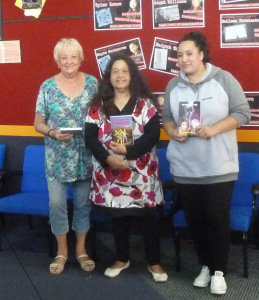 the public on the last day, Hubby and I gather up all the good children's books which have not found a second home. We pack them into cartons and onto the trailer. We load up the cars too. We know where they are going! Earlier in the year we dropped off some books for older children at Corinna School and Brandon Intermediate too …
I am looking forward to more tapping on my arm and tugging of my heart strings …. Beautiful smiles, dancing eyes …
Oh … What a wonderful world!