Blog
Rotary Club of Plimmerton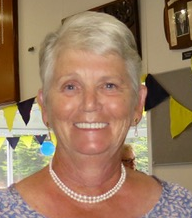 Brenda Callear was born in England in the little market town of Otley at the beginning of the Yorkshire Dales. She is married to Les and they have two children and four grandchildren.
She and Les emigrated to New Zealand in 1974 and after being placed in the Spinnaker Motel for two months, settled in the area.
Brenda has worked in the secretarial area and for many years was a Personal Assistant/Office Manager of the Superannuation Department of AXA.
After early retirement, AXA asked her to come back to work and set up AXA Hearts in Action, the philanthropic arm of AXA which firmly believes in looking after the communities they live and work in.
Brenda has worked with many charitable organisations in Wellington, both organising volunteer work and running their Trust Fund.
Brenda joined Inner Wheel in 2014 and after only a year became the Editor of the newsletter. Two years later, she accepted the role of District Editor, which she has worked on for the last three years.
Plimmerton Inner Wheel is a large club with members involved with many different activities both in the local community and socially. Brenda says the club will continue to work together always keeping in mind the goals of promoting true friendship, encouraging the ideals of Personal Service and fostering International Understanding.