Blog
Rotary Club of Plimmerton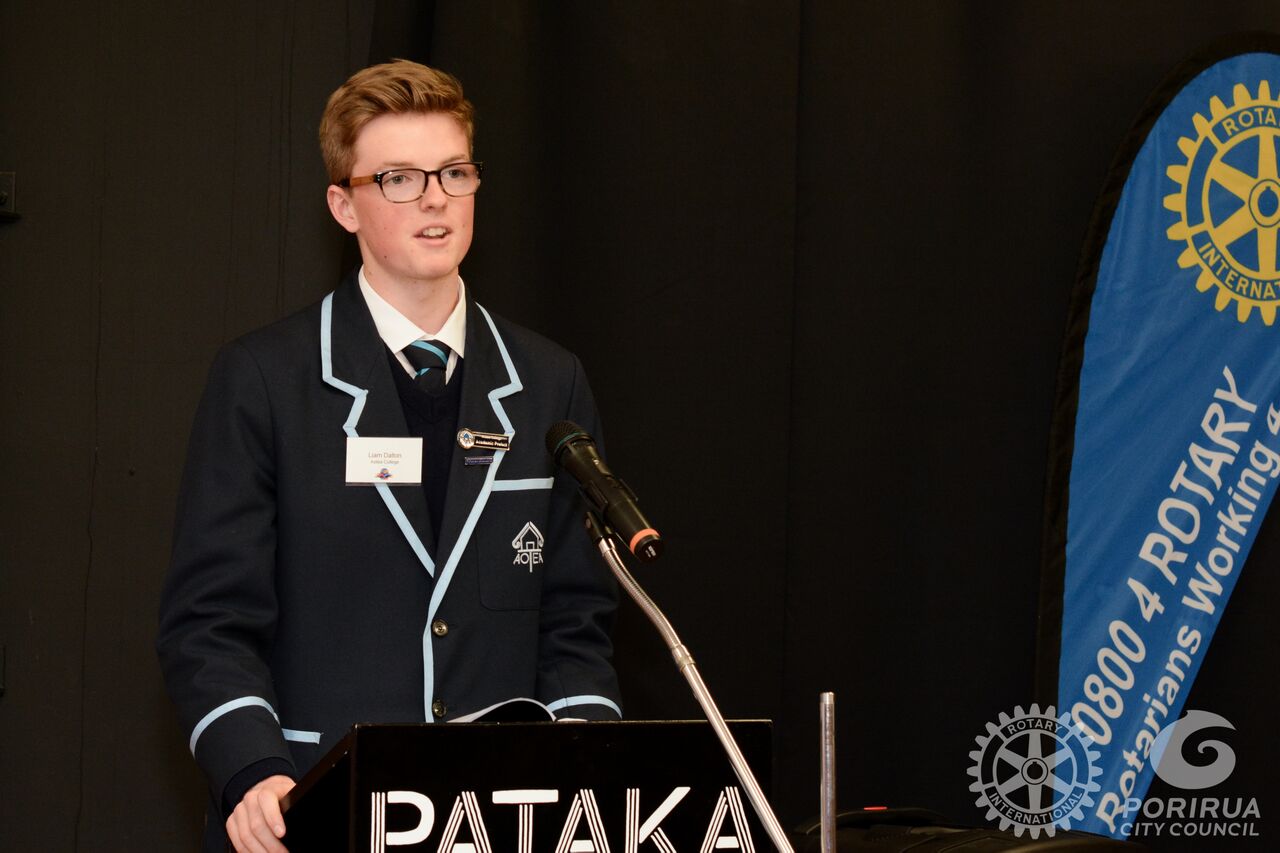 This was the first event of its kind to be held in Porirua.
Celebrating the 50th anniversary of the city, the Rotary Clubs of Porirua joined with the Porirua City Council to honour students from all of the city's primary schools.
The occasion was moving and the quality of the city's young leaders showed us that the future of our city is in very safe hands.
Liam Dalton, a senior student at Aotea College, spoke to the audience about his own experiences in leadership positions.
Not all principals sent in a bio about their students but here's what those principals who did had to say about them.
Adventure School - Sophie Crozier and Alex Joyce
Sophie Crozier demonstrates Service above Self. Sophie is a bubbly, bright, helpful student who frequently leads by example. She is a social and behavioural role model. Sophie is enthusiastic about learning, and her class and homework are often used to model greatness to other students. Her positive attitude is an example to all. Sophie finds pleasure in helping other students with their learning and demonstrates integrity, self-management, resilience, respect and cooperation. She is extremely confident and enjoys demonstrating leadership, evidenced by her position on the Student Council. Sophie always thinks about others and their needs, and is willing to go the extra mile. She shows initiative and encourages those around her to do the same.
Alex Joyce actively works on self-managing, listening. He doesn't settle for second best. He is on the school council, helped organise the duathalon, road patrol, subway. He is sporty and academic. Always puts hand up to help. Doesn't blow his own trumpet, but he does play the clarinet. He has also just won an award for fair play and leadership in rugby. Volunteer work outside of school includes work with guardians of Pauatahanui Inlet, Big Night In volunteer, habitat for humanity fundraising, cleaned up beaches.
Cannons Creek School – Sheila Tui and Tushaym Manase
The reason why I selected Tushaym out of the other 24 students in my class.I have had the priviledge of having Tushaym in my class for two years and I have seen huge gains in her learning ability as well as her social skills. From the shy, quiet and timid child she was, she has grown in confidence and maturity which has allowed her leadership skills to shine above her peers. Tushaym is a focussed and determind worker who does not have CANNOT in her vocabulary. She will attempt new learning and continue to try until she is successful. Tushaym is a good friend and will help others when she is able, she is a great role model not just for her class but also for her school community.
Sheila is a well-rounded young person with a get up and go attitude. She is motivated and is able to motivate others. Currently, she is working on several projects which require her to work collaboratively with other students. One project is to use digital devices to create a movie about the identity of each student in her group and the importance of one's culture. She is learning to play the violin and has exams coming up later this year. She regularly organises singing groups to perform in assembly and has on many occasions performed solo. Sheila's responsibility goes beyond the classroom where she is often seen as a peer mediator in the playground or running sports games for her peers or younger students.
Corinna School – Daniella Gibson and EJ Garisau Roebeck
Daniella and EJ have been nominated for this award because they demonstrate many of the qualities and values of people who give service. This includes going the extra mile, participating and contributing, thinking about others to do different jobs around the school. They are great role models, showing resilience, respect and cooperation. In addition both students demonstrate leadership, often standing up in front of the school and leading in assemblies. They think about what needs to be done before being asked.
Discovery School - Mercy-Lea Tekii-Lilo and Brooke Reti
Mercy-Lea shows all the qualities of a fabulous leader. She is an extremely mature and respectful young lady who is always willing to go out of her way for other people. She has lead syndicate dancing and kapa haka as well as representing our school in a range of sports and Kapo Kapo.
Brooke Reti has stepped up to the role of being a reliable, responsible leader in Year 6. She takes all opportunities like being part of the Kapo Kapo concert, helping out in community night for Maori language week, speaking at our ANZAC ceremony, helping teach Te-Reo in our classroom, taking a major organisation role in the school assembly, fundraising in the community for a dance trip and encouraging and helping those around her who might need something. Brooke is diligent in her adventures with a bubbly nature and has the stamina not to give up.
Ngati Toa School – Evo Kelleher and Campbell Pearson
Evo Kelleher is a dedicated and hard-working student who is one of Ngati Toa School's best performing female athletes representing her school in many sports. She is one of the female leaders in Kapa Haka, a peer mediator and a great role model for our younger students. Evo is also a high achiever academically.
Campbell Pearson is a high performing student both academically and sporting wise. He has taken on many leadership roles at Ngati Toa School such as patrol, peer mediator, student spokesperson to name a few. Campbell is an example of what excellence could look like in a student.
Paremata School – Benjamin Carson and Maringiwai Fearon-Haapu
Ben is a member of the School Senior Council and helps to organise fundraising activities and school events, keeps the council blog up to date, helps run a weekly fundraiser selling frozen treats and cookies to the school students etc. He is also an outstanding student achieving above the expected level for his age group. Ben has an inspiring work ethic and never needs to be chased up for work. In addition he is an independent learner who regularly takes a learning opportunity and extends himself to get the absolute most out of it. An example of this is a blog on alternative transport he set up last year after learning about blogging in class. Ben has a wonderful sense of humour and is extremely patient with those less able than himself. He is a credit to his parents and to his school.
Maringiwai is not a member of the Council, however she quietly sets about achieving her goals and helping those around her to achieve theirs. She is incredibly patient and giving of her time. An example of this is the way she encouraged and supported a classmate with special needs during our science unit last term. She happily worked to include him in her group, explaining the concepts and plans and negotiating with him to ensure his ideas were included in group experiment designs. Maringiwai also supported him to record information and even design and carry out his own experiments - truly inclusive learning. She is quick to volunteer for any jobs and uses her initiative to organise things for her classmates and teachers. Maringiwai plans ahead and emails her teacher if she thinks of something that might help events to run more smoothly. Her sense of humour and positive approach sets a fantastic example to those around her and she is well respected as someone who will offer her help to anyone. Both of these students are an absolute pleasure to work with. Neither of them ever expect recognition for their contributions but both thoroughly deserve it.
Plimmerton School – Hayley Searancke
Hayley is a Year 8 student at Plimmerton School. She has attended Plimmerton School from age 5 years. Hayley has demonstrated her leadership qualities, her willingness to serve her school and her ability to put service above self at Plimmerton School in the following ways:• Hayley volunteers to be involved in fundraising events run by our PTA. She helps on food stalls at the school gala. At our recent Quiz Night she assisted the caterers plating food. On Friday evening she sold sausages from the Sausage Sizzle at both the junior and senior discos. When the discos were over she assisted with the clean-up of the school hall. When the school had Subway lunches delivered to the school weekly in 2014 Hayley took it upon herself to organise the distribution of the lunches to classrooms from the office. She did this to ensure that students in junior classes received their correct lunch order and did it despite the fact that she was not ordering a lunch herself. On several occasions this season she has assisted the coach of the Plimmerton White Year 7 & 8 Netball team (not her own team) with the training of the team at after school coaching sessions so that the team could play an actual game. Hayley is the lead singer in the school Rock Band. Every week she goes to practice before the required time to set up the equipment, before the music teacher who trains the band and the other students arrive.• Hayley is a monitor in the school library giving up her lunch break each Tuesday to issue and return books. The teacher aide librarian commented on Hayley's use of her initiative beyond the normal librarian's tasks. Hayley recently spent 2 hours covering new books. The school recently held a luncheon for our support workers. Hayley volunteered to help with this. From the setting up of furniture, setting of tables, waiting on the guests, serving food, clearing tables, washing dishes, to clearing up of furniture Hayley showed initiative, attention to detail, politeness, reliability and commitment to seeing the task to completion all done in her own lunchtime and with cheerfulness and a smile. Hayley has volunteered to be a stagehand for our junior school production. She is currently helping at rehearsals but when the actual production is being staged next week she has volunteered to help at two evening performances.
Porirua School –Ashley Prasad and Italei Heather
Ashley is an outstanding role model who always shows respect for others and leads by example. She is very keen and capable and of taking on leadership roles around the school and is always looking for ways to help do extra jobs around the school.
Italei always shows initiative and a willingness to help others with their learning. She can be relied upon to take on extra responsibilities around the school and always carries out these jobs to a high standard. Italei relates well to a wide range of people and always treats people respectfully.
Pukerua Bay School – Alice Markwell and Max Macindoe
Alice Markwell is a Year 7 who is being recognized for her leadership in school, sports and community events. Alice has a mature approach to her learning and has always taken opportunities to make a difference in the world around her. She has just this week organised our school to fund raise for the Wellington Free Ambulance (She has a girl in our class who often needs medical attention from the Ambulance service at school, so Alice decided to get our school behind this worthy cause). Alice wrote the articles for the school notices, shared the information with the students during class, sold baking in her own time and was part of the team who collected and counted up the donations which totalled over $500.
Max Macindoe is a Year 8 student who is being recognized for his leadership in the school Kapo Kapo Group. Max worked hard to develop confidence in his Te Reo pronunciation, his movements, volume and stage presence and led the school group on stage at Te Rauparaha Arena. This was great to see and showed Max as a future leader.Thank you Wendy. Thank you for the opportunity to recognise our student leaders.
St Theresa's School - Jessica Deed and Jasmine Watkins
We have selected 2 students to represent ALL our Year 6 students. they are Jessica Deed and Jasmine Watkins. As I have previously mentioned we have a Year 6 leadership programme that all students are showing commitment to this year. It is impossible to select just 2 students who stand out above the rest as they are all fantastic! As part of working towards Bronze, Silver and Gold levels of leadership the students also belong to a small team for the year with opportunity for leadership and school development. These groups are Arts and Cultural, Librarian, Technical Support, Environmental, Catholic Character & Service and Sport.Currently all year 6 students have achieved Bronze level. St Theresa's believes that children learn what leadership is and about themselves as leaders from primary school age by understanding these principles of leadership, and through their own practice of leading others.
Titahi Bay School – Mia Hazelwood and Cedar Porteous
Mia personifies the KURA values of Titahi Bay School. She is always KIND and caring to both student and staff. She has a quiet approach to her leadership. Her positive behaviour, attitude and the effort that she puts into tasks makes her an excellent role model. As a Buddy Patrol she steps up and does any job that she is asked to. She willingly shares her skills to help others and includes children, who may be sitting on the fringes. She is a diligent Enviro Helper who always carries out duties without needing reminders. She is humble, teachable and strives to be better.
Cedar is a confident leader in Pasifika and Kapa Haka at Titahi Bay School. She shows initiative in her role as a Buddy Patrol. She's a problem solver who can mediate in times of conflict. She is caring particularly with younger children and carries out any task asked of her. She is diligent in her work and always gives her best. What a beautiful Pasifika Role Model.
Windley School – Rem lam Ciang Thatkhup and Steve junior Moafanua
The two students that best meet the criteria are Rem lam Ciang Thatkhup and Steve junior Moafanua. Both help and support other students to achieve. They both like to get involved in the different aspects of school and lead groups of students in a variety of activities. They are always looking at what is needed before the need arises. They are both great examples to others and are highly thought by staff and students.