Blog
Rotary Club of Plimmerton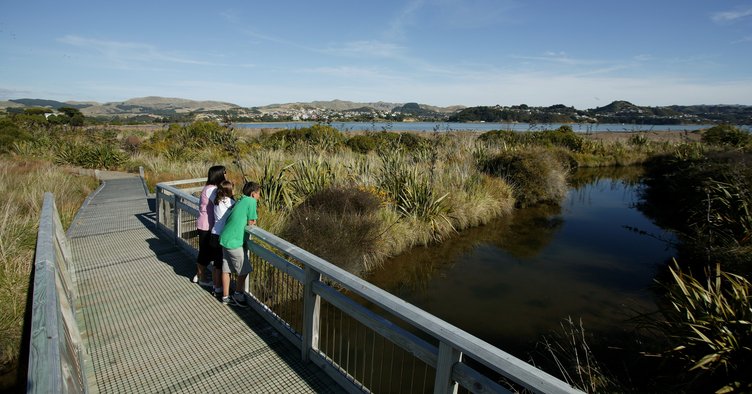 Construction is set to begin on the next section of the popular Te Ara Piko, the meandering pathway around Pāuatahanui Inlet, with history playing a role in shaping this latest leg.
Te Ara Piko is a unique, joint project between Porirua City and Plimmerton Rotary, with the ultimate goal of creating a safe and accessible path right around the spectacular inlet.
The latest section will link the recently completed boardwalk at Kakaho Stream with Motukaraka Point. The ever-popular first stretch of the pathway, between Motukaraka Point and Pauatahanui Village, was completed in 2014.
For the first time since the project began the pathway will need to be built up and extended into the inlet, says Council Landscape architect Andrew Gray.
The process for doing this has been carefully planned with input from ecologists, wildlife experts, archaeologists and included Ngāti Toa, the Department of Conservation, Forest and Bird, the Guardians of Pāuatahanui Inlet and the local residents association.
The planning also looked to history and the "tried and true" methods used to build up sections of Porirua Harbour in the late 1800s, says Plimmerton Rotary's Phillip Reidy.
"A new rip rap wall will be used to extend the road shoulder towards the inlet, based on an old railway embankment design that has stood the test of time," he says.
"Built in around 1885 to protect the main trunk line near Aotea, this embankment is still going strong.
"The Te Ara Piko wall will be at the same angle as the 1885 model and will provide an attractive environmental habitat for plants and marine life to colonize while helping to mitigate wave action."
Work on this section is set to begin in the coming weeks and will take up to six months. There could be some delays for motorists on Grays Road during this time.
On completion of this section, there will be just one stage left to go – linking Kakaho Stream to the existing Camborne walkway – and Rotary is seeking funds to make this happen.
"When that's done Porirua City will have a superb pathway giving flat walking or cycle access between Pauatahanui Village and Paremata Bridge," Mr Reidy says.
Te Ara Piko is popular with locals and visitors alike, with an average of 122 users a day.
Construction costs for the Kakaho Stream to Motukaraka Point section are around $930,000.