Blog
Rotary Club of Plimmerton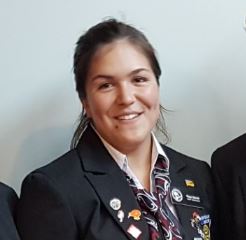 Rosie Darrah is about to embark on a life-changing experience. A student at Aotea College, she is the latest in a long line of outbound Rotary Exchange students sponsored by the Club.
In January 2018 Rosie will travel to the north of Switzerland, near the German border, (location still to be confirmed) where she will live with a host Rotary family for the next 12 months.
A confident and lively speaker, Rosie began her presentation to the club with a traditional "Mihi" or greeting, in fluent Maori. Through her Mother's side of the family, she could trace her
heritage right back to the original pioneer settlers who had arrived aboard seven canoes into the Hokianga Harbour, and also into Hauraki Gulf where Rosie's descendants settled. Through the Mihi, Rosie gave thanks to the mountains, and to the sea, which had provided those early settlers with water and with food. She thanked her earliest known descendants, the Ngāti Maru and Ngāpuhi Iwi: "my people", and also thanked the Te Ahumua and Ngāti Kaharau Iwi: "my family".
Club members were then given a preview of the presentation Rosie had prepared for the many audiences she would be addressing in Switzerland. The presentation began with an explanation of where New Zealand was located. "It is in the south-west Pacific ocean. It is not part of Australia!" She also explained that to put New Zealand's size into perspective, Switzerland would fit into New Zealand six and a half times.
Rosie's comprehensive presentation on New Zealand included details of its economy, Government and education systems; its culture, language, and also that it was a great place to visit! Rosie explained that she had been brought up in the small settlement of Tairua, on the East Coast near Pauanui. When she was 6 years old the family moved from Tairua (population 1100, school roll 90) to Porirua (population 73,000, school role 400.)
She listed her hobbies as: basketball, being a surf lifeguard, playing the guitar and piano, also singing and kapa haka.
The traditional Maori greeting, or hongi, had special significance. "The idea behind the hongi is that when two people press their noses together, they should breathe in and out so that they experience breathing the same air."
Rosie finished her presentation to the Club with a big thank you to Plimmerton Rotary for the opportunity to travel to Switzerland. She was highly impressed with Rotary's myriad projects around the world including their work on conservation and sustainability, plus their focus on youth and education.