Blog
Rotary Club of Plimmerton

Traditional ethical standards are under threat through a combination of advances in science and technology; increases in life expectancy; and an explosion in the use of social media.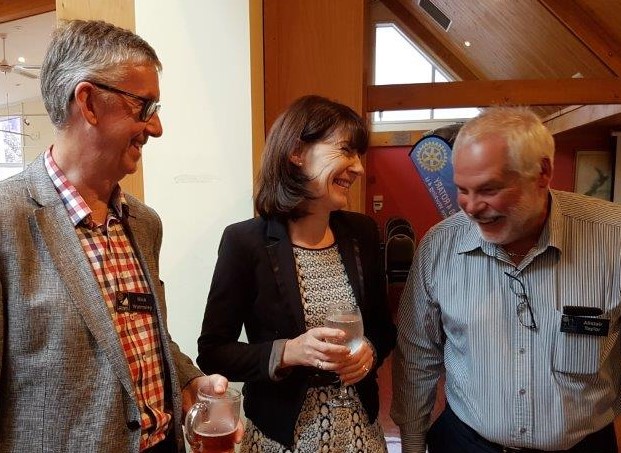 Speaking at Plimmerton Rotary on 31st January, Dr Deborah Stevens, (seen here before the meeting with Nick Walmsley and Alistair Taylor) a leading researcher and educator in the field of bioethics (the study of controversial ethical issues emerging from new technologies), explained the reasons for this dramatic change. "We are learning from surveys of younger people that they see the world differently from the way older generations see it. Their values are increasingly about co-operation among different races and between genders, excitement over the latest electronic gadgets and online services, and placing the needs of the many ahead of the needs of the few."
Future generations would have to deal with new ideas and procedures which did not yet exist. "For example, it may soon be scientifically feasible to prolong human life significantly. Also, it is currently possible to test human embryos to determine how healthy the person is likely to be, and to change the characteristics of the embryo if this is thought to be desirable. How do we decide whether such a procedure is ethical or not?"
Advertising aimed at younger people, referred to by Dr Stevens as 'the wallpaper of our lives', was affecting the values of the youth market, to the extent that they were more materialistic and more individualistic than earlier generations. "It is very difficult for younger people to choose right from wrong, or to decide what is good for them and what is harmful. They tend to believe that if it makes them happy it must be good, and if it makes them uncomfortable then it must be bad. Increasingly they place their own interests ahead of anyone else's."
Sadly, this was leading to younger people becoming more aggressive, more inclined to blame others, and less likely to learn from their mistakes compared with previous generations. "We are seeing a dramatic increase in younger people taking anti-depressants, and involving themselves in risk-taking activities."
The good news was that Dr Stevens and many others like her were regularly running courses for school teachers so that they could help students come to terms with these issues, as well as the more dramatic changes that were to come in the future. "They will have to contend with issues like the rights and wrongs of euthanasia for people who favour ending their lives in this way, an increasing amount of digital surveillance, the implications of big data, what it actually means to be human, and determining what is the 'right' way to live their lives."
Thanks to Dr Stevens and her colleagues, younger generations would be better equipped to handle these challenges in the future.
You can go here for more information.