Blog
Rotary Club of Plimmerton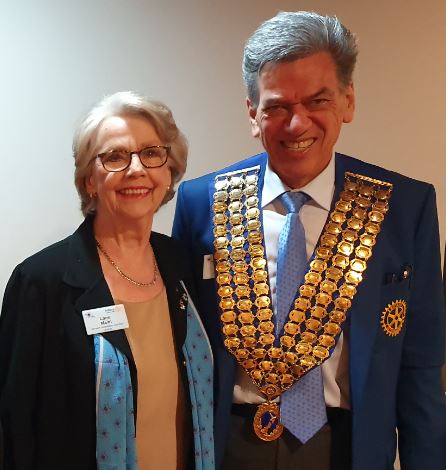 Each District Governor traditionally visits all clubs in 9940 during their term, and last evening we had the pleasure of hosting John Mohi and his wife Lane. John is an imposing figure and gave us a stirring greeting in te reo.
John's connection with Rotary began when he was awarded a scholarship to study at Purdue University. He subsequently joined his sponsoring club, Wellington North, where he was president in 2014-15. His career has been in education, especially of the deaf, and the National Library.
He began by outlining the forthcoming Rotary year, in particular, the conference for District Governors in September, to which all are welcome, our own 9940 conference in Lower Hutt in May, and Rotary International's conference in Hawaii in June 2020. John also mentioned the Polio Train excursion on October 24, and asked us to support it.
John is chair of the committee organising the Centenary History of Rotary in New Zealand, which is mainly funded by 1921 foundation clubs Wellington and Auckland. He urged us to contribute the story of the Te Ara Piko walkway, as a significant Rotary project.
As part of the centenary celebrations, there are three flagship projects in the planning stage.
The first is 'Trees, Trees, Trees' which will see millions of trees planted through Rotary initiatives, with government funding and with the help of third parties.
The second is to provide family lounges at the new Wellington Children's hospital, for which $400,000 will be needed.
The third is a vaccination programme for 100,000 children in the seven poorest Pacific nations. This is an ambitious venture which will cost $40M but is being shared with Australia.
John concluded by joining with our ADG Adrienne to endorse the long-standing polio campaign. There are still a few cases each year but its final defeat will be costly. The Gates foundation is now boosting other fundraising on a 2 for 1 basis. Buy more T-shirts!