Blog
Rotary Club of Plimmerton
Wendy Betteridge
25 November 2015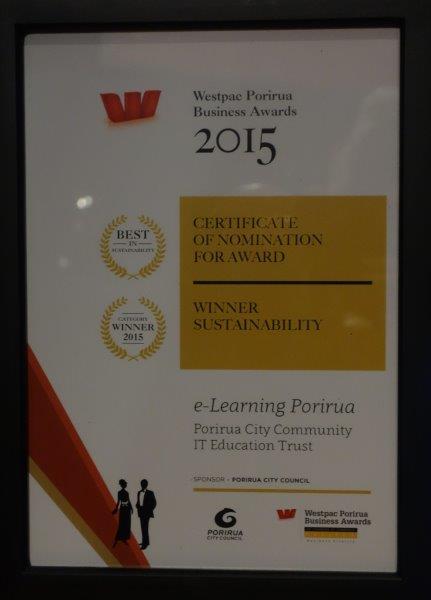 The Westpac Porirua Business Excellence Awards took place on Friday 20 November at Pataka in Porirua.
e-Learning Porirua won the "Best in Sustainability Sector Award".
Members of Plimmerton Rotary have been involved with the work of the Board since the very beginning. Michael Stevens, one time member, was the Executive Director for some years and Wendy Betteridge has been on the Board since its inception. She has been responsible for comunication, its web site and media for the past two years.
To say that e-Learning Trust has made a difference in the lives of 1,800 families in Porirua would be an understatement. As Graham Kelly, Chair of the Trust, said, ''We are assisting in breaking the inter-generational cycle of failure which has to be good for these families and our city."
You can read a full report of the meeting on the e-Learning site here.