Blog
Rotary Club of Plimmerton
The weekend 11-12-13 May was the Rotary 9940 District Conference. Rotarians from different Rotary clubs and from the Rotary Youth Exchange attended as well as some guests, the international exchange students and the 'rebounds' (those who have gone overseas and returned). There were six inbounds and three rebounds.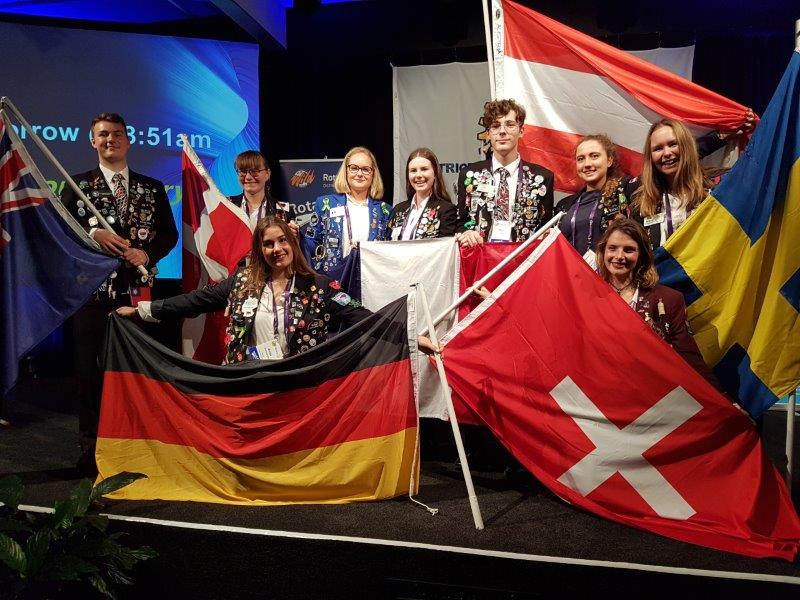 The opening ceremony was held on Friday evening. A group of about twelve young disabled people started the by opening with a couple of dance routines. It was so nice to see them enjoying this dance, and remembering all the choreography. We could see the happiness on their faces. It was an awesome beginning. After that, the international students processed onto the stage with flags from different countries, 20 in all. It was a super-cool moment. We all enjoyed it and for us students, we all carried our home flag and, to be honest, it was a proud moment to be able to represent our own country. We had spent the afternoon rehearsing the flag entry and the speeches we were called on to deliver later. It was also a good memory to be part of the Conference's opening ceremony.
Friday was a short evening. The District Governor. Mitchell Brown, and Rotary International Director-elect, Raffy Garcia III, from the Philippines, opened with a warm welcome - Go Wild Rotary. This was followed by two speakers. The first speaker was Urzila Carlson – Ambassador for the Wildbase Recovery Centre (we had visited it during the afternoon) - a very interesting project. It will be a hospital for wounded animals, more based on the birds.
After each speaker, a student had to give the thanks and another student (or more if there was more than one speaker) gave a gift to the speaker/s.
The last speaker of the evening was Janet Hunt, an author who has written and published a book about Wildbase Recovery. She has followed all the activity in the Wildbase Recovery Centre. She showed us a few wounded birds and all the steps required to heal the birds from start to finish when the bird can be free again. The Centre will be doing a lot for those birds and I admire their work. Thanks to them, the birds are restored to health and this is particularly important for our New Zealand endangered species.
It was a great evening with great speakers.
Saturday morning at 9.00 marked the beginning of the Conference. As well as in the venue itself, Rotary also had three marquees in the Square to promote Rotary Youth Exchange and also to showcase some of the projects that some clubs are involved in.
We went to the conference centre because the first speaker looked interesting to hear. It was Bill Boyd, Past Rotary International President, speaking about the next 100 years for Rotary New Zealand - our Rotary future.
After this speech, all the students went out onto the square to be part of the promotion. We all had some flyers about what the Rotary Youth Exchange is about, and we asked people on the square to make contact if they knew anyone keen to do an exchange because Rotary needs more outbound students to leave next year or in 2020. It was great. I like going and talking to people now, and promoting Rotary. It's a great organisation. Rotary does incredible things for the young people - they change our lives.
At about 11.00 am it was our turn in the conference centre - to talk about Rotary Youth Exchange
.
Lynne Phillips, International Youth Exchange Chair, gave a talk about what Rotary Youth Exchange is about and announced the future inbounds in July. Nine students will arrive soon - I don't remember all the nationalities.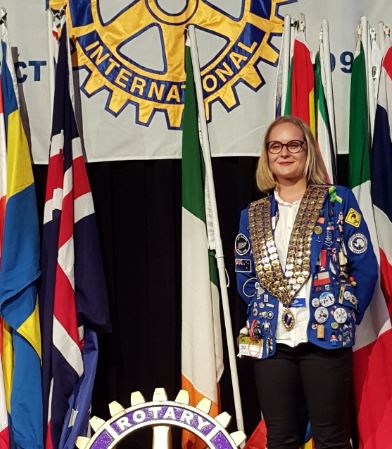 Then she introduced us, one by one. We all got a question to answer about our exchange.
I was fourth.. My question was, 'how do you think you have changed since starting your exchange?' We had a maximum of two minutes each to answer. I think I did well!
At lunchtime, we had two hours to wander around the square. Everyone got some $5 and $1 tickets worth $20 to use to purchase food from one of the four food trucks on the square. We also got a ticket for a free drink for the evening party.
At 2.00 pm, three of us (exchange students) went back to the conference centre to hear the last speaker. I was the last student to give the thanks, this time for the poppy project to commemorate those people who gave their lives for New-Zealand.
The conference came to an end. It was such a good conference. Interesting, powerful and moving.
We came back home to have a rest, change and get ready for the evening event. The theme was 'Into the wild blue yonder'. Rotary Youth Exchange gave us a blue wig and some spiders and scarves to wear to be 'wild. At 6.00 pm we went to the conference centre for the last night. There was some food and a drink to welcome everybody. Then it was time to go inside. The room was stunning! Blue lights, awesome table decoration - stones with small plants and lights between them.
There were some thanks and awards ceremonies for a few Rotary clubs. Plimmerton had won the Friendship Award the previous year - congratulation to my club! – and had the job of choosing the friendliest club this year. Then it was time for dinner of salads, chicken, beef, potatoes and bread. For dessert, we had a chocolate cake with fruit salad. I enjoyed it. And I think everyone did too.
The party soon started with a group of musician and two singers. They played for around two hours. Everyone enjoyed it and danced and had fun. It was all over at 11.00 pm and we went back to our homestay.
On Sunday morning, all the students departed. The Rotarians had the AGM and some District training in the afternoon. I went back with Ron and Jenny Lucas and on to my basketball training and had a fantastic weekend.
I loved and enjoyed this weekend. I met others exchange students and the members of the Rotary Youth Exchange team.