Blog
Rotary Club of Plimmerton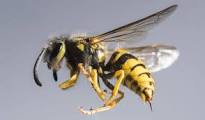 Two species of introduced Colony Wasps (Vespula spp) are now widespread in New Zealand, presenting a risk to human health, our ecology, agriculture and beekeepers.
Control of these wasps is possible with the wasp specific insecticide "Vespex".
The Rotary Club of Plimmerton is looking at the feasibility of a community based control programme in the Greater Wellington Region.
To complete the project we need information on the distribution wasps in the Greater Wellington Region.
If you live in this Region please download and complete the attached questionnaire. Please scan it and return it to leigh.corner@xtra.co.nz, with "Wasp Questionnaire" in the subject line. questionnaire
If this is too difficult (if you don't have a scanner for example) please just send him the answers to the questions, using the same numbering system.