Blog
Rotary Club of Plimmerton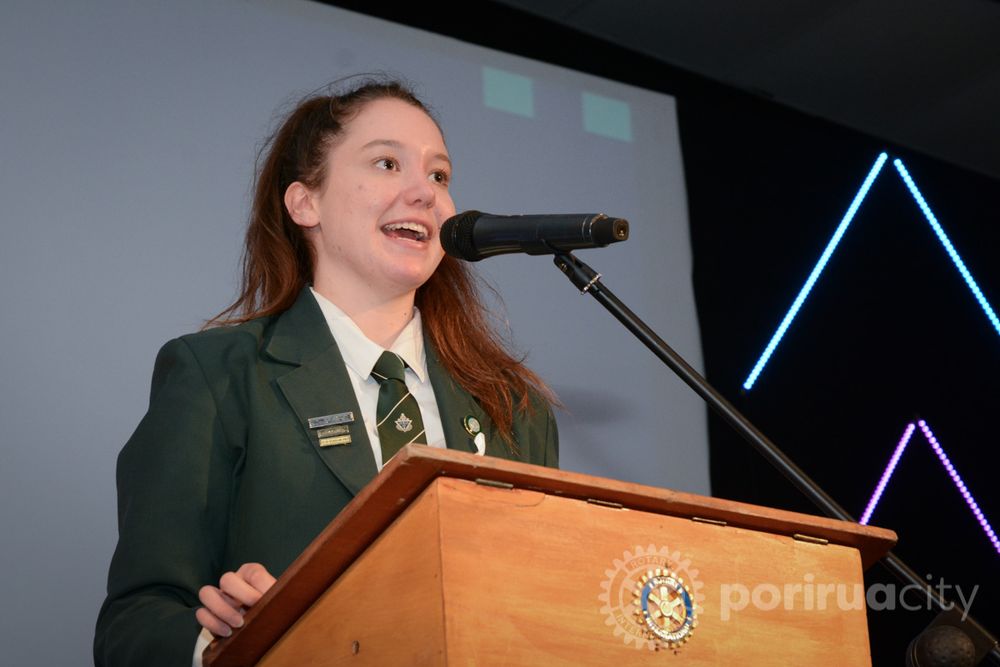 Liri Salz, 2018 Head Girl at Samuel Marsden Collegiate in Whitby delivered the following speech to the 2018 'Be a Gift to the World' Primary School Leadership Awards.
'Kia Ora and good morning,
'Thank you for inviting me to speak today, and I welcome you all to this wonderful event of recognition of the next leaders of our communities and schools.
'First of all, I would like to congratulate everyone who has received an award today, it is absolutely incredible to see so many young students already showing leadership qualities and being role models to others. This is such a great start of your journeys towards designing yourselves as people who make a difference.
'I am Liri Salz and I am a year 13 at Samuel Marsden Whitby. I am the Head Girl of my school and have the pleasure to contribute to the school environment and to the wider community.
'I have given a lot of thought about what I can say in only five minutes to summarise some of my insights about the processes that build you as a person and a leader, based on my personal experiences and opportunities.
'Firstly, I learned about the importance of changes, adjustments and challenges in building resilience. In my life, I've gone through quite a few changes, that back then seemed like big frightening challenges, but looking back at them I realise how impactful they were.
'I lived in Israel for most of my life. Not too long ago when I was your age I started high school where I had many close friends, established leadership roles within the school and out of it, and volunteered in various organisations in my community. I established a comfort zone for myself.
'Then at 16 years old, exactly two years ago I was told by my family that we are moving to New Zealand. As a teenager on her summer holiday, excited to start the next year of school, I had one month to pack up everything from my childhood home, say goodbye to my friends and family, get on three long flights and start a new life. Everything I knew changed: I had to use my second language daily, adjust to a different environment and move schools. I had to get out of that comfort zone I was in for so long.
'Sitting on the last plane to Wellington, I had time to think about what living here would be like. I remember thinking to myself that moving halfway across the world would be like hitting re-start on everything I had done and gained. I was not sure how it will be to build friendships all over again and I was so frightened to start over. Little did I know that in the summer of 2017 I will be standing up in front of my new school, making my Head Girl speech.
'So how did I get over my fears and cope with the challenges I faced? I realised and reminded myself that the changes I've gone through have opened doors for me, and I should take the opportunity and walk right through these doors. I didn't throw away the skills I gained before, but allowed them to further be developed.
'This brings me to the realisation that this big change didn't mean starting over, but it was a next step in my personal journey. It developed me, more than I ever thought it would. I got an enormous amount of support from my school, improved my English and gained confidence. Although it was tough, this move has shaped my personality and taught me so many things about myself. I developed resilience, and didn't let the big challenge of adaptation get in the way. I made friends and learned about fascinating cultures. I learned to put myself out there and take the opportunities I am offered. Most importantly, I learned that wherever you are, you will always carry the qualities you have in you. All you have to do is get over the fear, and you can achieve wonderful things.
'The second thing I learned was that giving to others and supporting them is a crucial part of leadership, that develops both you and others. You will gain the most reward, not from getting more, but rather from giving more.
'One of the most meaningful and memorable things I have done was volunteering at an abused women's shelter, where I helped the women's children with their homework and unpacked and organised donations for the shelter. During my time there, I got close to the kids I worked with and had the chance to listen to them and support them. Simply making someone's day a little bit better by being there for them has made me so happy, and getting a hug from them as I was about to leave filled my heart with warmth.
'This experience taught me that maybe you cannot change the entire world, but you can definitely do something grand by making someone's world a little bit better, even for just a moment. It also taught me that doing good for others actually does a lot of good for yourself.
'So, as you all head to the next steps of your life I want you to remember a few important things:
'One is, changes in your life will develop your personality and skills. They will open up new opportunities for you, and the best thing you can do is take advantage of these and let yourself thrive, because you, as leaders, can bring so much to the table. Don't let the fear of failing get in the way. Even if you face challenges, dare to do what you set your heart on! Also, encourage others to do the same! You have all shown that you are already role models in your community, keep doing what you do, and inspire others to follow your lead.
'Another thing you should remember is that the small things matter. Maybe you cannot change the world, but with compassion, listening and caring, you can change someone's world.
'I will leave you with a quote by the American poet Maya Angelou, that said: "I've learned that people will forget what you said, people will forget what you did, but people will never forget how you made them feel".
'Again, I congratulate you all for receiving this award. Keep being involved, keep your passions and I am sure I will see you in the future doing wonderful things.
'Thank you.'