News
Rotary Club of Plimmerton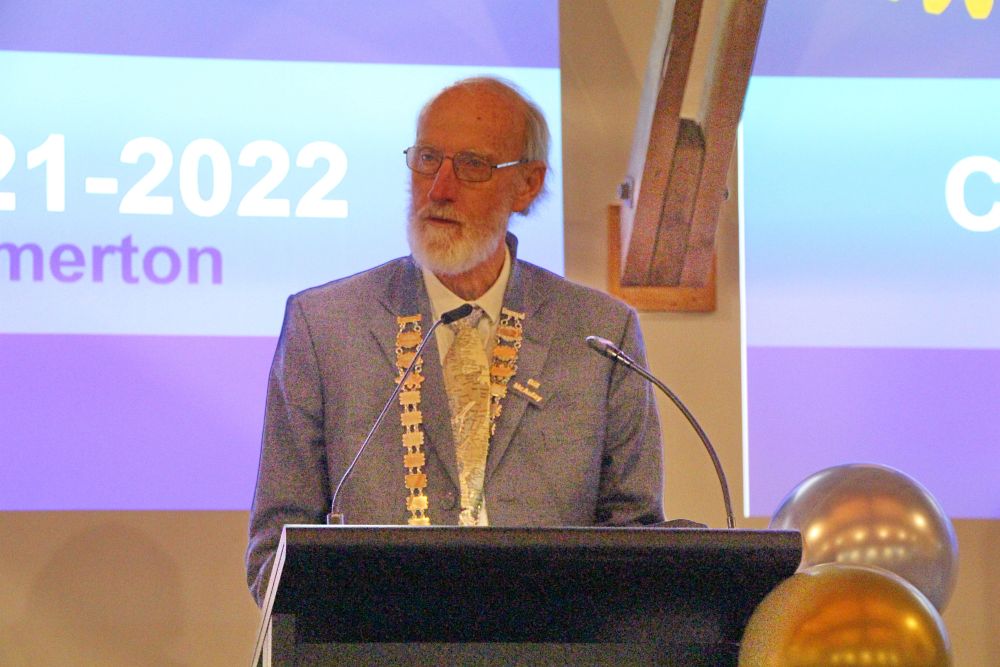 Before President Bill stood down at the end of his Rotary year and handed over to President-Elect, Kay, he summed up what the year had meant to him. He said,
'Tena Koutou. A warm winter welcome to Rotarians, partners, and guests.
'My year as President started three years ago with Jenny Lucas asking me to take up the role. I said 'no'. I had been asked and said 'no' a couple of times before. Jenny then countered with a winning argument. She pointed out that if I said 'yes', then I would never have to say 'no' again.
'Once again it has been a busy year for our club projects. In reflecting on 2020/2021 there are four themes that I would like to concentrate on in summing up the year:
'Fellowship, Fundraising, Youth and Environment with some of the Rotary Centenary projects intertwined amongst them.

'1. Fellowship
Emerging from Covid lockdowns in June 2020 we commenced with the goal of using Fellowship opportunities to make the club a vibrant and fun place for members and visitors. We decided to have monthly fellowship events and reduce the number of speaker events. So we enjoyed Quizzes, a Toastmasters meeting, a Myanmar food night. St Patrick's Day, Melbourne Cup, Robbie Burns Evening, a beer tasting evening, a weekend of golf and gardens, Would I Lie to You? a sports evening, and more casual dining arrangements. All of these contributed to adding value to the club in what could have been a downward spiral, after the 2020 Covid 19 lockdowns. Thank you to Kay for driving so many fellowship activities.
'2. Fundraising
Fundraising efforts included
The golf tournament as a fundraiser for Mary Potter Hospice - ably led by Chris Garrett.
The final book fair - masterminded by Phillip Reidy - that provided funding for many club projects and the Life Education Trust. Please give special recognition to Alan Nichols for his lengthy role in this long-running club fund-raiser.
Once again Alan also led efforts in funds and food for the Salvation Army Food Bank. We have now been doing this for 18 years.
We also made a good contribution towards the new Wellington Children's Hospital as part of the Rotary Centenary.
Les Callear co-led, with Life Education Trust, a huge amount of planning work into a Dancing With The Stars style fundraiser. Unfortunately, the show's Producer turned out to be unreliable so we chose to not proceed.
More recently, Mike Scott has been working on a significant and innovative new fundraising opportunity. Look out for it next year.
'3. Youth Projects
The Youth Committee and the energetic Donna Reed have once again delivered many memorable project outcomes.
This year a new project has commenced delivering on the supply of clothing for a decile one preschool kindergarten in Porirua. Of note is that this project was kick-started by an anonymous family's cash contribution on the basis that Rotary devises and manages the project. We are hoping to gain District Grant funding too. Donna, Tanya and Graeme Blick have done a great job with this new project.
A personal highlight for me was the opportunity to participate in the Porirua City Primary Schools Leadership Awards - a joint project with the Rotary Club of Porirua and Porirua City Council. Thank you Wendy for your leadership of this outstanding programme.
'4. Environment
In September 2020, 'Supporting the Environment' became Rotary's seventh Area of Focus. We were already underway with our own new environmental project under Barry McEwen's direction - 'The Rotary Forest of Peace & Remembrance' at Plimmerton Domain, a joint project with PCC in which 5,000 stems were planted in 2020 and another 4000 will go in the ground this winter. I hope that this project will continue planting trees for many years ahead and at the same time engage more community involvement under the Rotary banner. My personal vision is to imagine what those trees will look like in the time of my grandchildrens' grandchildren. This is also a Rotary Centenary Project to commemorate Rotary starting in NZ in June 1921.
Yesterday we celebrated the official opening and blessing of Te Ara Piko - an amazing environment and community project that commenced in 1999 with Rotarian Roger Fitzpatrick lobbying Jenny Brash (Mayor at the time) to build a walkway/cycle path around the edge of Pauatahanui Inlet. Twenty-two years later we can all be very proud of a walkway that encourages more Porirua residents to exercise outdoors and to appreciate the environment and biodiversity of the inlet.
We raised $1.3 million towards the total of $5.1 million total costs of the project. The project was initially led by Roger Fitzpatrick, then Ron Lucas, followed by Phillip Reidy. A massive effort that involved all club members. The success of this healthy partnership with PCC has also laid the foundation for future joint projects.
Our speaker list for the year included a decent number of environmentally-themed presentations. We heard about bats from Fiordland, Anthrax and bison from Canada, the Porirua Harbour Protection work, and the Rotary Centenary 100 forests project.
'In conclusion, I am appreciative of the fantastic Board support from Euon Murrell, Donna Read, Les Callear, Kay Phillips, Phillip Reidy, Bruce Couch, and Graeme Tongs. The success of the club also depends on the efforts of those many project leaders who I have not mentioned plus a core of people who make the weekly meetings tick smoothly:
Philip Whearty for his quiet organisation
Nick Walmsley for his speaker seeker work
Mike Doig for his incisive write-ups of our speakers
Almoners John Barber and Rhondda Sweetman for their support of members
Wendy Betteridge for her tireless communication Updates, and
Graham Wallace for his work on the calendar and programs.
'I am glad that Jenny convinced me to take up the role as I have had an enjoyable year that has grown my own boundaries.
'And now to the President's Award... The Plimmerton Rotary President's Award was initiated by Past President Adrienne Murray in 2016 when she was outgoing President. In her words: 'The Award is intended to be awarded to someone who the President feels exemplifies outstanding work during the year - it does not have to be someone on the board, simply someone that I could not have done without during the year.'
'Previous awardees include Bruce Couch, Graeme Tongs, myself, Adrienne herself, and last year's joint winners Peter Sinke and Keith Harrison.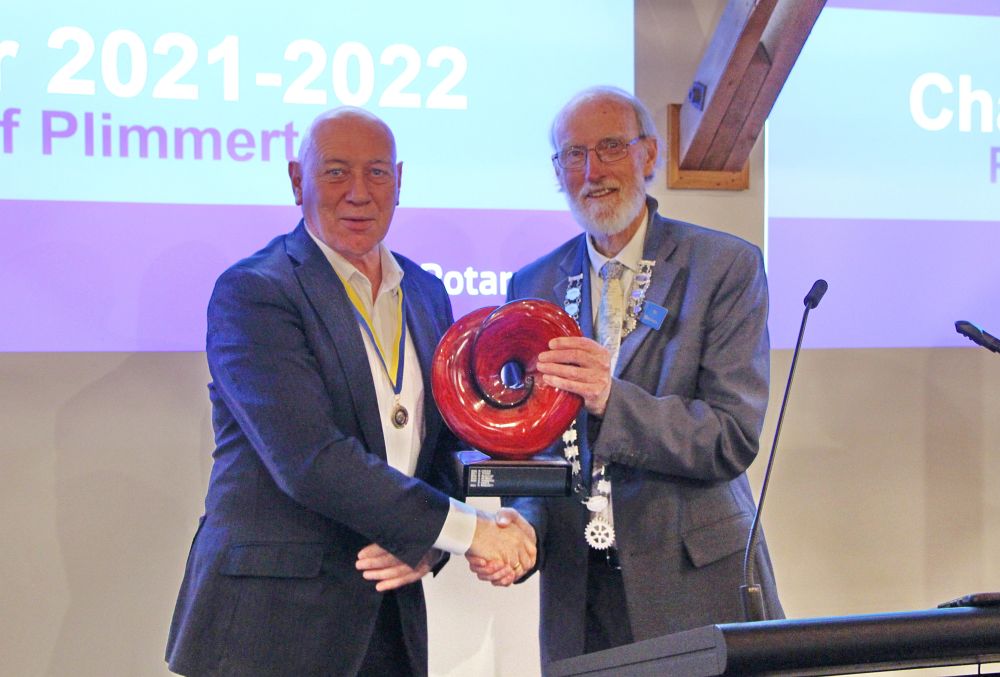 'I would like to award the 2021 President's Award to someone who, every week, has helped me but is usually in the background. That person is Philip Whearty. I owe appreciation every week to Philip. He has quietly nudged me to manage my time-keeping, he sets up and takes down the room, he is a very active link with the Mana Cruising Club and the caterers, he manages attendance records, and he makes his business resources available to us. He has done all this with no fuss and no interference but has always been available for advice. Thank you and congratulations, Philip'.