Diary
Rotary Club of Plimmerton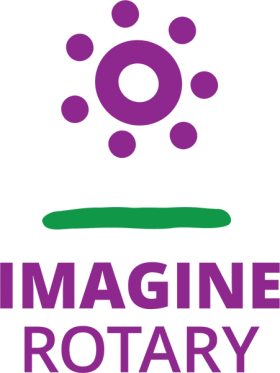 2022 Leadership Awards
Mike Doig writes, "Another splendid event for our local clubs: well-organised, well-attended, inspirational and a good showcase for what Rotary can do. This was the eighth Awards ceremony and the attendance was as large as ever ". You can read Mike's report here. The names and bios of all the young leaders who were honoured are listed below Mike's report. Mannfred Sofara's speech, Head Boy of Bishop Viard College, will be posted shortly. Meanwhile, you can enjoy some of over 300 photos taken by our official photographer, Mark Tantrum, here.
What's coming up in August and beyond?
Next week our speaker will be our very own Dr. Mike Scott who will be talking to us about The Perils of the Internet. Definitely not an evening to miss.
To see future events, you can go here.
Snippets
At the Club meeting on 2 August 2022 the appointment of two new Trustees to the RCOP Charitable Trust was formalised. With David Pine and Colin Whyte being proposed by President Denise, Bruce Couch seconding, and those members present unanimously supporting the nominations, both were appointed.
This week's happenings
Inner Wheel Plimmerton has sent us their August newsletter and you can read it here.
Secretary Nick has provided the June 2022 Minutes of the Board and of the Charitable Trust and you can find these on the Intranet by logging in in the usual way.
Who's on duty for the next month?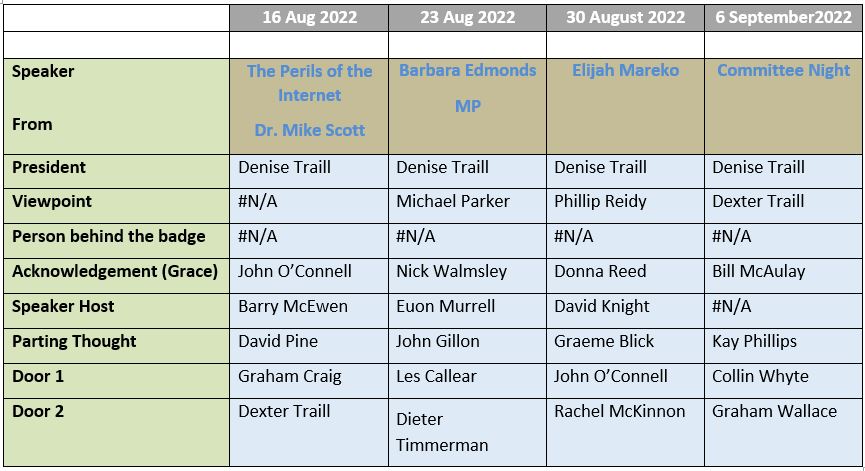 Unable to do your duty? Please find a replacement and inform Leigh Corner.
If you're a late 'no show' please tell President Denise.
Please arrive at 5.45 pm if you're on Door duty or hosting the Guest Speaker for the evening.
Need to apologise or bring additional guests?
Advise the Receptionist at Professionals before 10.00 am on the Monday before the meeting on 233 9955 or email paremata@dwre.co.nz if you prefer.
Please provide the name (and spelling if necessary). The same applies if you're going to be late.