Diary
Rotary Club of Plimmerton
Viewpoint
Derek Oldershaw gave his Viewpoint this evening. He concluded by saying that, as he grows older, he is sure that he will stop driving a car but until he reaches that stage, he does not feel guilty about using a car to meet his requirements.
What's coming up in May and beyond?
On Tuesday 11 May we will be hearing from our newest member, Dallas New, a Veterinary Epidimelogist, about Anthrax outbreaks in wild bison.
The District is running a Pop-Up event at the National Library and is seeking support from local clubs. We are on duty on Wednesday afternoon, 26 May, and Bill will be looking for some volunteers.
There will be a joint meeting with Johnsonville, Porirua, and Tawa Rotary Clubs on 25 May. Details will follow closer to the time.
Looking ahead, Chris Garrett is organising another Garden and Golf weekend from 8-11 October in the Wairarapa. He has pre-booked 12 double rooms at Solway Park in Masterton for the nights of 8-10 October in anticipation of demand. If you missed the check sheet for participating in the trip, at last night's meeting please contact Chris. As planning progresses, more information will be put on the calendar and the events page. The programme will be similar to the Hawkes Bay weekend with golf on Saturday and Sunday, gardens on Saturday and Sunday with winery visits, and shopping in the afternoons.
To see future events, you can go here.
Snippets
As mentioned in last week's Update, The Rotary Club of Wellington celebrates its 100th birthday as the first Rotary Club to be established in New Zealand. They are holding a celebratory dinner at Parliament on Monday 24 May 2021. The special dinner will be hosted by the Hon. Grant Robertson, Deputy Prime Minister. Doors will open at 5.30, formalities will start at 6.30 and the event will be finished by 10.00 pm. The venue is the Banquet Hall at Parliament. Dress is business or a 1920s theme if you wish. The ticket price is $120 which you can apply for here.
President Bill thanked Chris for continuing to organising the very popular drinks and nibbles events each month, as well as for his planning of the Garden and Golf weekend later in the year.
Treasurer Bruce has now returned meal refunds to those who requested them and they will find the appropriate amounts in their bank accounts. Following individual members instructions regarding distribution of the meal refunds, Bruce has been able to allocate $3500 to each of the Rotary Foundation and the Plimmerton Rotary Charitable Trust.
This week's happenings
Zonta Mana has sent us their newsletter for May 2021. You can read it here.
We've also received the April District Bulletin which you can read here if you haven't received your own copy.
The Almoner said …
Peter Lillico reported that he has received a call from Annette Austing asking him to let members know how appreciative she was for the support from members who had attended Les's funeral service on 3 May. It was a wonderful turnout which reflected the esteem in which Les was held by so very many members of the club.
Parting thought
Mike Doig gave us the parting thought tonight with a quote from Bill Gates, 'I have this very positive view of the world getting better and better. The list of things that could be huge setbacks is not very long: A nuclear war, climate change, and epidemics.'
Who's on duty for the next month?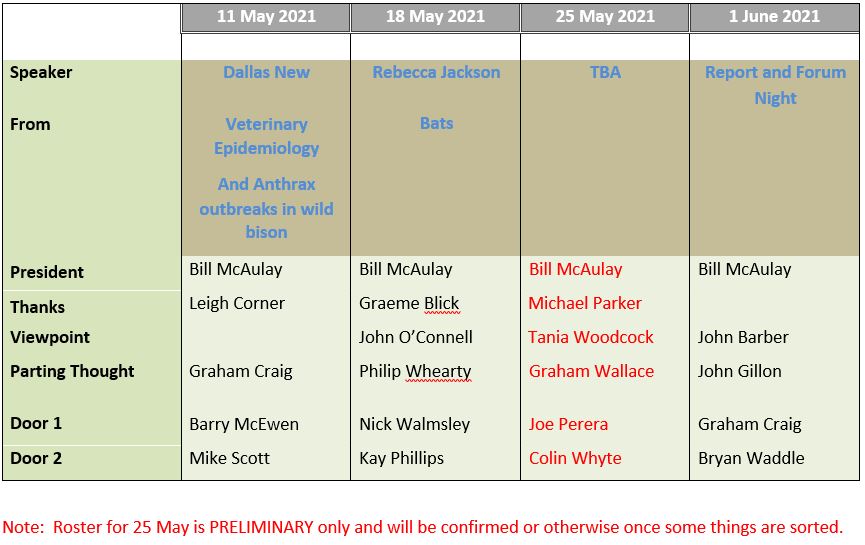 Unable to do your duty? Please find a replacement and inform Graham Wallace.
If you're a late 'no show' please tell President Bill.
Please arrive at 5.45 pm if you're on Door duty or on Introduction duty to greet the Guest Speaker and be his/her host for the evening.
Need to apologise or bring additional guests?
Advise the Receptionist at Professionals before 10.00 am on the Monday before the meeting on 233 9955 or email paremata@dwre.co.nz if you prefer.
Please provide the name (and spelling if necessary). The same applies if you're going to be late.