Diary
Rotary Club of Plimmerton


Visitors
The Light House in Pauatahanui was awash with visitors for a very successful social event. Members of the Rotary Clubs of Porirua and Tawa and Whitby Probus joined us, as well as friends and relatives of members. Phillip and his team did a great job checking everyone in and producing a lovely spread afterwards. He has written a record of the event which you can read here.
What's coming up in August and beyond?
Next week, 17 August, Charles Waldegrave will speak to us. He is a member of the Expert Advisory group set up by the government in 2018 to undertake a broad-ranging review of the welfare system.
And Friday, 27 August heralds the next Friday Frolics, not this Friday as previously advertised. President Kay announced that this month's venue will be The Supply Room at 5.00 pm.
You can see future events here.
This week's happenings
The major event this week was the seventh annual Primary School Leadership Awards, held at Elim Church on Monday 9 August. Mike has written a great report which you can find here. All the names and testimonials of the 61 students who received awards from Mayor Anita and District Governor Mark are now available here as well as the speech delivered by the Head Boy of Whitby Collegiate, Alejandro Garcia.
Ma'a Brian Sagala, 531pi Host of the Pacific Days Show (and a former student at Rangikura Primary School) made contact to ask if he could follow up the event, published on the Porirua City Council Facebook page, with an interview with Wendy, who project managed the event with the help of a wonderful team. President Kay and DG Mark both felt that this was an interview worth hearing, and you can find it here.
Professional photographer, Mark Tantrum, took literally hundreds of wonderful photos and you can enjoy a large number of these on our Gallery page here. Just click on the photo and the Gallery pages will open for you. Mark's link has been made freely available to all the schools and colleges.
Who's on duty for the next month?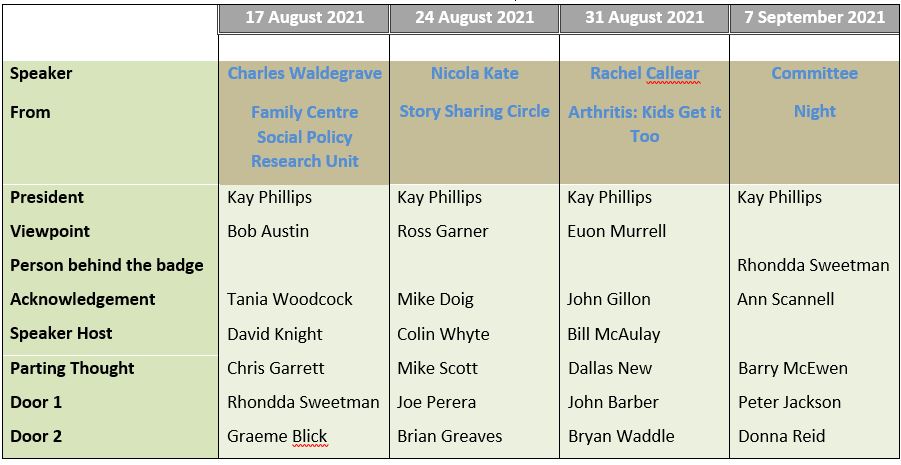 Unable to do your duty? Please find a replacement and inform Graham Wallace.
If you're a late 'no show' please tell President Kay.
Please arrive at 5.45 pm if you're on Door duty or hosting the Guest Speaker for the evening.
Need to apologise or bring additional guests?
Advise the Receptionist at Professionals before 10.00 am on the Monday before the meeting on 233 9955 or email paremata@dwre.co.nz if you prefer.
Please provide the name (and spelling if necessary). The same applies if you're going to be late.