Diary
Rotary Club of Plimmerton


If you were ever in any doubt about the enormous contribution that Plimmerton Rotary makes to the Community both locally and internationally, then reading this week's Update is a must.
Visitors
President Kay welcomed members and visitors, our guest speaker tonight, Helen Griffin, who spoke about Days for Girls, Jo Maxwell, Manager Brand and Sponsorship, Wellington Airport, Josh Harwood whom we sponsored recently to RYLA, and Bruce Phillips.
Viewpoint
Unfortunately, there was no Viewpoint this evening. Please remember to check the advance roster to see when you are 'on duty'.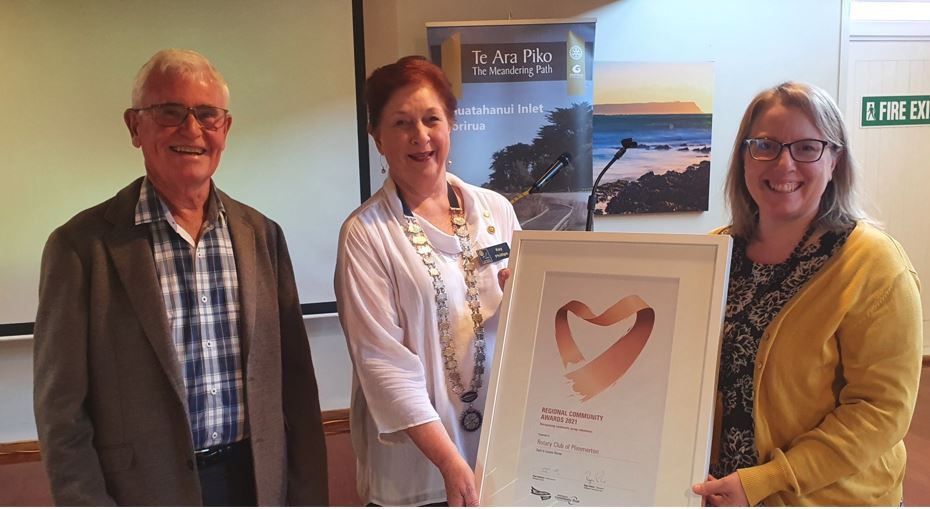 However, it was a great opportunity for Phillip to introduce Jo Maxwell. He reminded members that the first $1,000 we won in the Regional Finals of the Wellington Airport Regional Community Awards in the Sport and Leisure category had been spent on the purchase of ERKs, perhaps to be sent to Tonga. The second $1,000 prize for winning the Final would be spent on other projects the Club is undertaking.
Jo congratulated the club on winning the award which is sponsored by Wellington Airport, Wellington Community Trust, and five local Councils. Judges comprise the five regional Mayors and representatives from the Community Trust and Wellington Airport. The Awards have been running for 17 years and this year there were 270 groups who applied. Jo commented that the applications reflected the enormous contribution that volunteers make around the region. She presented President Kay with a beautiful certificate which for the next little while is going to hang at The Lighthouse for all to admire. It should be noted that this was the first year that finalists had to produce a video and write their own script. Sincere thanks are due to Phillip for having produced and delivered this.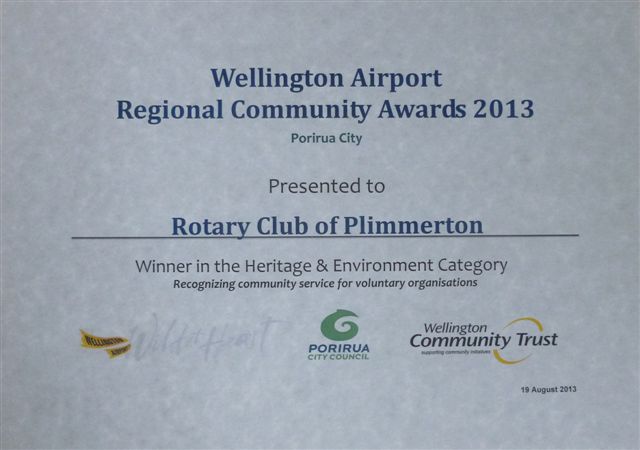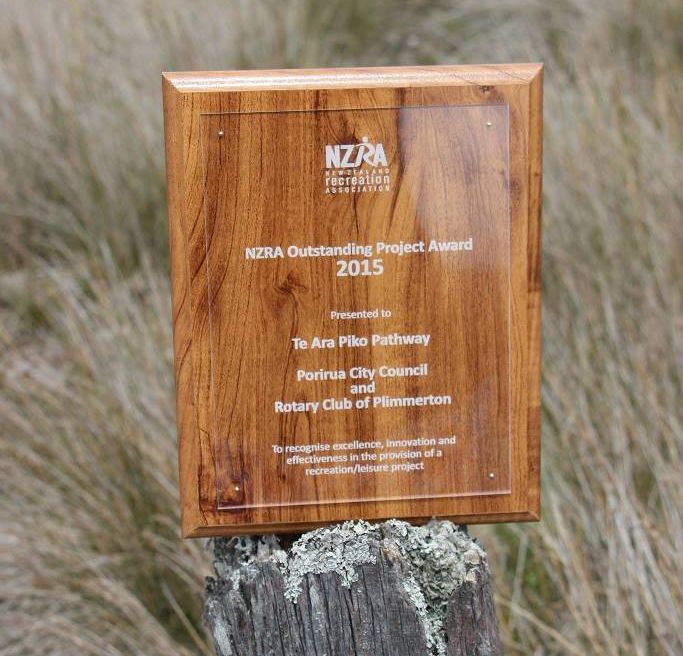 The editor has been reminded that this is not, of course, the first time that Te Ara Piko project has been honoured. We won the Wellington Airport Regional Community Heritage and Environment category Award in 2013 and the New Zealand Recreation Association Outstanding Project Award in 2015.
And the lack of a Viewpoint was also an opportunity for Youth Director Colin to introduce Josh Harwood, whom we sponsored for RYLA 2022. Josh thanked the Club warmly and spoke about things he had learned from the five-day programme which he is certain will stand him in good stead with his future. Colin pointed out that Kapiti Rotary would be the club organising the programme next year so the venue will move from Silverstream to the Kapiti Coast.
The speaker said …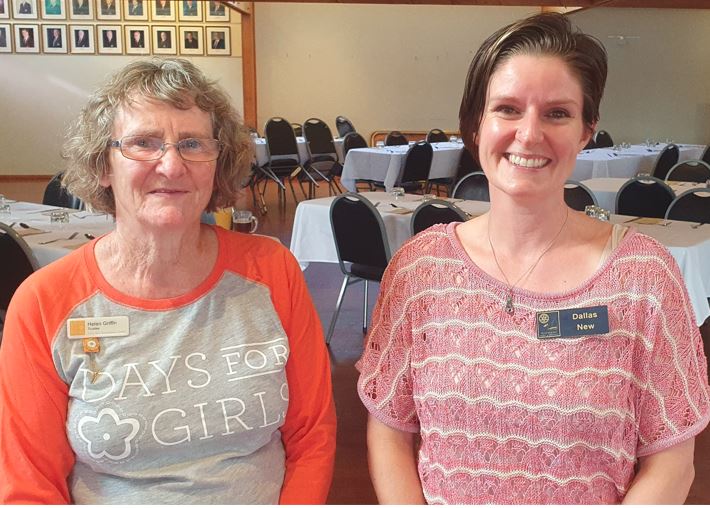 Mike writes, 'Menstruation is a subject that rarely comes up at Rotary meetings (in fact never, in my experience), until last evening. Our speaker was Helen Griffin, the Country Coordinator for 'Days for Girls', an organisation that makes life easier for menstruating girls in developing countries. Past President Donna has mentioned that she had asked the Club to support Days for Girls in Schools when we built the school in Balibo, Timor Leste but the timing wasn't right. However, the news has just come through that Days for Girls support has just been implemented in Balibo.
What's coming up in February and beyond?
Next week, 22 February, our speaker will be Rachel Callear, a physiotherapist at the Hutt Hospital. Rachel works with the New Zealand team specialising in treating children with Arthritis and other rheumatological conditions.
On Thursday 24 February from 2.00-4.00 pm, all women associated with the Club are invited to attend a fun fundraiser at Kay's home, 24 Margaret Shields Avenue, Aotea. The charge will be $20. The Board has unanimously agreed to support this Drowning Prevention Project and this event will be the first fundraiser by way of a Cooking Demonstration and afternoon tea.
The next Drinks and Nibbles will be held on Sunday 27 February. Chris will send out details of the venue nearer the time. Everyone is welcome.
Please save the date of 10 May if you would like to go on a cruise on Sweet Georgia. Details will follow nearer the time but you will find a few here.
For all future events, go here.
Snippets
Kay asked for one more round of applause for Allan and others who made last week's Casino Night such a success. This was greeted with approbation. Having asked members to bring along $2 coins (most of whom forgot!) she proceeded to play a few rounds of Two Up which was won jointly by Donna and Rhondda.
Kay announced that we are being allocated tickets for another raffle supporting the Wellington Children's Hospital, arrangements for which she will be passing to Les. The major prize is a new Kia car. Tickets are $10 each or $100 for a book of ten. You can read more of the details about this in the letter from DG Mark Wheeler here. raffle-february-2022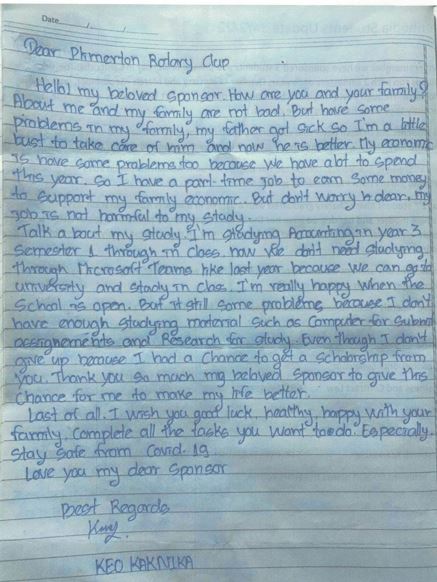 John O'Connell mentioned that he has received the names of some potential new members and reminded us of the deadline of the end of February to get names to him.
Nick Walmsley gave members an update on the progress being made by our Cambodian students. Our first student, Sok Vanda completed her degree in Public Administration and now has a full-time job in Pnom Phen. Our second student, Khiev Channy graduated in Business Administration in 2021. Her degree has given her the ability to get a much higher-paid job as a high school teacher. We are currently supporting a third student, Keo Kanika, who is in her third year of a 4-year accounting degree and is due to graduate in 2023. She achieved marks of 60-80% across last year's course despite having to get a part-time job to help her family when her father became ill. She has written a delightful letter of thanks which Nick read. Here it is, scanned, so that everyone can enjoy her beautiful turn of phrase.
President Kay has added some fun to this Update. She thanks you readers for making an effort to keep up with our Club's activities by reading the Update. She will shout a drink for the first Rotarian (including Honorary Members) who texts this Lucky Number to her after 5.00 pm on Sunday: 2004.
This week's happenings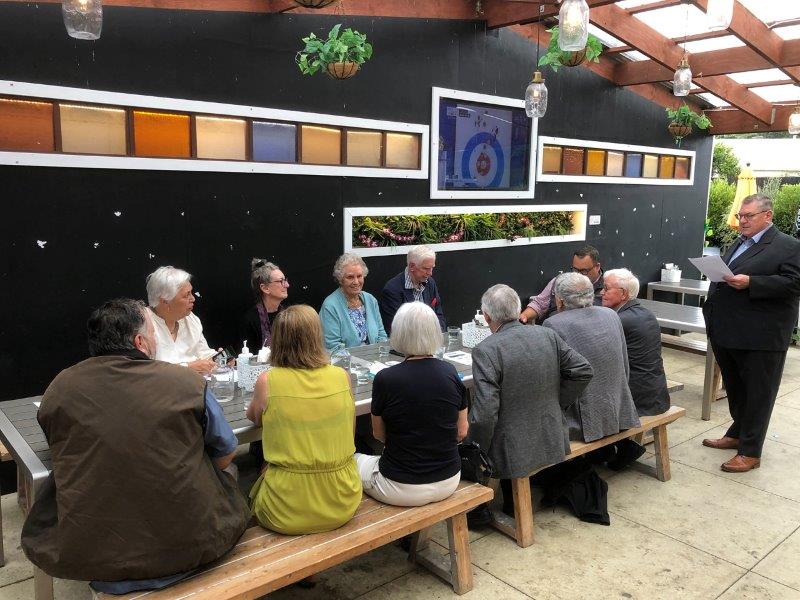 On Saturday 12 February, Past and Present Trustees of e-Learning Porirua met at The Borough in Tawa for a Trustees' Luncheon. The purpose was to 'celebrate' the work of the Trust which has been working for the community of Porirua since 2000. Current Chair, Chris Lipscombe gave a moving speech, and founding Chair, Graham Kelly, responded. Many members of Plimmerton Rotary have been involved with the Trust's work since it all began in our 2000-2001 year and can be proud of the enormous contribution the Trust has made to the community.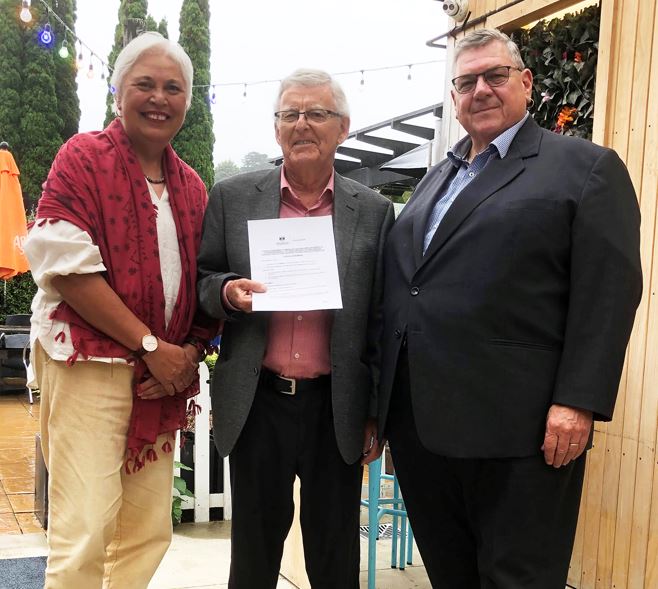 A media release was sent to selected media on Wednesday. e-Learning Porirua has signed a deal with Te Herenga Waka Victoria University of Wellington to fund undergraduate scholarships for Pasifika students from Porirua. The scholarships will be known as The Graham Kelly Engineering and Computer Science Scholarships for Pasikika Students. On winding up, e-Learning Porirua is donating its remaining reserves of $90,000 which the University is matching to provide scholarships in perpetuity You can read the full text of the media release here. e-Learning_media_release_2022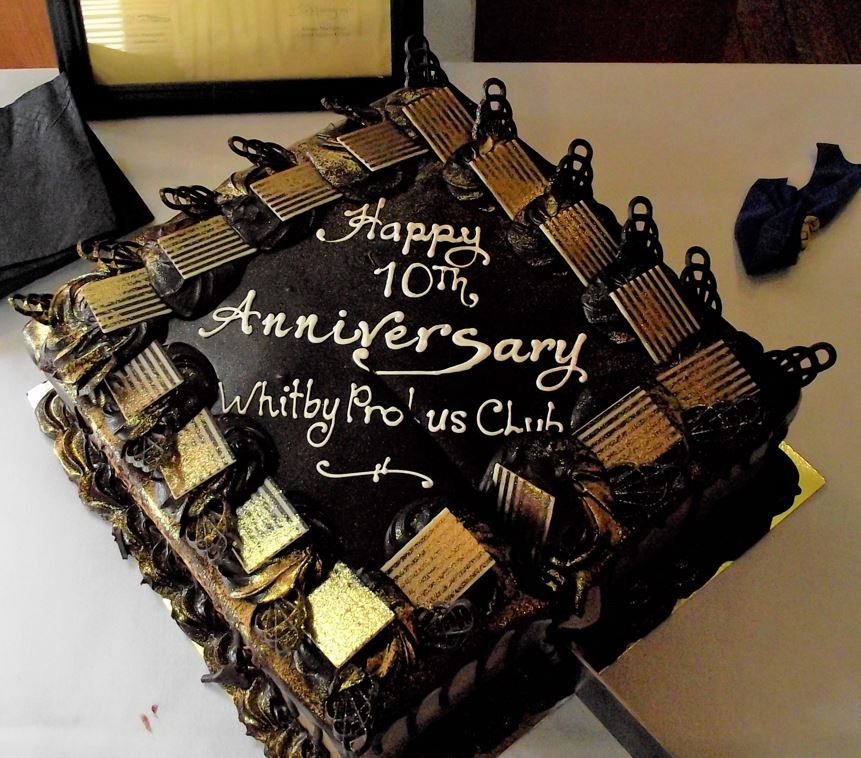 It was Party Time at Mana Cruising Club on Wednesday 16 February when Whitby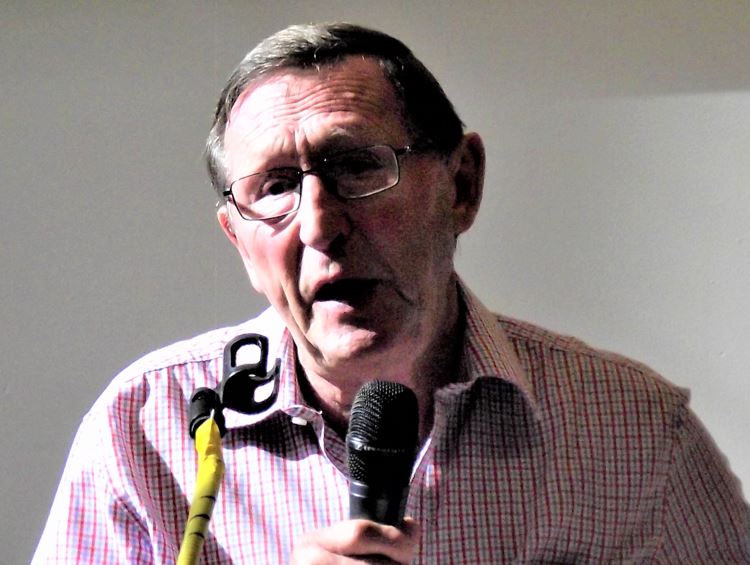 Probus celebrated its 10th birthday. Probus Clubs are always sponsored by Rotary Clubs (and Plimmerton Rotary has sponsored three in its time). Whitby Probus was started thanks to the indefatigable efforts of Allan Nichols and his Team Leader.
It was a very happy occasion attended by Porirua Mayor Anita and Plimmerton Rotary President Kay as well as many of the current members and it was interesting to hear that there Whitby Probus has 23 people on its waiting list.
Area Governor Kathryn Beattie reports that Porirua Rotary, well supported by Mana Zonta raised over $2,000 more than they did last year, wrapping Christmas presents in the North City Plaza. As a result, Porirua Rotary has received $7,437.74 to put towards local community projects for 2022/23, especially Wellington Children's Hospital.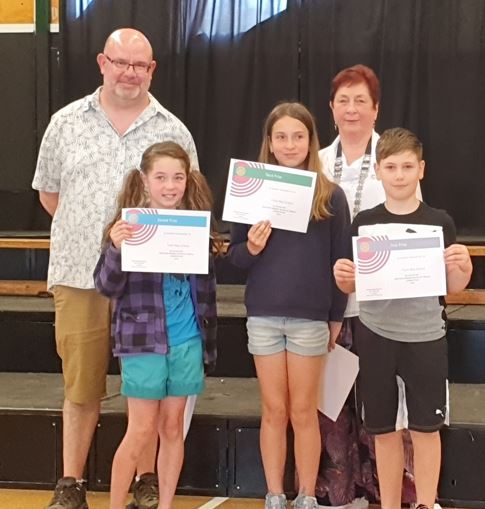 Some members may remember that we staged the Inaugural Western Primary Schools' Speech Competition on 25 November 2021. Eight students entertained and impressed with a variety of interesting topics. Deputy Principal Jamie Merrick expressed his delight that Titahi Bay Primary School is forging a path towards primary students competing throughout the whole city. some photos from the event have now been loaded into the Gallery and a report on the occasion can be found by scrolling down through the Update here.
Parting thought
John Barber gave us the Parting Thought tonight. 'Be a good listener. Your ears will never get you in trouble'.
Who's on duty for the next month?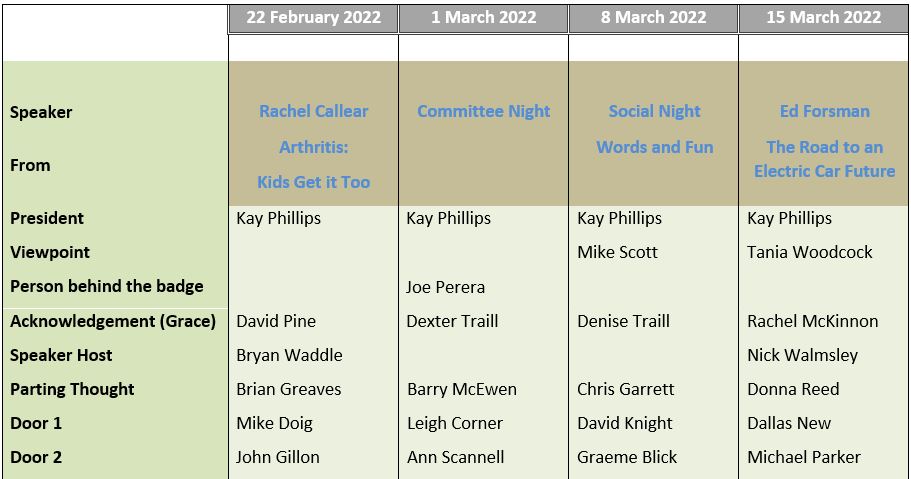 Unable to do your duty? Please find a replacement and inform Graham Wallace.
If you're a late 'no show' please tell President Kay.
Please arrive at 5.45 pm if you're on Door duty or hosting the Guest Speaker for the evening.
Need to apologise or bring additional guests?
Advise the Receptionist at Professionals before 10.00 am on the Monday before the meeting on 233 9955 or email paremata@dwre.co.nz if you prefer.
Please provide the name (and spelling if necessary). The same applies if you're going to be late.