Article
Rotary Club of Plimmerton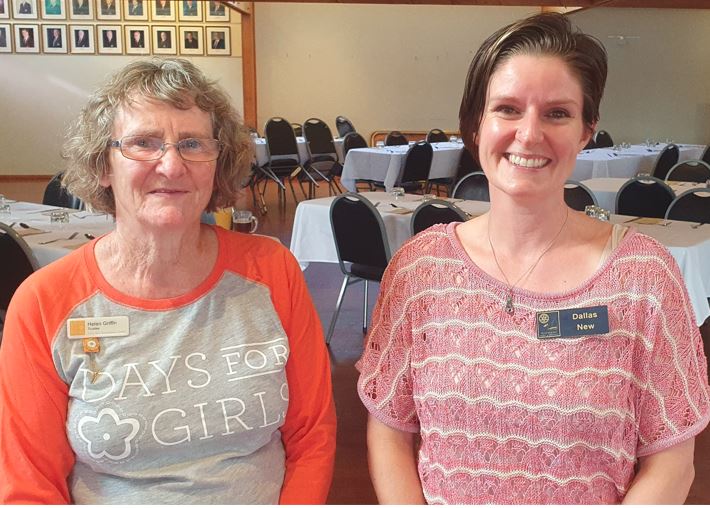 Menstruation is a subject that rarely comes up at Rotary meetings (in fact never, in my experience), until last evening. Our speaker, ably introduced by Dallas New, was Helen Griffin, the Country Coordinator for 'Days for Girls', an organisation that makes life easier for menstruating girls in developing countries.
That such work is needed stems from ancient prejudices. There are numerous references to the 'impurity' of menstruation throughout the Old Testament, and many cultures abound in unhelpful myths about it. This is very curious, for as Helen pointed out, half the world's population menstruates and it is a perfectly normal bodily function.
If girls have no access to period products and lack education about hygiene or are shamed, there are bad consequences. If they improvise, they run the risk of infection. They may have to isolate themselves from the community. They tend to absent themselves from school so their education and employment prospects are poorer. This leads to earlier marriage and too many offspring.
Days for Girls is an international charity that started in Kenya but has spread, especially in Africa. It provides ingenious reusable menstrual kits, and education. The kits may be made in developed countries such as New Zealand but increasingly are made in-country under the DfG small enterprise programme.
The club will have to consider if and how it gets involved in Days for Girls, which is now stretching into the Pacific. Inner Wheel is already sewing kits. Helen stressed that the supply of suitable fabrics for the kits is proving to be a bottleneck.
This was a challenging topic for our meeting but Helen's presentation was polished and matter-of-fact and members took it all in their stride.