Diary
Rotary Club of Plimmerton

Visitors
President Bill gave a warm welcome to our speaker for the evening, Jonty Mills. He also welcomed Honorary members Les Austing, Ron Lucas, Richard Sherwin, and Peter Turner.
Viewpoint
Don Johnston was to have given us his Viewpoint tonight. Unfortunately, he had to pull out at the last moment so it will happen on a later occasion.
The speaker said …
This week we had a vigorous and informative talk by Jonty Mills, CEO of Water Safety New Zealand. Its title was 'The Evolution of Drowning Prevention'. This was a most engaging talk by someone who really knew his subject as can be borne out by Mike's report.
This week's happenings
Remember that as soon as your September AP for Rotary meals has left your Bank account, it's time to change your monthly automatic payment from $95 to $100 with effect from October 2020. It's free if you do it online. If you go into the Bank, there's a charge involved.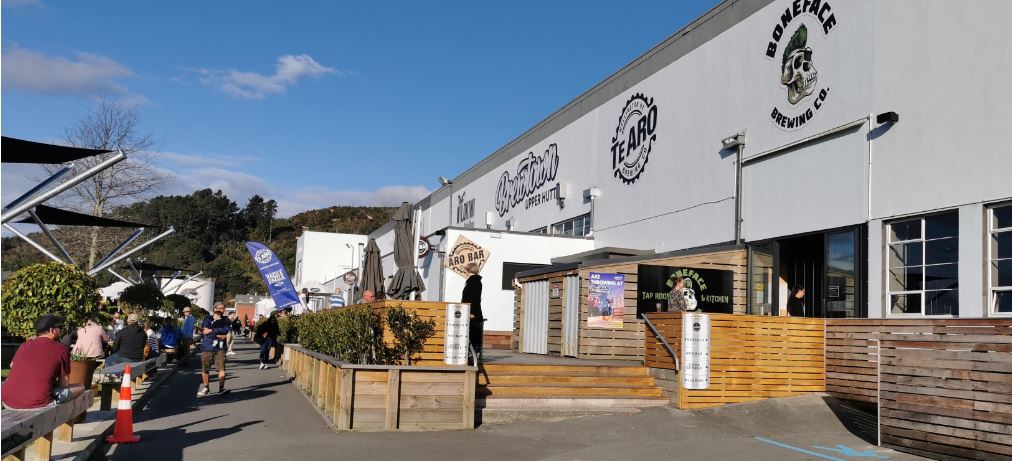 'Didn't realise it existed' was the initial reaction of the social group of about 30 who embarked on an enjoyable evening at Brewtown in Upper Hutt on Saturday evening. Situated on the site previously occupied by General Motors and Dunlop tyres, Brewtown is made up of a series of bars and eateries among other things for guests to sample, the ultimate craft beer destination. It didn't all go as expected. We ran out of time for an organised craft beer tasting although Dexter Traill was proactive and indulged in a hastily arrange private tasting shared around the table. John O'Connell admitted to being there nice and early, (probably 2 hours before the rest). Just kidding! Despite the lack of planned tasting, rest assured the entire group enjoyed a 90-minute casual session in pleasant conditions before dining at Kuku with ample social banter at the dinner tables, of course socially distanced. Many thanks to Kay who did all the organising. It was an enjoyable function, worth repeating.
President Bill congratulated Kay for organising the Myanmar visit, dinner, singing and dancing last Tuesday. It had been a fun and very interesting experience. Since that evening, Christalin has asked if anyone has any second-hand warm clothes as some of the children are feeling the cold. If you can help in any way, please let Wendy know (until Donna and Kay are feeling stronger - see below).
He also thanked Kay and Bryan for organising the visit to Brewtown on Saturday evening.
Plimmerton Inner Wheel has had another very busy month as you can see from their September Newsletter.
Advanced, school-age, musicians will present an exciting programme of chamber music and 10 and 20-minute recitals, at Pataka's Performing Arts Studio on Saturday 26 September from 9.00 am - 9.00 pm. Many of these fine young musicians will strive to enter the professional music arena. Entry is free throughout the day although a Koha is appreciated. Visit this page for the full programme.
A reminder that President June from Porirua Rotary has sent us an invitation to a fundraiser lunch at Whitby Taj for a menu of rice, naan roti and two curries on Sunday 18 October at 12.00 noon. There are only 60 seats available so ring Gurpreet Kaur if you would like to book one - 021 0236 7733, Their poster will give you more information.
Snippets
Nick gave us an update on our second student, Khiev Channy who is about to graduate with a degree in Business Administration. In response to a lovely letter that she has written, pointing out the benefits she has gained from our support that will enable her to get a much higher paid job, Nick and Phillip are organising to send her a letter and commemorative certificate from the Club. There is now only one student left, Koa Kanika, who has just started a 4-year accounting degree and will graduate in 2023.
Leigh is looking for a female student in Year 12 whom we can sponsor for the Innovative Young Minds Programme. She will be interested in a career in science and will be moving on to study science in year 13. It is unfortunate that 75-80% of female science students drop out between years 9-12. A student has already been interviewed and her name put forward for the Rotary National Science and Technology Forum in Auckland in January.
The Love Local Expo has been rescheduled to Saturday 17 October, Covid-19 permitting. More details will be coming from Kay in due course.
The Almoner said …
Just to keep members in the picture, Donna is recovering in hospital having had her gall bladder removed and Kay gave herself a fright at the weekend with chest pains. Both will need a little time to be restored to full energy levels.
What's coming up in September and beyond?
The restrictions in place to combat the spread of Covid-19 may put future plans in jeopardy. If any of the following events cannot take place, we will notify you by email.
This is a weekly reminder to check out our Plimmerton Rotary Calendar which you can now find in the top right-hand corner of our Home page. If you use your mobile phone to access the Club's web page, turn your phone sideways so that the items that appear in the right column on a pc are visible.
The next Drinks and Nibbles will be this Sunday, 27 September. Chris will be in touch to let you know where you are going. If you are not yet on Chris's list, and would like to be, just let him know.
Our speaker for next week, 29 September, is Justin Hodgkiss, Associate Professor of the School of Chemical and Physical Sciences at Victoria University of Wellington and Co-Director of the MacDiarmid Institute for Advanced Materials and Nanotechnology. Among other things, Justin will be talking about emerging materials science research in New Zealand.
You can find future events on the Events page.
Parting thought
David Pine gave us a very appropriate Parting Thought this week in these troubling times. It comes from Helen Keller. 'Although the world is full of suffering, it is also full of the overcoming of suffering.'
Who's on duty for the next month?
Unable to do your duty? Please find a replacement and inform Graham Wallace.
If you're a late 'no show' please tell President Bill.
Please arrive at 5.45 pm if you're on Door duty or on Introduction duty to greet the Guest Speaker and be his/her host for the evening.
Need to apologise or bring additional guests?
Advise the Receptionist at Professionals before 10.00 am on the Monday before the meeting on 233 9955 or email paremata@dwre.co.nz if you prefer.
Please provide the name (and spelling if necessary). The same applies if you're going to be late.