Diary
Rotary Club of Plimmerton


Visitors
President Kay welcomed the many visitors to the Club: our guest speakers, Richard Whatman and Richard Norman, both Rotarians, were introduced more fully by Mike Doig after dinner, Honorary Member Ron Lucas who had been worried that their ferry may have been cancelled. Dianne McGavin, a former member was welcomed. Spouses - Margaret Pine, Barbara Nichols, Velma Knight, Joy Tongs, Bev Lillico, Carolyn Wallace, and Glenys Greaves were also present. Very special greetings went to our soon-to-be-member Bruce Phillips and visitor and intending member, Darrell Harpur.
It is not customary to announce apologies but by special request, President Kay announced apologies from Covid-19-positive people: Peter and Linda Sinké, Donna Reed, Christine, and Graeme Blick; and from Philip Whearty, who has had a family bereavement, as these folk would like to have attended for the Tribute to Ross.
Tribute to Ross Garner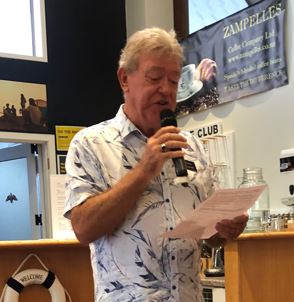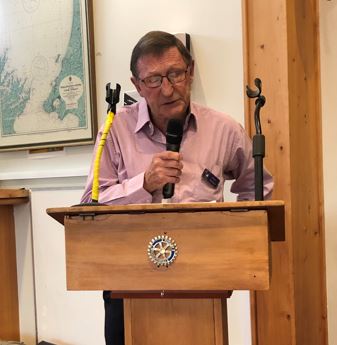 Both Chris Garrett and Allan Nichols presented their thoughts and memories of Ross Garner in a way that touched the hearts of all present. It was a fine tribute for a fine Rotarian. The speeches were followed by a toast to the memory of Ross who will be missed a great deal by all who knew him.
Before the meal, Bryan Waddle treated us all to a beautiful acknowledgement. "At this time we meet here to celebrate the lives of two members who have been good friends to us all and share a tribute together. May this meal we're about to share help our spirits shine brighter. May this brightness send darkness away and warm the hearts of strangers. And may we all continue to share this fellowship free from the modern stresses of life".
The speakers said …
This week's speakers were Richard Norman and Richard Whatman, who are involved in a pilot project in Porirua City exploring the possibilities of Community Wealth Building. You can read what Mike has written here. We in Rotary will have a part to play (e.g. our new community garden) and we will follow the progress of the pilot project with keen interest.
Comings and Goings
Tonight, it was President Kay's pleasure to induct and welcome Bruce Phillips to the club. Sponsor Rotarian, Bryan Waddle, introduced Bruce and President Kay read the citation for his transfer from the Rotary Club of Honiara. The induction was met with acclaim. Bruce will serve with John O'Connell on the Membership Committee and Bryan will be his Mentor although, with his long Rotary service, this is scarcely needed. Bruce will be an asset to our Club.
What's coming up in March and beyond?
The next Drinks and Nibbles will be held on Sunday 27 March. Chris will be sending out more details nearer the time.
Next week, 29 March, will be our Annual Bowls Night at the Whitby Bowling Club. Play starts any time from 5.00 pm. Bryan has received 32 names of people intending to go. However several members have not yet indicated to him whether they wish to attend. Please let Bryan know by Sunday if you are one of these folks as it's imperative that we have the right numbers for catering. Remember there will be a raffle to defray the cost of a Special Liquor Licence for the night; so please bring coins with you. This meeting promises, as always, to be lots of fun. There is a Plan B for wet weather, which seems to be with us at present, so you won't have to play outside and get wet.
For all future events, go here.
Snippets
Bruce Couch reminded members to get their raffle butts and money to him within the next two weeks. He has found selling the tickets is considerably helped by focussing on the $10 being a donation to the Children's Hospital or possibly the acquisition of a brand new car.
Thanks to Secretary Graeme, the minutes of the Board and Charitable Trust from December 2021 to February 2022 have now been loaded into the Intranet.
This week's happenings
You can find the March newsletter from Inner Wheel here. Despite the privations of Covid, they're as busy as ever.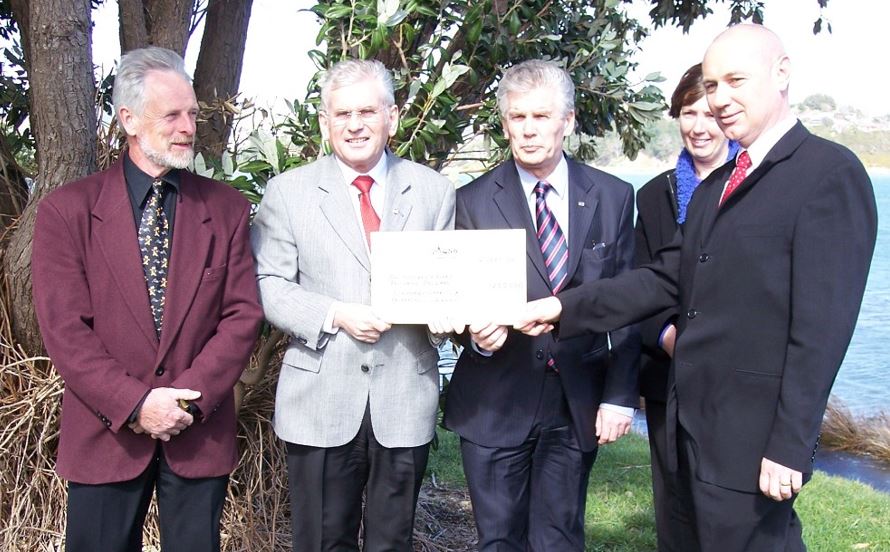 Older members will remember Kaye and Roger Fitzpatrick who were tireless workers for the club at the turn of the century. It was, in fact, Roger and Kaye who went on holiday to New Plymouth at the turn of the century and were so enchanted with the New Plymouth Coastal Walkway that they returned with the idea of building something similar around the Pauatahanui Inlet. In Wendy's year as President in 2000-2001, she and Roger made a visit to Mayor Jenny Brash and floated the idea. It was in Philip Whearty's 2004-2005 year that Roger (left) accepted the first tranche of $125,000 donated by Mana Community Trust, the start of many donations since. And the rest, as they say, is history. They hadn't heard about the Club's recent Award and were absolutely delighted to know about it. Wendy caught up with them in Sydney on her recent visit.
The Almoner said …
It is with great sadness that we heard about the death of Honorary Member, Noel Evans on Saturday 19 March. A Memorial Service will be held at Whenua Tapu Crematorium Chapel on Monday, 28 March at 11.00 am. Vaccine passes are required and numbers are restricted. Please email your expression of attendance to noelevansservice@gmail.com if you would like to attend the service. There is no cellphone coverage at Whenua Tapu so the service will not be live-streamed.
Parting thought
The Parting Thought this week came from Bob Austin, presented ably by Graham Wallace in Bob's absence, and is something we might all heed! He said, 'Life is short. Break the rules; eat dessert first; forgive easily; kiss slowly; love truly; laugh uncontrollably. And never regret anything that makes you smile.'
Who's on duty for the next month?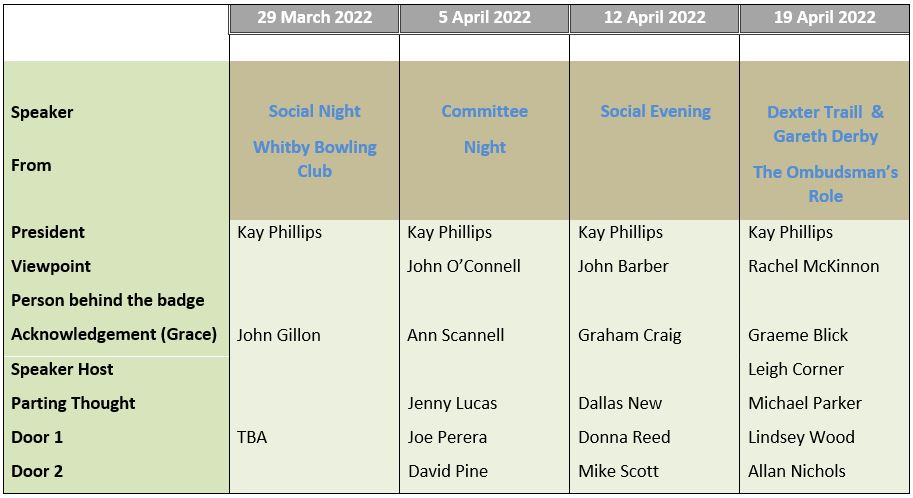 Unable to do your duty? Please find a replacement and inform Graham Wallace.
If you're a late 'no show' please tell President Kay.
Please arrive at 5.45 pm if you're on Door duty or hosting the Guest Speaker for the evening.
Need to apologise or bring additional guests?
Advise the Receptionist at Professionals before 10.00 am on the Monday before the meeting on 233 9955 or email paremata@dwre.co.nz if you prefer.
Please provide the name (and spelling if necessary). The same applies if you're going to be late.