Diary
Rotary Club of Plimmerton

Visitors
President Bill welcomed Honorary members Les Austing and Jim Dearsly.
The speaker said …
There was no speaker but there were plenty of notices as you'll see below.
Viewpoint
Rhondda gave us her Viewpoint tonight. She said that Bridge needs to be taken more seriously by the news media. New Zealand has a large number of players and we do very well on the world stage.
This week's happenings
Alison Cox has sent a note of thanks to those who helped with the collection for the Blind Appeal at Porirua New World. The site collection for Saturday was $668.10 with the overall collection for Porirua $6,621.40. Amazingly in these turbulent times, this was an increase of $700 on the count for 2019. She reminds us that the Red Puppy appeal is in March 2021 and she will be in contact with us again prior to that to check on our availability!
Following the inspirational talk we had from Helen Woolner at the end of October, you might be interested in reading the latest newsletter from He Haurahi Tamariki.
We have also received the November newsletter from Plimmerton Inner Wheel. You can read it here.
Snippets
President Bill thanked Allan again for all his hard work to prepare for the Melbourne Cup evening and reported that $540 had been raised for Polio Eradication.
The Almoner said …
Donna is coming along well but still suffering from fatigue. She is now driving and would have come tonight but is pacing herself. She hopes to return to Rotary next week.
What's coming up in November and beyond?
Friday Frolics will be held this week on 13 November. Kay has booked Whitby Co-op at 5.00 pm on this occasion. This is the last meet-up for this year.
Following the partnership set up between Rotary International and Toastmasters (which you can read about here), our meeting on 17 November will be a bit different. We will welcome a number of Spinnaker Toastmasters who will undoubtedly give us great examples of what Toastmasters is all about. Gary Nicholson, President of Spinnaker Toastmaster, Area Director of Wellington Region J2 and holder of an Advanced Toastmaster Gold Medal, will lead a Toastmaster-like evening and there will be two prepared speeches, two evaluations, an 'Educational', and some table topics. This will be a lot of fun and partners are encouraged to come and enjoy the evening. Two potential new members, Sarah Gibb and Dallas New (a Canadian Vet) will be attending so please make them welcome.
On Sunday 22 November we can take part in the 2020 GOPI Clean-Up of the Pāuatahanui Inlet. Please rustle up your friends and neighbours and register at Browns Bay Car Park at 10.30 am. Here is a poster that will tell you all you need to know. As usual, the event will be followed by a family sausage sizzle at 12.00 noon.
The date for the Mary Potter Hospice Charity Golf Tournament on Friday, 27 November 2020 at Judgeford Golf Club is looming ever closer Here is the flyer. Chris is still looking for hole sponsorship and raffle prizes to please let him know if you can think of anyone who might be able to sponsor a hole at $350 each. He will need the help of about twelve people on the day and would also appreciate donations of food for the BBQ.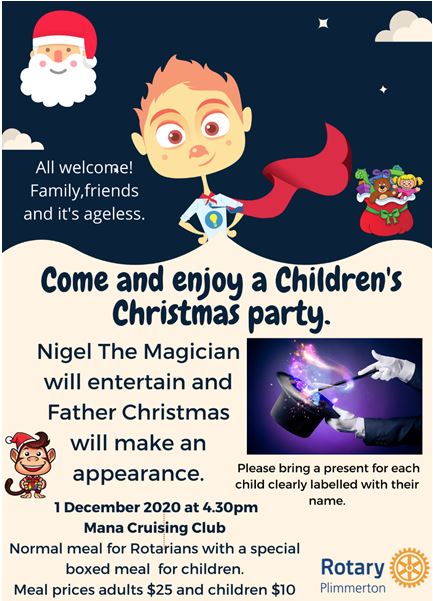 And on 1 December, it is that time of the year again so think about who you might want to bring along to the Children's Christmas Party. Everyone is welcome and if you are bringing children, please have a present that is clearly marked with their name. Allan has sent around a board and will do so again next week.
As you will have seen in your Rotary Diary, Kay has been busy organising our next social event. It will be on Friday 3 December, at 6.00pm at a cost of $56. (plus your drinks and food). We will be able to enjoy an evening at Paint Vine in Wellington, creating our own paint masterpiece under the guidance of an experienced artist. All materials will be supplied. Bar facilities will be available, although, if your painting ability is anything like that of the editor, you might need some drinks beforehand! Their website says 'Drink. Paint. Don't just drink the paint!' You can take your own painting home to hang if you dare. Kay needs numbers as soon as possible, please. Her thanks to those who've already booked in. Venue TBA.
You can find future events on the Events page.
Parting thought
John O'Connell gave us the Parting Thought tonight from past President Barack Obama. 'If we want to create a world that we want our kids and grandkids to grow up in, then we're going to have to do a whole lot better than we're doing right now!'
Who's on duty for the next month?
Unable to do your duty? Please find a replacement and inform Graham Wallace.
If you're a late 'no show' please tell President Bill.
Please arrive at 5.45 pm if you're on Door duty or on Introduction duty to greet the Guest Speaker and be his/her host for the evening.
Need to apologise or bring additional guests?
Advise the Receptionist at Professionals before 10.00 am on the Monday before the meeting on 233 9955 or email paremata@dwre.co.nz if you prefer.
Please provide the name (and spelling if necessary). The same applies if you're going to be late.